Natalie Haynes
What is Natalie Haynes? It's a curious question, but then the Cambridge classics (and Footlights) graduate turned classy stand-up now occupies a unique niche on our stages and airwaves: comedic classicist.
Haynes is actually busy writing a less-comedic book at the moment, but departs the desk this Saturday to bring a new show to the Tara Theatre in the south west of old Londinium town (part of the Wandsworth Arts Fringe). That show, Honour Among Thebes, is "a whistle-stop tour through the beginning of theatre, and democracy, and the intimate connection between the two", she tells FGWG.
"It takes you through Aeschylus, Sophocles and a bit of Euripides, and how tragedy evolves in the fifth century BCE. But with jokes. It was a natural offshoot of the radio series, I guess (Natalie Haynes Stands Up For The Classics, on Radio 4)."
"The book, The Children of Jocasta, is more serious - a novel, retelling the Oedipus and Antigone stories from the perspectives of Jocasta and Ismene. It examines the question of free will and determinism, I hope, but mostly it allows you to wallow in Bronze Age Greece for a few hours."
You can't beat wallowing in the past. Speaking of which...
First Gig?
At the ADC Theatre in Cambridge, which (then) seated 227 - packed out. It was a terrible shock to go on to the circuit and play to - occasionally - three people. I was a student, so it was maybe 1994. And other acts on the bill included David Mitchell and Robert Webb...
Favourite show, ever?
Playing Chicago's Oriental Theatre was pretty great, talking about [Roman poet] Juvenal. Playing Hammersmith Apollo was fun, even for ten minutes - it was a charity gig with a huge bill. But mostly I don't remember details about gigs - it's safer that way (people say the same about childbirth, don't they...?)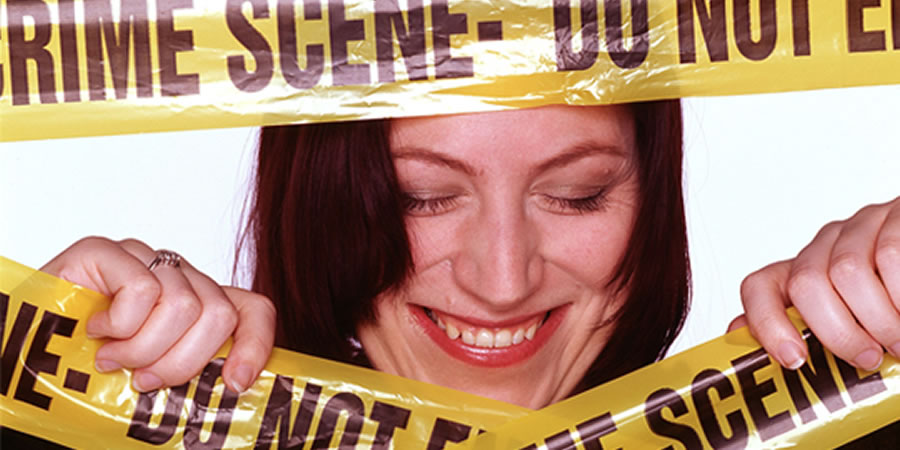 Worst gig?
Walking onstage the night after my grandmother died. I was still in shock, really, and they deserved better than I could give them.
Your Wikipedia entry now says 'former comedian' - is that right?
Ha! Is that what wiki says? This is why I never google myself.
My Radio 4 producer calls me a recovering comedian - I think that is a good description. My comedian pals tell me I'll never truly be out. It's like the mob. But I don't do 'proper' gigs anymore - on the circuit, I mean. So even though I do a lot of shows where it's just me and a mic, and even though the audience laughs, I still feel weird suggesting that's the same as stand-up.
It looks like it, to the untrained eye, but any comedian could see that what I do now is much easier than what they are doing every night. I don't want to claim credit for a tough job when I'm not doing it - my audiences are usually lovely.
I think it probably is a true description, in other words. I guess it's been true for about ten years?
Is comedy a good route for heading off into other careers?
Comedy got me into all kinds of unlikely places - op-ed writing, arts reviewing, TV presenting, broadcasting, etc etc. I never had a plan, and when people ask me how to have my career, I suggest that there is probably a quicker and more direct route than spending ten years on the comedy circuit first. But the good thing is that, after being a comedian, nothing else is frightening at all.
Who's the most interesting/awful person we might encounter in your new show?
The most interesting person in Honour Among Thebes is probably Jocasta. The most awful is Laius. The sexiest is Oedipus (sorry).
Is there one routine/gag you loved, that audiences inexplicably didn't?
Oh, I had so many routines that I used to do for myself and maybe one or two people in every room.
I had a whole tour show about TV detectives which either landed or it didn't. People would mail me with suggestions of obscure detective shows they wanted me to watch. But I rarely felt other people loved Diagnosis Murder with the same single-minded determination which I do. How can you not love Dick Van Dyke healing the sick, and solving crimes, while occasionally playing the clarinet or wearing roller skates? Impossible.
Conversely, every show I ever wrote had a joke in which I didn't get (I had written it as a link from one subject to the next, and it would - inexplicably, to me - get a laugh every night). I used to long to stop the show, and ask them what the hell they were laughing at, but it seemed needlessly confrontational, so I have accepted that I will always live in ignorance...
The most memorable review, heckle or post-gig reaction?
Most memorable post-show response: the guy who sent me a recipe for sourdough bread after I criticised the price of it while comparing ancient money and its value with modern money and its value (you can't use the price of a pint of milk with the Romans, really - they weren't latte-drinkers. Bread is usually a good way to measure what you can buy for your money).
Anyway, I followed his recipe, which he sent me after Series 1. And the sourdough starter is still alive in my fridge four years later, and makes me a loaf of bread every week. That is a quality heckle.
How do you feel about where your career is at, right now?
Ask me when I've finished editing the new novel and written the radio shows. Mostly, I feel incredibly happy, cripplingly anxious, rightly proud, somewhat neurotic, and partially sane. But that's probably true of everyone, right?