Naomi Cooper
The banana: nature's brunch bar, a potent source of on-the-go energy and, indeed, comedy, in all sorts of interesting ways, some probably quite rude. It's an easy-peel inspiration. Take Balham's much-loved Banana Cabaret, which is bursting back from exile this week with the Balham Comedy Festival.
On the bill from the 9th-18th are the likes of Rhod Gilbert, Jen Brister, Marcus Brigstocke, Janey Godley, Dane Baptiste, Rich Hall, Henning Wehn and - next Friday - Naomi Cooper, who's cock-a-hoop.
"Banana Cabaret is one of my favourite gigs," she says. "The audiences there are always amazing, and it made me sad to imagine it standing all lonely and empty for so long. I'm excited to return!
"Returning to gigging has been amazing. Someone heckled me last week and I could have kissed him (I couldn't have, he was revolting, but you get my drift)."
And his. Cooper had some heavy times during the lockdowns - more on that below - but did develop a whole new persona, Philippa, who's inspired a whole web series.
"Philippa is the yummy-mummy you love to hate. She's snobby, self-obsessed and has Fortnum and Mason on speed-dial. The pandemic was hugely distressing for her, much more so than for any doctor, nurse or other key worker; at one point she had to consider shopping at Morrisons. I mean, come on, the humanity.
"I find that level of self-absorption both fascinating and hilarious, so it's been so much fun and very cathartic to make comedy out of it."
No slip-ups, there. But now let's delve into Cooper's on-stage ups and downs.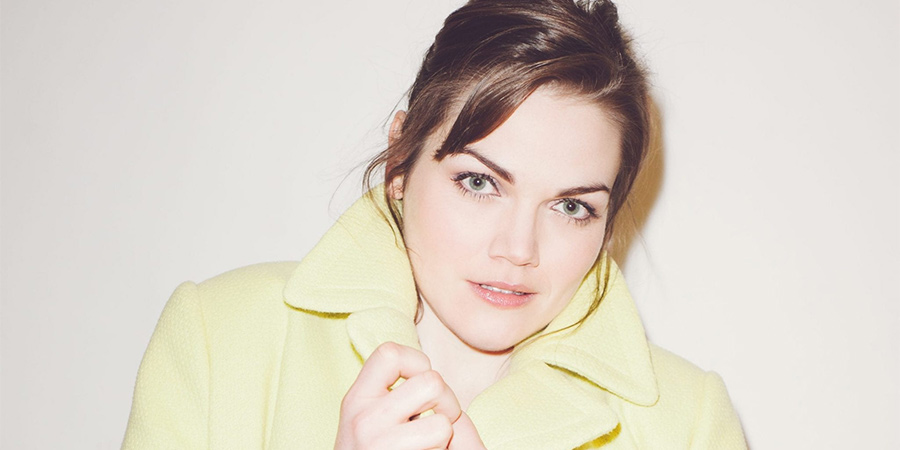 First gig?
My first gig was at Torriano's in Kentish Town (now called the Rose and Crown). It was a pissy Tuesday evening in September 2013. I had no idea what I was doing, but getting laughs on a stage was like taking crack (I imagine), and I was immediately hooked on the narcissism of it all.
Favourite show, ever?
I was lucky enough to open for Jeff Garlin (Curb Your Enthusiasm) at the Hollywood Improv and the Laugh Factory in Los Angeles, so that was amazing. Everyone told me I wouldn't like Los Angeles because "everyone is so nice and friendly". I didn't really know what to make of that, but I actually did like it there a lot, so maybe I'm not a complete monster.
Worst gig?
About seven months into stand-up, I gigged at a village hall (which shall remain nameless, mainly because I am scared they will hunt me down). It was a curry night and they decided halfway through the evening to serve the curry during my set rather than take a break for people to eat.
I don't know if you've ever heard the sound of 200 people eating a curry in a big hall with bad acoustics, but it's quite the disgusting cacophony. As they introduced me and I walked to the stage, a man turned to his mate and said in disgust, "Oh, it's a f****** woman." I remember being surprised, because I didn't know people like that still existed.
The mic stand was broken so they had taped a pint glass to it, which the mic sat in. I was supposed to do 20 minutes, I thought I was at about 12 when my watch told me I was at six. I limped through to just over the halfway mark and then cringed my way offstage. They hated me.
It was my first experience at truly bombing and it took me a while to regain my normal upright posture after that one.
Which one person influenced your comedy life most significantly?
My dad. He finds the comedy in everything, especially the disagreeable. It's not only a great tool to have as a comedian, but a great way to tackle life's unpleasant little surprises. Now whenever something bad happens, I just think, "there's probably a bit in this," and there invariably is.
And who's the most disagreeable person you've come across in the business?
A security guard in Tesco was once really rude to me after a gig in Leeds. He didn't seem to care that I'd just smashed it at a student union gig, and I still maintain the store wasn't closed.
Is there one routine/gag you loved, that audiences inexplicably didn't?
I had a line about sleeping with a man named Dennis, and being perturbed by the unsexiness of the name. Then I would say, "But as my nan used to say, God rest her soul, 'when life gives you Dennis, make Dennis Quaids.'" It would get one snort at every gig and everyone else would sit in confused silence. But I knew the snorter was my kind of person and I found comfort in knowing they existed. So I kept it in.
How were the lockdowns for you, creatively and generally?
I spent the first half of lockdown nursing my mother after major cancer surgery, which was incredibly humbling as I saw NHS staff up close and personal as they were dealing with the onset of the pandemic. This, coupled with people bitching online about not being able to go to the Maldives, and the likes of Madonna telling us from her rose petal bath that we were "all in this together", led to the creation of Philippa, and she's kept me busy ever since.
Any reviews, heckles or post-gig reactions stick in the mind?
The amount of women that would come up to me after gigs and say, "I usually don't find women funny, but..." never failed to amaze me.
How do you feel about where your career is at, right now?
All is well. I will never take any audience for granted, and I look forward to resuming my position as a frustrated, disgruntled 'artist', ranting into a microphone in the back room of a pub while everyone else watches the football next door.