Meryl O'Rourke
Oh 2020, you really are a piece of work. One minute you're dangling the carrot of nearly-back-to-normal live shows, the next you're yanking them away again, like a school bully tormenting first years. Still, you'll be history, soon enough.
In the meantime, comedy life goes on, in one form or another. The marvellous Meryl O'Rourke was due to re-stage her acclaimed show Vanilla soon, but the virus vetoed that one. Did O'Rourke drift? No, she's inviting the whole world to see a version of it, on 12th November, for a fiver, via Zoom. See below for details.
"Vanilla is about modern morality," the comic explains. "About being an age where I'm reluctantly handing my fanny to Cash Converters and my terror that my teen will have to spend her life shaving everything. Also about excavating 20+ years of sexual assault now that people actually give a monkeys. Basically an hour of philosophical wanking jokes."
Perfect. Thankfully Meryl has other irons in the fire - she's currently writing for a headline-grabbing BBC Two show (see below) - and is still awaiting a traditional venue for Vanilla, because "I'm getting this shiz filmed and streamed!" she says. Indeed, a proper live recording is on the table, seats and stage permitting, so find her on Facebook "for updates, and message with venue offers. PLEASE."
Thank you. Now let's hark back to busier stage times.
First gig?
MC'd by the fierce Gina Ryan, who recently died, it was Irish night at Downstairs at the King's Head. I'm half Irish, half Jewish, so my second gig was at the Jewish night the following week.
Hollywood star Michael Smiley was headlining when he was just a gigging toe-rag like the rest of us, and gave me my first paid booking as a result of my spot. I think seeing Gina MC with force and confidence misled me that I could stride into this job easily - she deserved so much more than the circuit back then was willing to give.
Favourite show, ever?
I'm meant to say the Hammersmith Apollo, I know - but it was a tiny school fundraiser in a village. The kind of place where class sizes shrink when there's not a good harvest.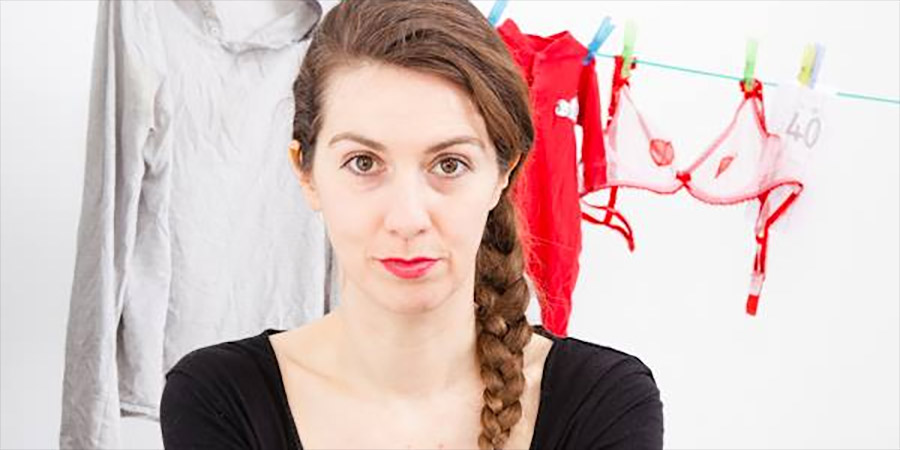 My brain was popping and riffed off work the kids had stuck on the walls, much to the delight of the parents. They turned out to mainly be regretful city flee-ers, eating up my tales of London like hash cakes. One guy sat on the edge of the stage and cried about my not being famous.
Worst gig?
Belfast Empire. We had to wait backstage and I couldn't hear the MC properly so I told myself I'd recognise my own name and waited... the MC had forgotten my name. He was introducing a fictional woman who never appeared, until the promoter physically threw me onto the stage.
I arrived to one of the toughest crowds around; stumbling, shocked and squeaky. That ended me before I even began - 10 minutes of boos. Trying to eat afterwards I was booed out of the local chip shop, and eventually got supper by covering my face and assuming a Norn Irish accent.
Which one person influenced your comedy life most significantly?
Frankie Boyle. I've worked with him on and off for 12 years and am currently writing for New World Order. I've also supported him, including at the Apollo. But alongside the work, I've learned from his delivery, his editing, his philosophies, his timing and his ability to keep his home life removed from the eviscerating doom monger in the spotlight.
I'd tell you how nice he is but it might lower our ratings.
And who's the most disagreeable person you've come across in the business?
How long have you got? I've been around 20 years and we did not have a MeToo movement, we pretty much had a "YouShutUpMoaningAboutIt" movement.
The main one coming to mind was a bloke (anonymous 'cos I can do without the shouting) who decided, for fun, to tell female acts I was sleeping with their boyfriends (I wasn't). One particular incident a lady confronted me, understandably screaming, in front of the audience - getting barred from that club.
The next day she - having considerable influence - got me barred from a number of major clubs and the prestigious new act comp I had coming up. I and she have since, very emotionally, made up. But I spent years not contacting the clubs who'd said I was unwelcome, and frightened to speak to male comics in case of rumours, and female comics in case they spat at me. He broke a relationship, both women lost work... and all because of lies.
Don't spread gossip, kids, it's a c***'s move.
Is there one routine/gag you loved, that audiences inexplicably didn't?
Almost anything that I have ever written which isn't about my fanny. I do try, I try my very best. But audiences bloody love my fanny.
How has your lockdown been, creatively and generally?
I worked hard last year to forge more TV contacts, so luckily I've had writing work throughout and took my popular comedy course online. I feel like I've not been creative 'cos I didn't write King Lear - but I did write a joke about Boris Johnson for NWO that was incredibly popular on Twitter. I think Shakespeare would be jel.
Are there particular reviews, heckles or post-gig reactions that stick in the mind?
The Jewish Chronicle saying I "crashed through" the debate on whether you can joke about the Holocaust. That's incredibly precious to me as I worked so hard on my show about my mum escaping the Nazis. She came here on a boat as a child refugee - you know, the type that are currently "invading". My mother was a lifelong librarian, no wonder people are terrified.
Of course the five-star review it got from this very site was WAY BETTER, HONEST.
How do you feel about where your career is at, right now?
I think we all feel like we've tossed a coin in the air and are waiting to see how it lands. I'm hoping for gigs, tours and tickets; but it's odds on I'll give in to my Twitter addiction and let the kids starve.