Mawaan Rizwan
What are you choosing to do this Sunday evening (9th December)? Wallowing in post-football ennui as the final whistle blows on the last Premier League game of the weekend? Having a gloomy bath? Watching whatever the modern equivalent of Highway is?
Can we suggest that you Choose Laughs? That's the name of an absolute peach of a show this Sunday night at London's Playhouse Theatre, in support of Help Refugees, with all of these good people on board: Nish Kumar (MC), Stewart Lee, this year's Edinburgh Comedy Award winner Rose Matafeo, Simon Amstell, Sofie Hagen, Angela Barnes and - only listed last here because we need to talk about him next - Mawaan Rizwan.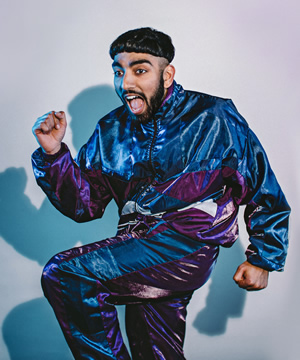 The YouTube star turned stand-up made one of the most entertaining shows we saw at this year's Edinburgh Fringe, Juice (which he's doing at the Battersea Arts Centre until Saturday): it's a frequently jaw-dropping song-and-dance spectacular about his extraordinary immediate family, who also crop up in our chat below. No doubt he'll be knocking out a concentrated hit of Juice at Sunday's show: a comedy Nutribullet.
And the charity? As Choose Laughs explains, 'Help Refugees is not simply another aid organisation. It's a group of everyday people, taking joint action to improve the lives of refugees throughout the world. In less than three years, it has become the biggest facilitator of grassroots aid in Europe, with more than 80 projects across the continent and the Middle East.'
Crikey. On with the show.
First gig?
Eight years ago in a basement in Leicester Square. I had to pay £4 to perform and by the time I got on stage, the only remaining audience were the other comedians. Yet I couldn't be happier. I ran home and changed my occupation on Facebook to 'comedian'. I felt like I'd made it!
Favourite show, ever?
I loved supporting Simon Amstell on tour. His take on comedy and life is so existential and profound. I was totally geeking out the entire time.
Worst gig?
My first Edinburgh Fringe experience eight years ago. My venue turned into a nightclub in the evening. The room I was performing in had a curtain for a door and was next to the dancefloor. It was a late-night slot, the audience were VERY drunk and I was shouting over The Vengaboys the entire time.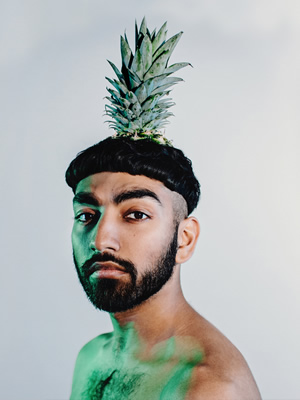 We loved this year's Edinburgh show - what did your family think of it?
The show is called Juice and it's about how my relationship with my mum has changed through turbulent times. From her migrating to the UK as a single mum, to when we nearly got deported back to Pakistan, to how I accidentally made her a famous Bollywood actress.
It's a painfully honest show so I was nervous about how she'd feel about it. When I invited her to see it, I thought she'd be shocked and outraged but instead she said "Is that it? I can give you way more spicier information". And then proceeded to tell me about all the other shocking moment in her life - all of which is now in the show.
Who's the most disagreeable person you've come across in the business?
My dad. He's very critical. He walked out of my show once because he "got the gist".
Is there one routine/gag you loved, that audiences inexplicably didn't?
I used to do this bit a few years ago where I'd eat grapes and then pee out wine. It was pretty life-changing.
Do you have any tips for YouTube performers transferring to the live stage?
The audiences are very different. Live audiences are way less forgiving so my main priority when I started stand-up was to gig as much as possible. I wanted to hone my craft and engage a whole new audience. I still like to flick between the two, but with an appreciation that each is its own genre, so I adapt accordingly.
The most memorable review, heckle or post-gig reaction?
The heckle I will never forget: "You better not get egg in my weave."
How do you feel about where your career is at, right now?
I'm just keeping busy, innit. I genuinely love what I do. Comedy throughout history has been used to break taboos, challenge power and share truth. I love the art form but I also love it when I see people using it to say something. I'm really looking forward to the Help Refugees Choose Laughs show. To share a stage with comedians I've looked up to for years and support such an amazing charity. Not only is this a good cause, but a necessary one.