Mark Watson
You all know who Mark Watson is. Comedian, author, extreme onstage-event co-ordinator, graphic novel writer who recently sold his first graphic novel to Steven Spielberg's company. That one. But did you know that he's appearing at the Old Vic in February? Yep, it's the last ever performance of his latest show, I'm Not Here. So how did he get there?
"I was fortunate to be asked to host a couple of 'Variety' nights at the Old Vic last year," Watson lets on. "They had a bizarre range of performers - a cappella groups, magicians who did weird things with bowls, one time they almost got Kylie."
"It's a magnificent theatre and the team in charge have this ambition to take it back to the days where the West End did more one-off, slightly anarchic late night stuff. So they've got this 'Lates' season and they're letting me do my final ever performance of this show as part of that. It's the sort of stage that more usually has people like Daniel Radcliffe on it, or Tim Key, so I'm honoured and excited."
It should be quite a night, indeed. Now let's hurtle back to some equally memorable evenings.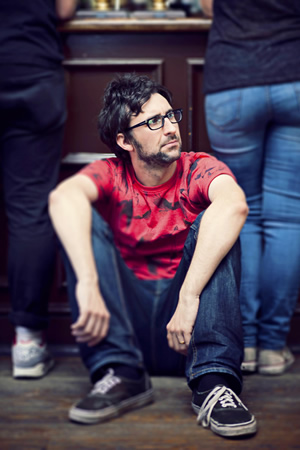 First gig?
It was 2001, my final year at college. They had a comedy night with 'real' touring acts and for some reason, someone pulled out and they needed to find a last-minute replacement. I'd done bits and pieces in sketch groups, so the organiser asked if I had 30 minutes I could perform. I most certainly did not (a lot of comics don't have that after five years) but I made myself take it on as a challenge, and got a reasonable reception because most of my set was in-jokes about the college itself. Plus I had the ultimate underdog status ('this guy's never done it before, but he's saving the day...')
Favourite show, ever?
Sydney Opera House - I played it several times in my young days, but there was one in particular. It was a Saturday night, the last show of the run, and I looked into the audience to see my mum there. She'd been saying to my dad 'oh, if only I could fly down and watch him at the Opera House' and he persuaded her to take a week off work and do it.
None of this was known to me, and also it's not the sort of thing my parents would ever normally do - they're the type to book holidays three to four years in advance. So the sight of her there, 10,000 miles from home, took me most of the show to recover from. The same night, my football team got promoted. AND someone proposed (successfully) at the same gig. It was a pretty good day.
Worst gig?
Maidstone, Kent, in 2004. I couldn't make myself heard over the chatter, and gradually people started to shout OFF! OFF! I say 'people' - they had some human qualities but by no means a full set. I was very new and didn't have the tools to control a crowd like that. There was a guy with a red shirt giving me particular abuse and all I could think of to say was 'SHUT UP, YOU RED-SHIRTED C*NT!' It didn't entirely turn things round.
Who's the most disagreeable person you've come across in the business, and why?
Goodness, what a question. Well, there was one comic, who will remain anonymous (because I'm not naming him here, and also in the wider world because he wasn't as good as he thought).
I brought him on once at Greenwich after working hard to bring an unruly audience under control. He immediately started to ridicule the amount of time I'd been on stage and express his impatience at how long he'd had to wait for his bit.
A couple of years later I did gigs with him in Australia, and again he began his show with a set of grievances about the theatre, the promoters, etc. The worst people in comedy are always the ones with a sense of entitlement - the feeling they should be more famous than X (X is usually Michael McIntyre) and they've failed to be recognised as the genius they are. I've met a few of those.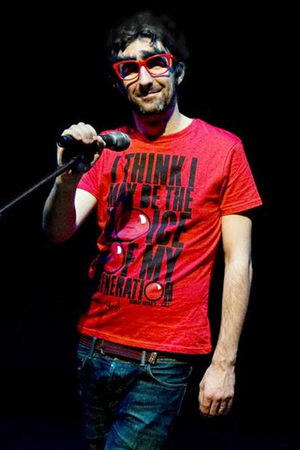 Weirdest gig?
I did a gig in a leisure centre, and they'd forgotten to supply a microphone so I had to shout over the 'boing' of trampolines; I did one in a toilet cubicle to raise awareness of bowel cancer; I did a show in the form of a walking tour of Edinburgh; I did a corporate gig and had to follow a troupe of acrobats and a snake-charmer. But nothing's ever been quite as weird as my 24/27/36 hour shows, I suppose. You can't beat 'tired to the point of hallucination' for weird.
Is there one routine/gag you loved, that audiences inexplicably didn't?
A lot of ideas are so potentially funny, and you just can't quite find a way of getting there. I had a routine about the way cashiers and waiters go to extreme lengths to show that they're not looking at your PIN, as you put it in. It never seemed to be funny to audiences. Then two years ago I saw Sam Simmons mention the same thing in his show and he did a sort of mime, and it was brilliant. The fucker.
What's your best insider travel tip, for touring comics?
Take three phone chargers; you'll lose two. Book train tickets the second they become available - except don't, because they'll then become more expensive for me. And read. We don't read enough. Travelling is your chance.
The most memorable review, heckle or post-gig reaction?
'His ears are elfin'. Seriously. Google it.
How do you feel about where your career is at, right now?
At any point of your career, you can look at where you are - especially by comparison with a number of others - and find reasons to be dissatisfied. But I like to think I've left that phase of my life behind. I do something I enjoy and am well paid for it, and most people can't say both of those things.
So, although there are many more things I'd like to achieve, I am (I'd say) 7 out of 10 content. Which isn't bad, is it?