Mark Simmons
It's always fun to find folks who are on a similar wavelength. Mark Simmons, for example, likes to come at other comedians with a question that we ask every week too. He goes a bit more in-depth though.
"My podcast is called Jokes with Mark Simmons, in which I chat to other comics about jokes and routines they like but couldn't get to work," he explains. "What I like most about it is that the reasons bits don't work vary so much."
"My first podcast guest, Glenn Moore, had a joke where he says 'My housemates think it's really weird that I've got lots of posters of Obama on my wall, probably because she's not as famous as her dad'. Great joke. He said the reason he thinks it always got an uncomfortable reaction was probably because people still think of her as a child."
"Whereas Milton Jones had a joke that went, 'My Edinburgh show is about throwing chairs at tramps; still, it puts seats on bums'. Great joke. He attributed it not working to two things: one, bum is an American phrase and two, bums on seats is a bit of a theatre phrase that's not commonly used."
Simmons himself has started doing jokes for a wider audience in recent weeks - he recently made his debut on Mock The Week, and "I've started doing the podcast live," he says, "the most recent being with one-liner master Gary Delaney, available to download in a couple of weeks. The next live one will be with Edinburgh Award Best Newcomer nominee Gareth Richards and is happening at the Bill Murray pub on 5th December."
Right, let's find out about his failed-joke - and lots of other questions that may well be potential podcasts, too.
First gig?
It was at Downstairs at the Kings Head, Crouch End, rammed with people, absolutely terrifying and apparently I spent the entire set looking at the floor. The top of my head must have been funny because I got a couple of laughs and was hooked.
Favourite show, ever?
The gig springing to mind that I absolutely loved was playing to a full tent at Glastonbury (they were waiting for Josh Widdicombe). It was the first time playing to that many people, the gig went great and there was a really fun moment where the audience wanted me to repeat one of the jokes and I ended up getting them all to do the joke as one.
Worst gig?
It was at Coventry Showcase Cinema (no, I hadn't interrupted one of the films). They were all talking amongst themselves from the start and one man was heckling throughout; not an aggressive heckle, he was just telling me every time another audience member left.
My most horrendous gig I quite enjoyed was in Reading where a very drunk man kept shouting "GARDEN CENTRE". It was caught on camera, too. Enjoy...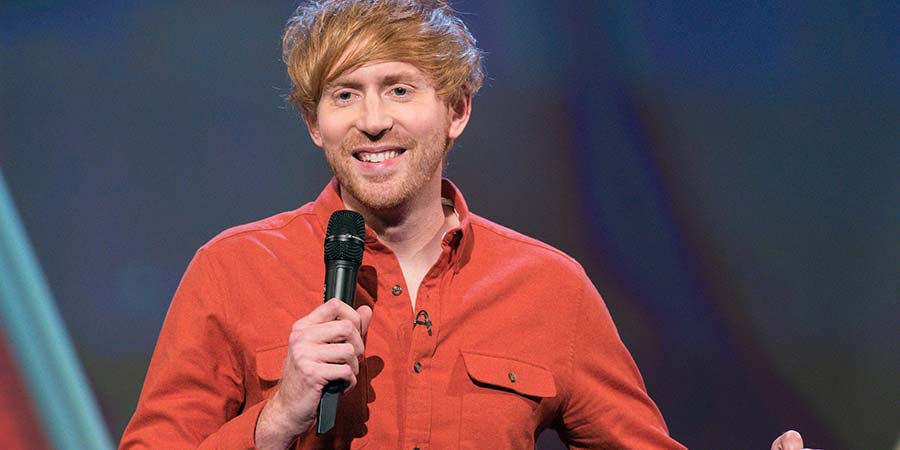 Are there particular reviews, heckles or post-gig reactions that stick in the mind?
I once had a review that said I'd stolen Jimmy Carr's laugh, like I'd watched him and gone "well, that's the good bit". Also, the same review said I had stolen Frankie Boyle's nose twitch. One, I didn't know Frankie Boyle had a nose twitch and two, I didn't know I had one!
Which one person influenced your comedy life most significantly?
Jimmy Carr and Frankie Boyle.
Is there one routine/gag you loved, that audiences inexplicably didn't?
I always liked "On the way here I flicked on the radio and started listening to Magic, which was rubbish because it's quite a visual artform."
I think the reason it never really hit is a combination of the punchline being too long and also Magic is only on FM around London, so it's not as commonly known around the country.
How did you find the Mock The Week experience, and how does it compare to doing stand-up?
I had a great time doing Mock The Week, it's such a fun show to do. The panellists were all very nice, and everyone working on the show couldn't do more to make you feel at home. It's similar to stand-up in the sense you are still performing jokes to a live audience; the difference is you are just following Dara's lead.
How do you feel about where your career is at, right now?
I'm very happy. I get to do the best job in the world for a living. To quote my comic friend Danny Ward, since going full time I haven't once dreaded going to work and if you could bottle that you'd be a millionaire.