Mark Dolan
To MC or not to MC, that is the question. Actually it's probably not a question that troubled Mark Dolan for very long, when the offer came along to compere a couple of gigs at the Big Funny Fest this weekend. It's in a famously scenic and historic park in one of Greater London's more sought-after regions, Richmond, and is nicely varied, too.
A classy live comic and familiar TV face (Balls Of Steel, The Richard Taylor Interviews, The Jump), Dolan will be hosting a show full of fresh mirth on Sunday afternoon, as the Amused Moose National New Talent finalists fine-tune their stuff. Then later that day he'll preside over a higher-profile (but still pretty darn fresh) bill featuring Hal Cruttenden, Darren Harriott and Olga Koch.
So let's compare that compering: will he approach those two gigs differently?
"No I don't think I'll be adapting my style for the two shows," Dolan explains. "I'll just follow the usual rule - try to be as hilarious as possible! I'm not generally influenced stylistically by the comedians who I happen to be MCing. Being MC is a delight, because it's a role you can make your own and you set the tone for the evening, whoever is on."
But has he adapted his style since the early days? That is also the question.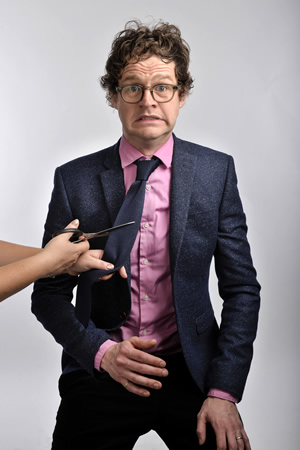 First gig?
I was a student at Edinburgh University in the mid 90s and the gig was happening in a basement bar called Negotiants. The year was probably 1995. I improvised the whole thing - just talked about the room. It went surprisingly well and like a gambler that gets an early big win, I was hooked for life. There were many, many tough gigs after that, but by then it was too late. I had the bug.
Favourite show, ever?
Glastonbury. I was on before Katy Perry. I'll take that.
Worst gig?
How long have you got? Let's go for the Bear Pit Cabaret in Edinburgh during the Festival in 1996. I was on stage at 2.30am. A chorus of 'OFF OFF OFF' reverberated through the room. I had a yellow liquid poured on me from a balcony above the stage. To this day I'm not sure if it was beer or something else more organic in nature.
Which one person influenced your comedy life most significantly?
David Letterman. He is and was an impossible mix of being a great comedian and great broadcaster. Normally it's one or the other, Dave was both. His relaxed, throwaway style belied a steely, ruthless judgment about what was funny.
Watching Letterman particularly unlocked topical comedy for me and how to deliver jokes about the news. And the way to do it is in a very chatty, conversational way, like none of this matters. It's counter-intuitive, but the less pressure there is on a joke, the more likely it is to get a laugh. Audiences don't usually go for the hard sell.
And who's the most disagreeable person you've come across in the business?
Comedians are amazingly collegiate and warm towards each other. What we do is not always easy and we are all just one gig away from potentially dying a death. This keeps most comedians fairly humble and I think there's a sense of us versus the audience, not us versus each other. Most gigs I do are a chance to see comics I haven't seen for a while. And it's usually a happy reunion.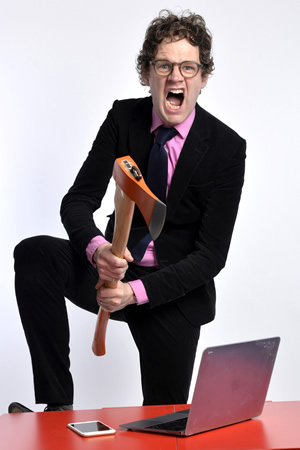 However I can't stand MCs who get the audience to stand up or yell things out by way of a warm-up. I've seen MCs ask the audience to shout out heckles before bringing an act on! How is that a good idea? And my other pet hate is promoters who run a successful night and still don't invest in a decent microphone.
I'm not asking for a case of champagne backstage, chorus girls or a tray of freshly cut cocaine, but a working microphone would be nice.
Is there one routine/gag you loved, that audiences inexplicably didn't?
Well, gags about Brexit don't play very well beyond the M25. Also a new difficulty in the age of social media is that jokes are now often being misconstrued as things you think. They are not things you think; they are jokes. An important difference! We are comedians; clue's in the title.
Any MCing tips, for newcomers?
I like to start the night with a bit of material, often topical, just to break the ice and establish the idea of jokes, and then I'll segue into crowd work. Audience interaction is tricky right at the start when the audience haven't been warmed up. It's high risk, especially if you choose the wrong punter who doesn't want to play ball.
And I recommend keeping your jokes short and snappy. There isn't a lot of time for long drawn-out anecdotes when you're MCing a gig.
The most memorable review, heckle or post-gig reaction?
I'm unusual in that I read every review and every single thing that's written about me. I find it massively educational. I discount the stuff I don't agree with and try to learn from any negative reviews that may have a valid point. I just see it as a slightly harsher form of market research. And anything vitriolic or nasty, you can just ignore, because it's about the author, not you.
How do you feel about where your career is at, right now?
I get to do all the things I love and pay the bills at the same time. I am very lucky indeed. Broadcasting, writing and comedy are my big passions. However, I'm working on a couple of projects for online at the moment and it's also very exciting. There's obviously a lot more freedom, it's global and I see it as the next frontier.
Otherwise, life is good. For example, I have just the right level of public recognition. A healthy number of people know me, but I can still navigate my local Tesco Express unhindered. Long may that continue - I take my shopping very seriously.