Lawrence Leung
Time now to venture down under, where things are going slightly mental, in a good way. On Friday evening the ever-innovative Lawrence Leung will perform live brain-on-brain action, via our own Soho Theatre; well, it'll be Friday night for us, a whole different day for him. Which might boggle a few minds straight away.
More on the specifics below. Early versions of that show, Connected, have already gotten darn good reviews: so what is it, exactly?
"Connected is a fully-interactive online comedy show that utilises the platform of Zoom in a way that is a billion times more fun than your usual work meeting," the Melbourne-based comic explains.
"There's specially-designed mindgames, stunts and mini-experiments that take place with the audience through the screen, often using things they can find in their homes. We look for coincidences between complete strangers and try to discover increasingly surprising ways to bridge the distance between everyone in their own homes."
Which can be quite a distance. One unforeseen upside of the live-stuff shutdown is the way virtual shows have made the world seem a smaller place; long may that continue, at least.
"The interactivity of Zoom is a fascinating 'space' for performance and for bringing people closer together," says Leung. "Personally, I think a virtual gig is also pretty great because everyone has the best front row seats, you don't have to line up for toilets and the drinks are free."
He's not wrong. Now let's mind-probe his live history.
First gig?
My first gig was in the early 2000s at an open mic in Melbourne. I remember the MC introduced me to the stage with a completely mispronounced name. "Put your hands together for Lance Lang!" After the applause died, there was a prolonged hush over the room before I realised he was looking at me.
I ran up to the stage to complete silence, tripped on the top step and faceplanted. It got the biggest laugh of the night. Fortunately, I didn't break my nose, but the awkwardness broke the ice and the gig went better for it.
Favourite show, ever?
I think it was the 100th performance of my first solo show Sucker. After touring it in comedy festivals across Australia and then to Edinburgh, my final stop was the Sydney Opera House in 2002. It was fantastic to end a long run in such a fantastic venue.
Over ten years later, the story from Sucker was developed into a feature film (co-starring veteran actor Timothy Spall!) so I guess I re-experienced the show again, but from the side of an audience member in a cinema.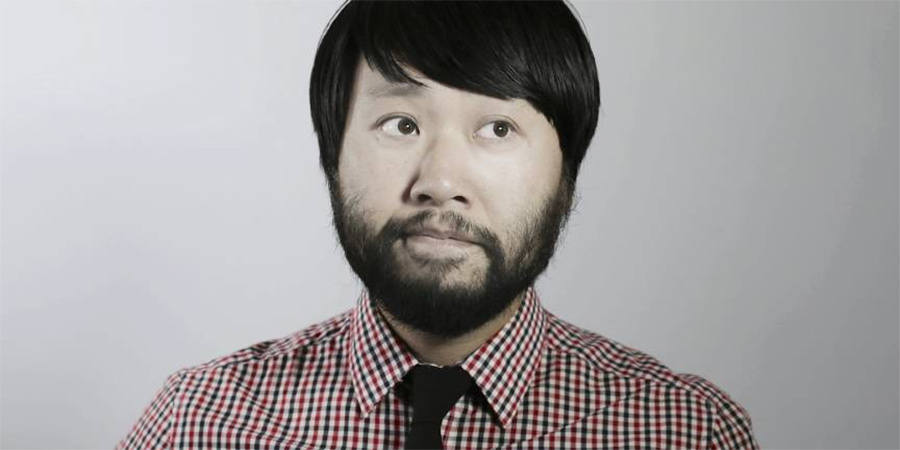 Worst gig?
God, there were a few that I have conveniently blocked out of my memory. One I remember was when I was starting out as a comic. Two other comics and myself had to drive out to a rural part of Victoria for a gig. The headliner (who had organised the gig) had gastro, so at the last minute, decided to stay in a portable loo.
He said we had to cover for him by extending our sets. I was a newcomer so I really didn't have enough material, but at the same time I was trapped in the middle of nowhere so I didn't want to piss off my only ride out of there.
So there I was in the middle of the Bush, standing on the stage (that is, the back of a pick-up truck) with a microphone attached to a squeaky guitar amp, trying to do my nerdy jokes about Rubiks Cubes and growing up as an Asian in Australia. It's fair to say the locals perhaps didn't relate to my material.
Which one person influenced your comedy life most significantly?
Probably that MC who mispronounced my name at the first gig. If I hadn't faceplanted on the stage and unintentionally procured my first big confidence-raising laugh, I probably would've crumbled of fear in the first few lines. I may have never continued.
And who's the most disagreeable person you've come across in the business?
Myself. I am always second-guessing, re-editing and doubting everything I write. I'm really annoying. It took me five minutes to write those two sentences.
How have your lockdowns been, generally and creatively?
In Melbourne, we had pretty strict lockdowns that went for months and months with seemingly no end in sight. The arts and performance industry was hit pretty hard with a lot of us having zero work.
To get over the lockdown blues, I started writing an online show that maximised the good things about Zoom as a medium - namely its 'interactivity'. So I developed experiments and mini-experiences that could be performed on two sides of a screen: mine and the audience's. The idea was to try to bring people together in extraordinary and surprising ways, despite being socially and geographically distant.
I launched Connected on Halloween night and had almost 200 screens from across Australia take part - and it worked really, really well! I am currently performing this live online show as part of the Melbourne International Comedy festival and TONIGHT in the UK presented by London's Soho Theatre: at Friday 8:30pm London time, but 5:30am the next day in Melbourne for me!
How do you feel about where your career is at, right now?
Great! It's so fantastic to be able to perform, anywhere in the world - especially in other places with a lockdown - and virtual shows in a strange new and exciting medium that can bring people together. We all need a good laugh and an escape.