Lauren Pattison
It's the final First Gig, Worst Gig of the year, and one of the best ever. Back in 2017 Newcastle's own Lauren Pattison knocked out a brilliant debut hour called Lady Muck, that won her a well-deserved Best Newcomer nomination at that year's Edinburgh Comedy Awards.
Now it's available to watch on NextUp, the comedy-streaming service that brings a well-curated array of live comedy into your home/hotel room/bus. And, yes, you're absolutely right, a NextUp subscription probably would be a splendid Christmas present for the comedy fan in your life. Details below.
So, Lauren, what's Lady Muck about?
"It spawned from a break up, and when I tried to write about the break-up it was just too sad because I was too sad," she explains. "So I chose to write about another break-up, about being ghosted and I thought it would be much more HILARIOUS to try to track that one down and find out what I did wrong so I could learn about myself."
"I ended up learning a lot about myself but it was much more of a wild ride through a tunnel of emotion than I expected. It's a show about learning to be comfortable in your own skin, and piecing yourself back together after you feel like you've fallen apart."
It's a lovely show - the NextUp version is filmed at The Stand in Newcastle - and this is a lovely chinwag about it. Merry Christmas, folks!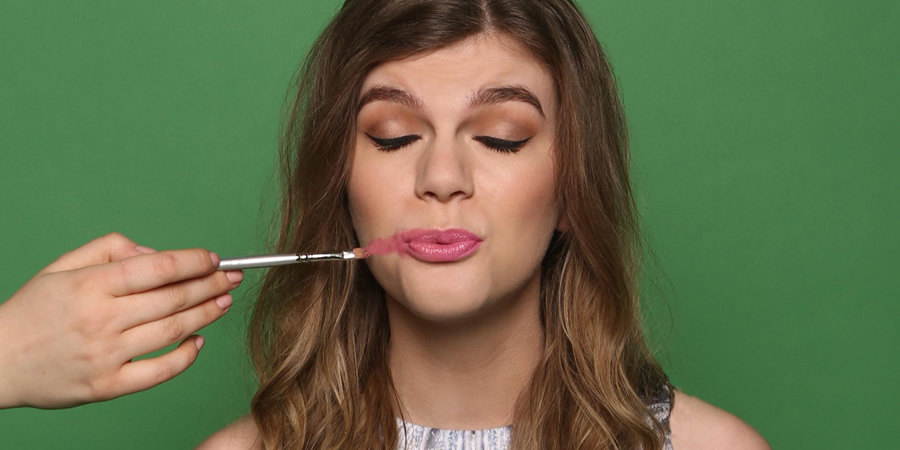 First gig?
I'd done a few 'gigs' when I was 15 with my drama group because I did a kids' comedy type course with them, but honestly you really can't count performing at a youth theatre in between some teenagers' drama pieces about renewable energy for an audience of drama kids and their parents as your first foray into being a comedian.
I did my first actual proper 'I am going to try doing stand-up comedy' gig when I was 18 on 31st May 2012 at The Chillingham Arms in Newcastle. It was for the heats of So You Think You're Funny?, which looking back was idiotic to enter a competition for my first gig, but I did it purely for stage time rather than thinking about progressing in the competition. And I suppose it's better than what some acts do, which is enter new acts competitions when they've been gigging for way longer than the cut-off point. Anyway, I digress.
I remember Lost Voice Guy was there! Whatever bloody happened to him, eh? There was a bunch of other North East comics who've since hung up their mics. I can't remember anything about what I did, I just know I was sort of nervous but also with that slight blasé attitude of an 18 year-old who doesn't fully understand what she's doing. I actually ended up getting through, and it was a really good kick up the arse to realise I would have to start looking for more gigs ASAP.
Favourite show, ever?
It's so hard to single out just one. I supported Katherine Ryan at The Lowry in Salford and it was PHENOMENAL. The space itself was so lovely, and when you're someone like me who spends most nights of the week gigging up and down the country in pubs and clubs, to be in such a gorgeous big theatre space, in front of a genuinely lovely crowd, was a bloody treat.
It's a pleasure and a privilege to get to support comics you look up to, she gives me a platform to reach a much bigger audience and is just so damn nice to work with. That gig was such a smasher, it was one of those gigs where you think, 'yes, yes I am actually good at this,' all those nights' slogging and megabuses suddenly seem worth it during moments like that.
Worst gig?
Oo, again, hard to single out one. The one that still comes back to haunt me is I did my trial spot for Birmingham Jongleurs on the last night of it being Birmingham Jongleurs, which thus rendered the gig completely pointless to do. It was fuck awful, I wasn't being paid anything 'cause it was a trial spot so it wasn't like I could soothe the burn of the firey death by looking at the money I'd earned for my efforts.
I'd stood watching this horrendously unplayable gig unfold from the back of the room, nobody was being thrown out or reprimanded for their behaviour, and I just knew I was gonna die on my hole. I hadn't even reached the mic when people started chanting 'get your tits out.'
Oh dear...
It was an audience comprised mostly of stag parties, and I was having to follow acts who had had to ditch their material and do 'dicks and shagging and fanny LADS LADS LADS' stuff just to get anything from the crowd, it told me exactly what kind of fuckwits they were and I felt like a lamb ready to be slaughtered, so I made sure I had a comeback ready in case they said anything gratuitous about me being a woman.
My boyfriend at the time was like, 'do you not think that's a bit fucked, that you had to prepare something because you knew you were gonna be sexually harassed?', I was like oh my sweet innocent boy welcome to BEING A WOMAN. I remember being upset in the green room after, and another act staring me dead in the eye and saying there was no point being wound up over it because I should get used to it as I should expect that kind of thing. I felt so let down.
You get quite emotional towards the end of the NextUp recording - did that happen often, with this show?
I never did in the previews, ever. It only happened once the show was in Edinburgh, and every single day I'd find myself getting upset, to varying degrees; from maybe just a wobble in my voice, or sometimes I'd tear up.
At first I was mortified, you hear comics snipe about those who cry in their show and I didn't want to be bitched about - especially when this was proper real emotion that I literally was not in control of. I remember speaking to my director and she said 'if it's genuine it's good, that means you're so connected to that show.' And she was right.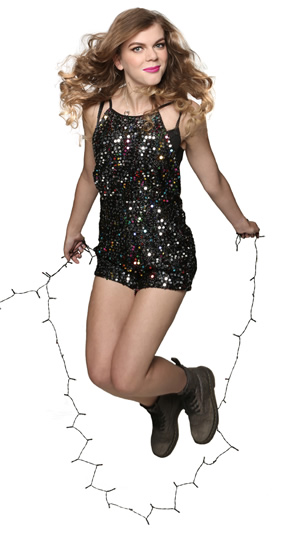 It certainly gets the audience connected, too.
I think it was a mix of things that made me emotional (I nearly said 'totes emosh,' then realised I'm not an utter embarrassment.) It was a mix of relief that the show was going well and working after so much stress and hard work and financial struggle to get it there, genuine emotion because you're reliving a real moment that's obviously emotionally charged, the atmosphere in the room when you can just feel that these people are with you, and have been on this little show journey with you and it's all built to this point both in terms of the actual show on the day and the process of the whole show in general.
Weirdly, once I started to do the show after Edinburgh, I very rarely got upset, I think maybe the pressure was off both in terms of Edinburgh itself was over, the show had proved itself and so had I, things started to get better personally and professionally so there was less emotions all tied up into that.
Some people still take the mick about it, but I'll tell you when I wasn't crying - when I was on an expenses paid trip round Australia and New Zealand while you were all having the worst winter of your life.
Who's the most disagreeable person you've come across in the business?
At the Fringe, in the Loft Bar (to be honest I could just end the sentence there) an industry person said, to my face, that they'd never heard of me because I was 'one of those Northern comedians.' Slide into my DMs and I'll tell you who.
Is there one routine/gag you loved, that audiences inexplicably didn't?
I have a bit which I have tried unsuccessfully to put into both of my Edinburgh shows. I thought it was so clever and funny and most of the time audiences just stared at me. I'm not going to tell you it, because I am convinced it is good and someone might read this and steal it and make it an internationally famous routine and I'll be sat in my gross flat looking out the window forlornly whispering 'it should have been me.'
The most memorable review, heckle or post-gig reaction?
My first review is literally permanently seared onto my brain. I got to the finals of English Comedian of the Year when I was very young and very new. I was undeniably the newest act in the final, and I'm not saying I should have had preferential treatment when it came to being reviewed, but to this day I still think it was unnecessarily savage:
"Lauren Pattison was the only woman in the final and to be perfectly honest, she was not that good. Anyone reading this will be able to rattle off a lengthy list of talented female comedians who are English, but they presumably didn't enter."
OUCH. I felt like I'd been punched in the tit. Twice. And hard. I think there's a way to review, and ultimately criticise someone, without doing it in a way that, shall we say, shits on their dreams. I cried on the train back up to Newcastle from London and a boy next to me gave me some Haribo.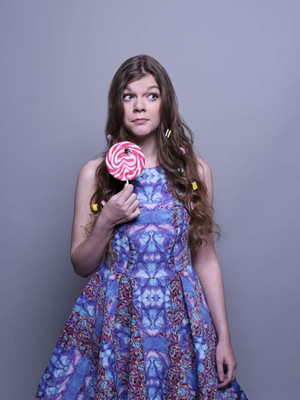 Not a total disaster then...
Obviously people say you shouldn't read or care about reviews, but when you're new and starting out, you're sort of desperate for some kind of quote to stick on a poster, some form of validation that you can prove to yourself and others you're doing the right thing. And reading something so harsh when you're a struggling new act can really dent your confidence. It definitely taught me - 'don't read a review unless you think you can handle it.'
I didn't read any reviews for my debut solely because of the memory the effect of reading that one had on me, and I didn't want to have doubts put in my head during such an important year. In the end I got an email off him which basically said other people had made more of a positive impact, and I felt very inexperienced (I was) while up against acts who'd been performing for the best part of a decade. Which is totally fair enough and I remember thinking 'see, if you'd worded the review like that it would have been so much more constructive.'
Full disclosure, he has since gone on to review me much more favourably and actually ended said original review by saying 'maybe in five years she'll go on to win the Edinburgh Comedy Award.' Well, three years on, I scored a Best Newcomer nomination in Edinburgh for what many critics called one of the strongest debuts in years, so it's a good job I kept going isn't it!
How do you feel about where your career is at, right now?
I feel like I should be happier than I am! I know Lauren a few years ago who was trying to juggle a degree, a job and stand-up would kill to be in the position I am now, earning a living from comedy and not having to serve burgers to rude customers.
But the Lauren in this position now mainly worries about where the next lot of money is going to come from, I'm still in no way near a position where I'm financially secure in this job, I'm not on TV all the time or have a regular writing job. I make my living from live work, and I get by but because I live in London your money doesn't go as far as it should! For anyone who says, 'well don't live in London,' please, feel fry to try convince my boyfriend to move because I'm having no luck on that front.
Freelancers don't have a set payday, so I rely so heavily on invoices being paid on time and frequently have to chase up overdue money because I'd budgeted based on it being paid roughly on time, not three months late. I also worry I'm not gonna make it up to the next level, and I think that's the thing with this kind of job, it's sometimes very difficult to focus on being happy about where you're at because you know you need to get to the next stage.
If I could be in a position career wise where I was financially secure, I think that's when I'll be firmly happy.