Kieran Hodgson
Quietly knocking out a bunch of brilliant hours over the last three years, Kieran Hodgson - let's indulge in some gushing hyperbole here - may well be British live comedy's answer to early-1970s Stevie Wonder, or mid-1970s Martin Scorsese, what with his cycle show Lance (2015) and music show Maestro (2016), and now '75, which is about, er, the 1970s.
"'75 is, I guess, two stories intertwined: the story of how the UK joined Europe in the 1970s, and the story of me using that to understand why we decided to leave it," he explains.
"It came from a long-standing fascination of mine with the '70s as a decade, and a desire to bring its issues and political characters to a modern audience, irrespective of whether a modern audience wanted me to do that. Europe quickly emerged as the best way to make it something people would want to see, an issue that links us right back to that time."
It certainly does. But would people really want to see more Europe stuff, even despite his splendid track record (cycle tracks, music tracks - see what we did there)?
"It's been a tougher show to get right than any other I've done, trying to strike a balance between the nerdy factual content (for me) and the jokes/emotions/fun etc (for the audience). My main feeling when Edinburgh came to an end was one of relief that I'd managed to get away with it."
Indeed, and after much praise '75 tours the UK early next year, bookended by dates at London's Soho Theatre and the Southbank Centre: tres chic! The whole EU farrago does seem to be ongoing though, to put it mildly. Does he need to keep updating it?
"I'm lucky in that the show's content is very much rooted in history, and so bar new archaeological findings I'm happy to leave the script as is," he says. And speaking of archaeology, will these three shows - all nominated for the Edinburgh Comedy Award - be recorded, for discovery by future generations?
"They live only in my head and hard drive for now, but I'd like to think the time is approaching for some sort of self-indulgent retrospective."
We can definitely indulge that. Now, let's head back to the carefree late-2000s.
First gig?
My first gig in the real world was at the Shoreditch Comedy Café in August 2009 with my friends Tom and Joe. It was the dawn of our 'Kieran and Joe' sketch act and was a catastrophe. I can't recall any of the other acts but I do recall the compère saying, after our set, 'Well here at the Comedy Café we get good acts, we get bad acts, and sometimes we get acts that are just weird.' It was a decent assessment as our set had included a real pig's heart.
Favourite show, ever?
Probably the self-indulgent retrospective I did a couple of years ago where I performed three of my Edinburgh shows in a row at the Pleasance as a 'Christmas Treat'. It was exhausting for all concerned, but I'd offered a discount to people who bought tickets for all three shows so there was a decent crowd. I felt validated as people could see that I had at least written quite a lot of material in the last few years, regardless of its quality.
Worst gig?
So, so many. Either performing to total silence for an hour at a cycling trade fair in 2016, or when, as 'Kieran and the Joes', we ended up nearly waterboarding the headmaster of an expensive private school in Oxford at their gala arts festival dinner. In our defence, that routine went down a storm everywhere else that we did it AND we got excellent reviews from the Tory press in Edinburgh that year, so you can't say we set out to do a bad job/offend the entire audience and ruin their evening.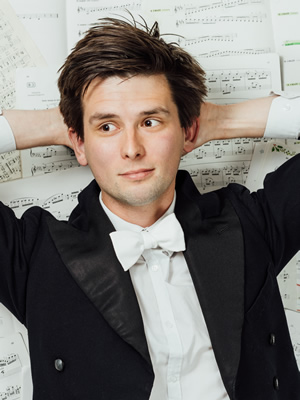 The weirdest live experience?
Maybe performing with a young Jamie Demetriou in double act 'The Giggle Boys' as part of a Sheeps preview in 2012. It was at the old Invisible Dot in Camden, the audience had been enjoying Sheeps for fifty minutes and then we came on to do a lot of fart noises and then be wrestled off-stage by a vengeful Sheeps. As a section, it didn't make the final show and I can only assume this was down to me and Jamie really souring the atmosphere. I hear Jamie's career has since recovered.
Who's the most disagreeable person you've come across in the business?
Myself.
Is there one routine/gag you loved, that audiences inexplicably didn't?
In an early draft of '75, there was a bit where I turned the whole audience into the House of Commons. Everyone was given order papers on their seat, which told them what party they were in, and they were encouraged to cheer and boo and make a racket while my characters did speeches at the despatch box. Sounds fun, right?
Well, as it turned out, people tended to get shy after about twenty seconds, leaving me fatally exposed for the remaining five speeches/15 minutes of the routine, and so it had to be dropped. I lay the blame for its failure squarely at the door of the audience.
Also, that headmaster didn't seem to enjoy being almost waterboarded, for some reason.
If forced to predict, where do you reckon we'll be at with the Brexit OmniShambles, this time next year?
I am a strictly backward-looking comedian. This time 40 years ago we were about to begin the Winter of Discontent, so I think things could be worse.
The most memorable review, heckle or post-gig reaction to your stuff?
'You look like David Tennant'. If not memorable then certainly unremitting.
How do you feel about where your career is at, right now?
I feel that I've pulled off my last big heist and that I want to retire to the Costa del Sol, but the gang are gonna get me back in to do one last job and next time I won't be so lucky. See you in Wormwood Scrubs.