Justin Moorhouse
He's worked in TV and film with Kay, Kitson and Ken Loach, appeared in Corrie, had his own Radio 4 sitcom and lots of radio hosting roles back home in Manchester. And yet STILL Justin Moorhouse sticks with the stand-up. Well, he is very good at it.
Anyone yet to catch one of his full-length shows might be blissfully unaware just what an excellent comic Moorhouse is, in fact, so it's well worth catching one of the new batch of tour dates he recently announced, if he's in your vicinity.
"My latest show is People and Feelings," says Moorhouse. "I'm doing about twenty extra shows this Autumn, going to some places I couldn't get to so far. It's gone down really well so I was chuffed I could breathe some more life onto it."
But where did stand-up life begin for Justin? Let's find out.
First gig?
Any comic I reckon either has a smasher or a death for the first one. Never a middling one. Mine was great, Frog and Bucket, Monday night, I had about 25 mates there - didn't feel nervous, just went for it. I loved it. Next week went back, no mates, too cocky, died on my arse.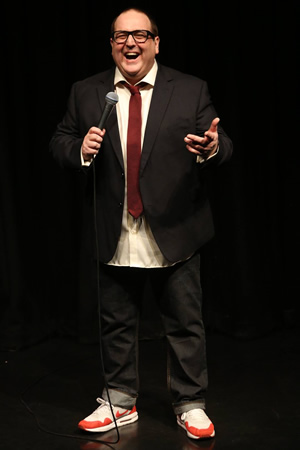 Favourite show, ever?
My daughter was born very premature and we decided to have a gig to raise funds for the neonatal unit where she was cared for so brilliantly. We sold about 1,500 tickets and didn't tell anyone who was on. On the night it was a pleasure to introduce mates who'd just turned up - Peter Kay, Jimmy Carr, friends from Coronation Street, John Thomson, Mick Miller and mates from the circuit. It was an amazing experience. Lots of love in the room but it was brilliantly funny as well. I'll never forget it.
Worst gig?
Millennium Eve. Just the Tonic. A misguided character I was working on. 250 people stared. It was an amazing experience. Not a lot of love in the room but it was brilliantly unfunny as well. I'll never forget it.
The weirdest live experience?
I once did stand-up on the 192 bus in Manchester to celebrate the opening of a park and ride. I'll be honest, I smashed it. Standing ovation. Technically everyone had to get up to get off but still...
Who's the most disagreeable person you've come across in the business?
There's a comic I work with a lot, a big-headed delusional man, he thinks he's some kind of undiscovered genius, and he's a prick. That's why he's undiscovered.
Is there one routine/gag you loved, that audiences inexplicably didn't?
I've never persisted longer than three times with material if it hasn't worked. People who keep banging their heads against a brick wall with stuff that doesn't work: move on, if it can't be fixed or you don't attempt to change it, time won't improve it. It's jokes not wine.
What's your best insider travel tip, for gigging comics?
Me and Alun Cochrane love the Jerry Seinfeld advice: pack light, eat right, work tight. That and avoid eating at motorway services, full stop. At worst, come off the motorway and find a supermarket. At best, google the nearest garden centre. The food in them is always lovely.
The most memorable review, heckle or post-gig reaction?
I once encountered a bloke in Edinburgh who said my show was 'fine,' with a shrug. I still hate him.
How do you feel about where your career is at, right now?
I'm happy, not fulfilled and ambitious - always believe I can do better. I'm working hard.