Josie Long
"We can be heroes," sang David Bowie, "just for one day." Which is a start, but what if you're staring down the barrel of a three-month lockdown, David?
Step forward Josie Long, who - alongside Robin Ince, the Cosmic Shambles team and an impressive wish-list of talking heads - kept spirits aloft during Lockdown 1 with daily doses of wit, wisdom and live performance. They were the cultural comedy heroes we required in this particular crisis.
"Ha, thank you! I think the Stay At Home Festival absolutely got us through the first lockdown," Long admits. "It gave us a purpose."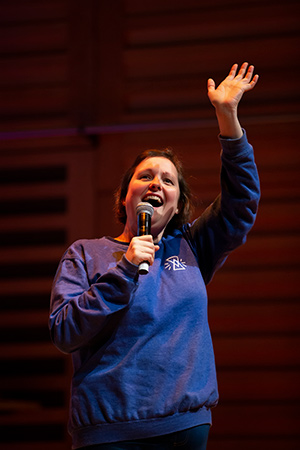 And now? Well the Shambles crew should currently be sorting their pre-Christmas live shows Nine Lessons and Carols for Curious People in three cities, but 2020 intervened, so they've gone one-off epic instead. From 12-13th December a 24-hour Nine Lessons takes place at London's King's Place, with a socially-distanced audience, a bigger one at home, and all profits going to charity. How they'll organise the huge list of guests is fascinating, frankly.
"The 24-hour gig is still a very exciting mystery to me," says Long, whose Radio 4 show Short Cuts has just begun a new series too. "I will definitely be performing... something!"
Also on board are the likes of Professor Brian Cox, Commander Chris Hadfield, Disco Commander Sophie Ellis-Bextor, Eric Idle, Tanita Tikaram, Rachel Parris, Jim Al-Khalili, Lost Voice Guy, Ben Goldacre, Helen Sharman, Isy Suttie, Mark 'marathon show' Watson, and many more. Check out the ever-evolving list
They will be heroes, for one day (and however long it overruns). Now, let's journey back to Josie's first five minutes.
First gig?
It was at the East Dulwich Tavern, and I was 15 years-old. I used to go to a comedy workshop that was meant for adults. I was kind of the mascot for it and they would book me a spot whenever they did open spots in London.
The gig was a new material and new acts night. I don't remember how it went beyond it being the single biggest thrill of my life up to that point; also that both Harry Hill and Jo Brand were on, trying out new material. That blew my MIND!
Favourite show, ever?
Oh God, there have been so many gigs that I have just LOVED. Especially trying to think of this in 2020 is impossible because I am nostalgic for every single gig I have ever done. I keep thinking of Edinburgh runs - there are always a couple of gigs that are just so satisfying, where it feels like you're doing the show right and that the audience really enjoyed it!
Worst gig?
Playing to skiers who hated me, playing to people in Peterborough who hated me, dying so hard in silence for two hours in Builth Wells, being introduced by a misogynist MC at a big festival audition show...
Any notable moments from the many online shows this year?
It's mainly me just desperately scanning the comments for people saying "hahahahah" so that I can feel like it's a real gig. I was lucky enough to perform my show Tender in my front garden to my neighbours (when that was allowed, in the window of opportunity) and that felt like the biggest and best gig I have ever done!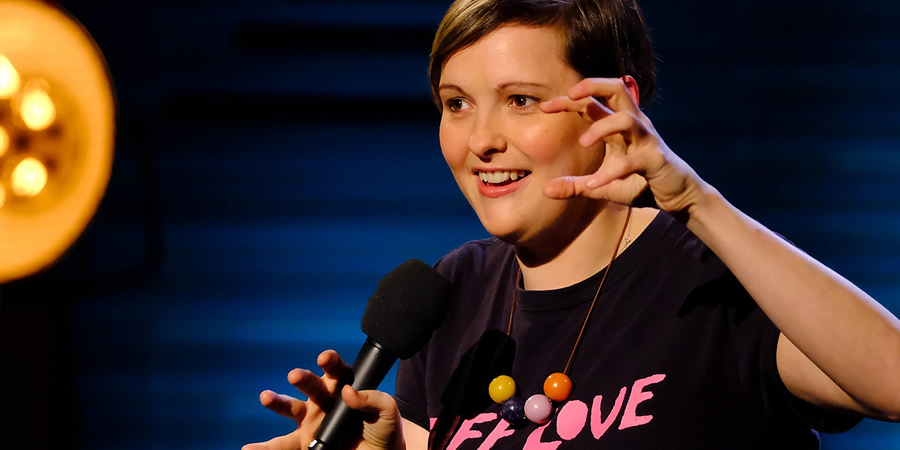 Which one person influenced your comedy life most significantly?
There have been a few people who have really helped me. The teacher, Michael, at the workshop was amazing, and basically let me keep coming as a teenager and helped me find a voice. Then Stewart Lee basically helped me become a professional comedian by having me support him on tour and having that faith in me. I am eternally grateful to him.
When I met David O'Doherty up in Edinburgh in 1999, we were doing the new act competitions and he sadly lost the BBC New Comedy Awards to me (I know he has never forgotten the loss and never got over it.) He really opened my eyes to how to live a playful life, and what it could mean to be a comedian, too!
Is there one routine/gag you loved that audiences inexplicably didn't?
One? There are more than I'd like to admit. But I think the best part with those is if you keep going with them, eventually you work out how to get audiences to come on board. I have kept bits in for 150 shows just out of stubbornness because I love them and know they will work! I don't know if I recommend it though.
Your most memorable Nine Lessons experience over the years?
Being onstage with The Cure was pretty special, I won't forget that.
Are there particular reviews, heckles or post-gig reactions that stick in the mind?
The only thing that I think has probably been hard to deal with has been online abuse since I was 24, in varying guises. It's a bit too much to weather I think. Other than that, good ones stay with me too! I love it so much when people come up to talk to me at the end of a show and say they enjoyed it, or even better that they connected with my experiences in it. It's the absolute best!
How do you feel about where your comedy is at, right now?
I feel like that emoji which is either excited or nervous, the smiley face that's got a big kind of 'sheeeesh' grin full of teeth. I am desperate to get back to writing shows, but I love most - and find it best - to write them onstage, so I am basically trying my hardest to see how I can adapt! I still love performing online too though, I'm still in love with performing, so that's good.