Jonny & The Baptists
If there's one infinitesimally tiny sliver of an upside to the rise of jingoistic lunacy here and abroad, it's the wealth of material Jonny And The Baptists must be getting out of it. Just imagine if the world were suddenly lovely, like some mythical bit of Scandinavia: what on earth would this rabble-rousing duo do with themselves, of an evening?
Jonny Donahoe and Paddy Gervers will be rousing Edinburgh's rabbles this August, as they're back at the Fringe after a few years off, although they've still been busily Farage-baiting in the meantime. So what's the motivation for this 2019 comeback special?
"Our new show is all about love, friendship, and trying to fix the rhetoric that has divided Britain - but unfortunately we have called it Jonny & The Baptists Love Edinburgh & Hate Bastards so it might not completely do that," says one of the Baptists; "It's a non-political show about politics and not wanting to be political. With political songs."
And who will it wind up most?
"We hope it won't wind anybody up whatsoever, but in trying to achieve that we are confident it will inevitably annoy everyone."
Still, they'll enjoy it. "It's our first fully new Fringe show in three years," he says, "and we're delighted to be back."
And we're delighted to delve into their backstory. Prepare to be fully baptised, people.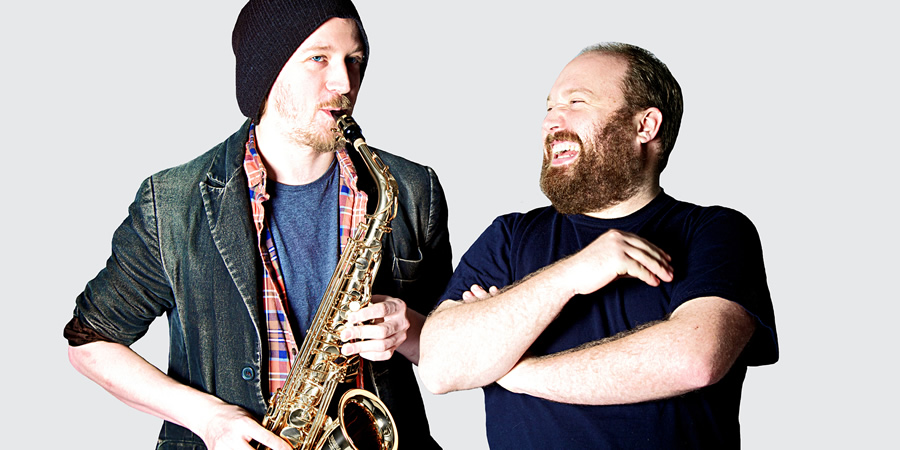 First gig?
Our first ever gig was in Zagreb. Well. Actually, technically, our first ever gig was a few nights before, doing a mixed-bill new material show hosted and curated by Colin Hoult, at the Leicester Square Theatre Basement.
However, Colin - already relatively pissed and overexcited - couldn't remember the name of our act, and introduced us as "um, Jonny and his... friend". So we're not counting that one. That was a one-off performance by the avant-garde act 'um, Jonny and his ... friend', who just happened to look like us and do semi-accurate versions of our club bangers Robert and Quentin Blake.
Zagreb counts as the first ever 'Jonny & The Baptists' gig - we sort of headlined a festival of British Arts at a university. We think this is because we were booked in error, but we asked no questions at all, acted like we belonged and it sort of worked. The organisers kept calling Paddy 'Stephen' or 'Mr Merchant' so we think they thought we were those guys who did The Office.
Favourite show, ever?
We closed the Greenbelt Festival a few years ago, in an enormous tent. We were a bit nervous because Greenbelt is a family-friendly Christian festival, and we had no idea what they would make of us. Just as we arrived the heavens opened and it started to rain to a - let's be honest - biblical extent.
I tentatively suggested it was God's fury that two agnostics were closing a Christian festival, and the crowd laughed. The rain made the tent fill as full as humanly possible, and we played to our biggest ever crowd. They turned out to be the most incredible, thoughtful, generous, liberal, amazing crowd we've ever had. And they didn't mind us being rude and silly at all.
Worst gig?
We were booked to headline a cricket club in Macclesfield, on a Friday night. Ourselves, the MC, the opening act, an open-spot act and both our guitars squeezed into a Vauxhall Nova, and proceeded to sit in traffic for seven hours.
By the time we got to the gig it was 9.30, and the venue had decided to run an 'all drinks half-price til the acts arrive' promotion. We tried, but any semblance of 'gig' had been lost as everyone was too arseholed to stand.
They were quite sweet and friendly, but drunk beyond the point of most communication. We just did songs and people sung along. They didn't know the songs. But they sung along anyway.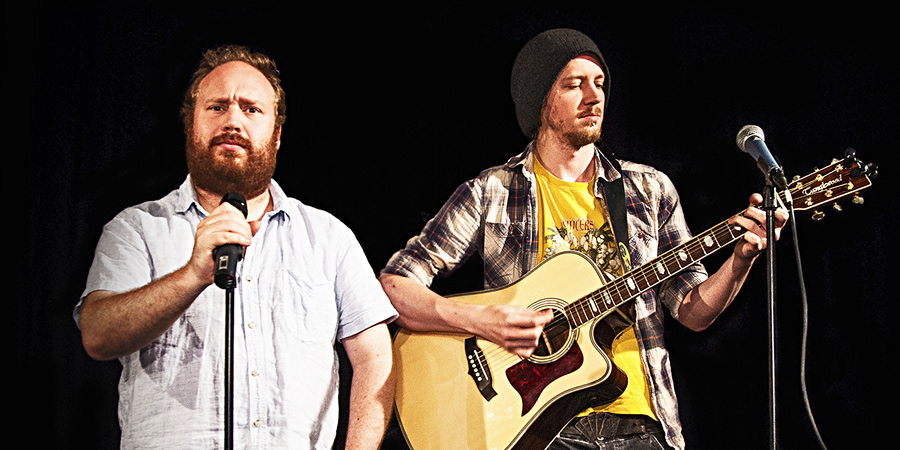 Which one person influenced your comedy life most significantly?
Colin Hoult booked us for the first show we were properly booked for, and he continues to be a great support, friend and inspiration. John-Luke Roberts welcomed us into the alternative comedy fold, and gives the best advice and grumpy-hugs ever. Barbara Nice (Janice Connolly) taught us you can always be a good person, and still as funny as it's possible to be.
And who's the most disagreeable person you've met in the business - or beyond?
Matt Winning is the kindest, sweetest, most generous and intelligent man and comedian. But he hates dogs. HATES them. Who hates dogs? He clearly must be a monster, underneath the veneer of loveliness. We're doing a preview with Matt Winning at Pleasance Islington on Thursday 25th July. Come along, there may a be a full-on fight, in the name of dogs.
Is there one song/gag you loved, that audiences inexplicably didn't?
We tried to write a song about the lengthy, rain-affected Wimbledon semi-final of 2001, between Croatian Goran Ivanisevic and Britain's Tim Henman. We thought it would be a funny but stirring fantastical epic, like Game Of Thrones crossed with Tim Henman. The audience was mostly baffled and saddened.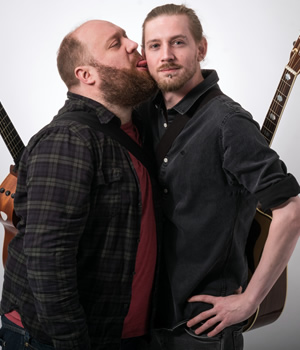 Do you have any tips for up-and-coming musical acts - is honing the between-song chat important too?
The chat is important: every second of your act is! Our big advice would be make every song easily as funny as you'd expect a good stand-up routine to be, don't rely on it sounding nice. And don't write a funny but stirring fantastical epic about the Wimbledon semi-final of 2001. The world's not ready.
The most memorable review, heckle or post-gig reaction to your stuff?
We did a show about the rise of UKIP, populism and the far-right. An online magazine (who we won't mention) wrote that they didn't like the show because "they keep going on about this guy Nick Farage", which was ... well, what you can say to that? If you're a journalist and you're not up to knowing who Nigel is, it's hard for us to get our jokes across. Never mind.
How do you feel about JATB's career, so far?
Well we're still going, so that's not to be sniffed at!
It's hard to make a living in comedy when there's two of you, you need to earn twice as much as a solo stand-up, but fees are by slot, not by number of people. So that's very hard when you're starting out, it meant we had to get twice as many gigs to survive, but that helped us in the long run.
This new run at Edinburgh is followed immediately by a massive UK tour from September to December so we're feeling pretty good about 2019.
Next year? We'd like to make a TV series, and a movie, and then a Jonny & The Baptists ride at Thorpe Park.