John Hastings
What does 'Hastings' conjure in your mind? A big medieval battle immortalised in fabric? A seaside town they forgot to close down (thankfully, as it's getting all cool and hipster round there nowadays)? Or perhaps a Canadian comedian who survived punk and Christian rock bands back home before switching to comedy, then the UK, as Canadians will. But what is he up to over the next few weeks?
"Hey Everyone, I am doing the cabaret space in the basement of the sexy Soho Theatre," he explains. "It will be on Feb 8th and 9th of this new year 2019 and I really need all of you to attend because if you do not I am gonna, well, probably just soldier on but still I will not have the best time. Also listen to my wrestling themed podcast The Wrestler Review or check me out at San Francisco Sketch Fest doing stand-up. Why? Because I am an intense rebel."
But don't fly over to Frisco specially for that because the Sketch Fest actually finished a few days ago - yes, we did hang on to this interview for a couple of weeks. Because we are past-tense rebels. Speaking of which, let's jet over to the wonderful state of Quebec, a good while ago, and greet a younger, greener Hastings, as he embarks on the first giddy steps of his comedic odyssey.
First gig?
It was middle May 2006, at the Comedy Works in Montreal, which has subsequently burned down. It was your classic comedy club open mic; lots of overly confident dudes in the fashion of the day, a few nervous newbies and an overweight 21 year-old in a suit because he thought you had to wear a suit (that was me).
I talked about vomit and was hooked on the rush. I was so happy I took a cab home because I felt I had found my career. This is a memory I find both fond and utterly horrifying.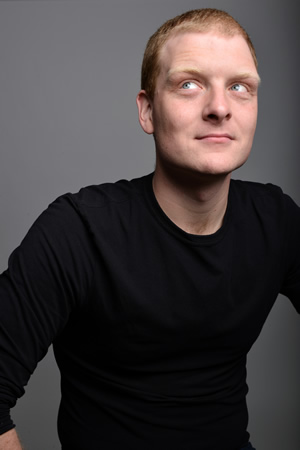 Favourite show, ever?
I don't know, I like the corners and edges of all of them. It would be like pointing at one of my 40,000 children and going "this one, this is my favourite! All other children are fucking disappointments." For the record all my performances spread as much love in my body as raising a child.
Worst gig?
Again there have been some horrible ones. I got asked to leave by the head of the only Canadian rail company after being hired to roast the CEO. I had a gun pulled on me in Porters Lake, Nova Scotia. Well he threatened the gun: I did not actually see it, but the tone conveyed that a gun was real and present. I performed for a man and a dog and a gay man the night of the Olympic opening ceremonies. All of those stand out as being brutal.
The weirdest live experience?
Aren't they all weird? I am a man with a theatre degree who bought his first chair at 33, yelling at people for how they voted. Isn't that strange!
Who's the most disagreeable person you've come across in the business?
Buddy, we got loads. A person involved in gigs claims I cancelled my shows the day of the shows. It was months before and I cancelled it because the other show I was offered was for double and I asked him to reschedule the gigs, as well as being honest that I was switching dates because I needed to pay rent and his agreed fee would cause me to be homeless.
He banned me from his organisation, told various versions of the story, one of which involved me never actually cancelling but simply no-showing as well as being the foot-soldier of another promotion who were staging a hostile takeover. It broke my heart honestly because I was worried that it would destroy my reputation, but then he left the business so I am fine I think.
Also, a guy who promoted shows told me I was never gonna make it and that I was a snake. He then lit a cigarette inside a bar, threw a shot glass at a bartender and lost his business. Ran into him a few years ago and he was sober with children and told me that I should really think about the teachings of Jesus. I think his son wiped a booger on him. I am unsure of the details.
Is there one routine/gag you loved, that audiences inexplicably didn't?
I mean that's all of them at one point or another. I had a joke about being consensually attracted to Donald Trump because of the story appeal, but he then won the Presidency and it all became too real. Also I had a joke about carpenters that caused a woman to cry. I remember neither the joke nor the context but I remember the tears.
What's your best insider travel tip, for gigging comics?
Always do a walk around of the hotel room before you leave. Front desks will always let you have a coffee from the breakfast buffet if you ask. If you call ahead they will always have a room ready because you have given them the opportunity to clean. And remember, a hotel room is both a place to rest your head and a laboratory for what you can do with your body hair.
The most memorable review, heckle or post-gig reaction?
I told a true story as a joke and a reviewer said there is no way it could be true and I was clearly lying. I had to be restrained to prevent me from attacking said individual, which was unnecessary because I am a massive wimp and talk a big game. Also a woman once claimed I could not be a feminist because I have never menstruated, which really narrows the field.
How do you feel about where your career is at, right now?
I mean, I feel fine about it. Why? What do you know?