Jessica Fostekew
It's that curious few weeks when the next big calendar milestone to look forward to is Blue Monday, the most miserable day of the year. Great! So let's spread a bit of mid-January cheer with a cracking edition of First Gig, Worst Gig starring the fabulous Jessica Fostekew.
The poshly-surnamed comic is on quite the roll at the moment having appeared in Sharon Horgan's fine sitcom Motherland - which is well worth catching on iPlayer, if you haven't - and guest-hosting the popular Guilty Feminist podcast, onstage and in ears. And speaking of aural pleasures...
"On Mother's Day, in March, I have a three-hour special coming out on Radio 4 Extra" says Jess, "called Motherhood: Bump, Birth and Beyond." Three hours! Blimey. But we're actually here to talk about her latest stand-up hour, which she's about to take out on her debut voyage around the nation.
"The Silence of the Nans is the whole, gory story of a huge disaster at sea," she says. "In the summer of 2016 I was offered a golden egg, but it ended up having thousands of very old people in it who all, quite openly, wanted me dead."
That's 'worst gig' sorted then. Thankfully audiences for this new show about that experience sound much less murderous, as it "had a lovely run in Edinburgh and I'm so excited to be taking it round Britain, it's my first ever tour so I'm buzzing."
We wondered what that noise was. Right - let's head back almost exactly ten years. Turns out Jessica is celebrating a significant anniversary this very week.
First gig?
I remember a weird amount about my first ever gig considering it was a decade ago. 8th January 2008, in a bar which isn't there now, underneath a shop opposite the top of Carnaby Street. I was on with Sara Pascoe, Helen Arney and tens of other acts, all doing 'exactly three minutes please'. Joe Bor was hosting and Julia Chamberlain was there deciding who was the best and I think they won something brilliantly pathetic like a voucher for a drink. I think Pascoe won it, I know it wasn't me.
I remember feeling insanely high and frightened. Pascoe's set had a lovely bit in it about keeping words like animals in different sized pens depending on whether they should probably be allowed together or not. I had a diabolical mess of jokes which even within three minutes ranged from linguistics to absolute filth. I kept that heartbreaking lack of voice and frantic, aggressive, nervous energy for YEARS, like a legend.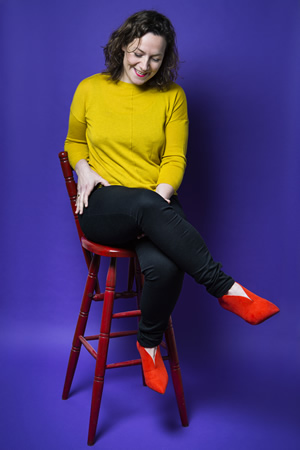 But were you buzzing?
It felt amazing and it went great, considering. I said my things and they really laughed. It was a complete experiment and I was so green. I had only seen live stand-up a few times ever before so I had no idea what to expect. I thought Joe Bor was a god, so engaging on stage. Then I was absolutely heartbroken that offstage he seemed miserable. In retrospect he was probably trapped all night in a basement gig with no real audience, with brand new, awful acts, being paid in peanuts, and had every right to be grumpy. Ha.
I was instantly addicted, to the fear, the drama, the freedom, the instant gratification and the - what seemed then to be - simple meritocracy of it.
Favourite show, ever?
I'm very lucky in the sense that this gets gazumped all the time, so it's very recent. In November I co-hosted a pair of episodes of The Guilty Feminist in London, one of them with Jo Brand guesting. I'd had to write the stand-up with a few days notice so I was sweaty-palmed about it all day.
That audience are the best: up for it, bright and united. So each set went better than I could have ever hoped, I felt so happy in my skin and then Jo, one of my heroes was nice about my stand-up. And I thought, "yeah I could stop now if I wanted and I can say I did this 'very well', even just that once."
Worst gig?
The answer to this is contained in the entirety of The Silence of the Nans.
The weirdest live experience?
I did a preview in 2011 in a tiny seaside town in Devon, who were having a comedy festival, and had to do my show without a mic, from behind a giant wooden bookcase with only my head popping out above it. There were seven people in the audience including my aunt who'd never seen me before and they were all sat at the other end of the room. I enjoyed it, shouting about a serious and practical contemplation of suicide across a harrowing void. It was so bad it was excellent.
Who's the most disagreeable person you've come across in the business?
So much choice! Comedy makes Westminster look kind, safe and fair.
Noel Faulkner, who used to run the Comedy Cafe. I'd done loads of the Wednesday try-out gigs in my first three or four years. His deputy booked me for a paid Thursday spot; he later sacked him and, never having seen me, unbooked me. Eventually he took my call and told me to come and do a Wednesday again - so after about a two-month waiting list, I did and I 'won' it (it was a competition).
I jovially went to introduce myself and say that I'd love to come back next week (that was how it worked, if you won you did the closing ten the next week). He said "you're not coming back next week, I didn't watch you." I said "oh, I thought that was how it worked." He said "if I wanted to watch a cunt I'd have been a gynecologist." I said "seriously?"
He then went into a huge rant in front of all the other acts about how dare I 'talk back' to him, saying lots of contradictory things like "one-liners, that's all an audience wants" but then "I raised Daniel Kitson and Josie Long here" - it was so humiliating and so baffling and then the worst bit was (my inner feminist now wretches at this) in front of everyone, I just stood there and smiled throughout, welling up, everyone gawping and no-one saying anything.
When he went quiet I said (ugh, this is so pathetic), I said "I'm so sorry we got off on the wrong foot, can we just start again?" and put my hand out to shake his and he looked at it, laughed, turned round and walked off.
It was fucking horrific.
I left.
The next day one of the other comedians on, a man, texted me and said "that's just silly old Noel, he's like that, he's just bonkers, you should do another Wednesday."
Get f**ked.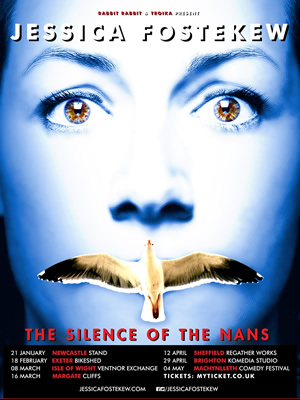 Is there one routine/gag you loved, that audiences inexplicably didn't?
Oh, it was always explicable!
Any brilliant tips for aspiring comedy writers?
Sometimes writers' block is actually the writer just expecting what they're writing to be perfect from its inception. To write anything that will eventually be brilliant you will often have to start with something shit. So just write, don't load it with pressure for it to be anything, just let it exist at all to start with. I find that philosophy helpful to get off the mark - take all the self-judgement out of early drafts.
The most memorable review, heckle or post-gig reaction?
In Switzerland, a man who'd enjoyed a bit of a joke I did - instead of laughing, shouted "GREAT COMBINATION OF WRITING AND PERFORMANCE."
How do you feel about where your career is at, right now?
10 years in and it's just finally pulling out of the station, I hope, which is exciting and I feel very ready for everything ahead. I'm still very much in love with my work and feel so grateful to have as much control as I do over how I spend my life and to adore so much of what I do.
Having a human baby surprised me, in that I feel inordinately happier, more focused and more driven in my career. And I think just growing up, I'm better and I'm more confident and more deserving. But yeah, I'm still strolling, rather than shooting to success. But now I'm doing that slightly faster professional walking that looks all wiggly and ridiculous.