Jen Kirkman
Jen Kirkman. Top US comic. Writer for numerous high-profile TV shows, and of two successful, epically-titled books: I Can Barely Take Care of Myself: Tales from a Happy Life Without Kids and I Know What I'm Doing and Other Lies I Tell Myself: Dispatches from a Life Under Construction. There are also a couple of great stand-up specials on Netflix. And she's now making a welcome return to the chilly old UK. But why, we asked?
"Well, I'm on tour again - with material that no one has seen me do on Netflix so you won't be bored. Or you could be bored but that won't be why. I'll be talking a lot about how I survived 2017 after a breakup and having a reality star as a president and finding out that younger people think that at my young age of 43 I'm some old establishment lady because I have a savings account."
The UK leg of her tour is only a one city, one venue, admittedly, but she'll be doing five nights at London's Soho Theatre, which is a proper working week like the rest of us, so do swell her coffers by coughing up for a couple of tickets, if you can. New, in-the-flesh Kirkman material is a rare treat - as, indeed, are her thoughtful recollections about her earliest material. So let's head there now.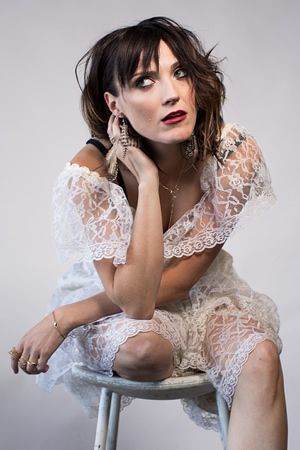 First gig?
It was produced by a very popular and successful comedian, Eugene Mirman, who now lives in NYC. He wasn't successful at the time - none of us were. We were just finding our way. It was in the back of a bar in Somerville, Massachusetts (near Cambridge). It had about 20 audience members, all our age and aesthetic and they were supportive and eager to see this night of - what was billed as - "absurdist" comedy.
I wasn't that absurd except that I sat on a stool and smoked and talked and thought I was original. I really did. I had a great time. It's why I went back for more. But this was over twenty years ago so I remember flashes, not the entire narrative of what really happened. In my memory I wasn't nervous. Who knows? I could've been. Some things just fade away after a while and I am left with snapshots in my mind.
It was unpaid except for a couple of free drinks and on it went like that from Boston to New York City to Los Angeles. Performing for free just to hone the act, for over a decade before I was ready to tour with someone else and be their opening act and it wasn't until 2009 (after beginning in 1997) that I got my own audience. That's not a sad story. That's how being a comic works. That's the work it takes.
Favourite show, ever?
I don't have one. I don't really analyse things that way - it doesn't quite work that way if it makes sense. The moments that mean most to me on stage have nothing to do with something being televised or fancy or paid well, I have lots of those but the special shows are the ones where I come onstage and I can feel from the audience, "Hey, Jen. We are here to see you and the world through your eyes. We are already on board. Take it away! Have fun! We are here to laugh."
Those shows give me a freedom that I need to create while on stage, and that's when I end up writing new punchlines or premises that then carry me through to the next gig and that's how a new act is developed. I've played Madison Square Garden as the opening act for another comedian and although you think you might want 5,000 people just screaming with joy while you're performing - it just means they are drunk and excited and usually watching you on the monitor, so truly it's not a human connection for any of us.
Worst gig?
There isn't one really. Again I've been doing this twenty years and so they all blur together. But I'll tell you this. People who don't do comedy LOVE to talk about horrendous gigs and they wait salivating for us to answer. "Did people heckle you and yell 'You suck, get off stage?' 'Did you run off stage crying?' 'Did someone throw a punch?' 'Did the owner end up not paying you?'" I have had to 'think like a reporter' so many times when they ask me this question until I finally realised, in my coming of age, 'wait it doesn't work that way.'
There isn't always 'the most horrendous gig' because usually something THAT horrendous ends up being HILARIOUSLY funny to us about ten minutes later when we get off stage. It seems like, "Well that went SO badly, it seemed almost cosmically ordained and wow, this is hilarious." So, I'll ask myself the question: "What's the worst thing that happens to even the most established comedians on stage still?"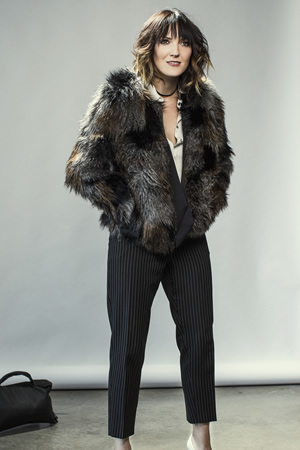 Good question...
THIS is the mind-eff. When you're a known comedian. You come on stage. You have just heard the audience give the local opening-act comedian before you GOOD laughs - you think, "Well, I'm the person they came to see, this should be great." And you go out there and they just never get on board. They aren't angry. They aren't heckling. They aren't throwing things. They are just quiet. You feel like you're giving a lecture. And you have to do at least forty-five minutes per your contract or you won't get paid.
You have two choices. Just barrel through the material - which goes a lot faster when there aren't laughs, not only because laughs take up some time but because laughs inspire us to keep adding on to the joke in the moment, or make comments. We can just plough ahead or sit down and address it and tell the audience that you know they aren't laughing but you just have to finish this gig. That's a risky one. Not everyone is comfortable with that kind of honesty.
So you just usually do the jokes, and KNOW in your heart that this isn't you, it's just a freak fluke of a night but deep down, it's confirming your worst fears about yourself. "I suck," you think. "I suck and the hundreds of shows I've done worldwide where people laughed were a fluke. THIS show is the truth. I am no good."
The weirdest gig experience?
That could be performing at a sports bar in New York City during a Yankees baseball game playing on the TV when the bar manager allowed us to do our comedy during the commercials and then people would scream, "Get outta here!" when the game went back on.
Or the time I performed at a Starbucks in [New York's] Union Square for unsuspecting customers. Or the comedy show that many comedians used to do at a laundromat in NYC. Sometimes people would just ignore the fact that I was performing and ask me if I could change out their dollar bill for quarters for the washing machine. I wanted them to like me so of course I did it.
Who's the most disagreeable person you've come across in the business?
Once I reached a certain level - I don't deal with too many jerks anymore. My agent does that for me. During my not so well known years, I wasn't venturing out into the land of disagreeable people. I was doing shows in NYC and LA - working out my chops with friendly comedians who ran comedy nights at theatres or art spaces or bars.
A lot of times it's older comics who didn't quite get what they want out of their career and when they've been assigned to open for me they get angry that my audience doesn't find their sexist jokes about buying some dinner funny. Maybe it was funny in the 1980s but modern audiences don't know about the concept of how one side of the menu used to be more expensive than the other and lots of 1980s guys had that joke, 'She ordered from the left side of the menu! You know what that means! I deserve a blow job!" People in my audience were staring at this guy probably thinking "Um, restaurants now are like hip little bistros and there's usually just one page with like five things on it. What are you talking about?"
It's actually heart breaking. Of course those guys get angry after their set and blame the crowd and accuse me of being some kind of comic who doesn't do 'real jokes' and I am training these people wrong and I want to say, "Oh, you're just becoming extinct, is all." It will happen to me too so I don't say that with any satisfaction.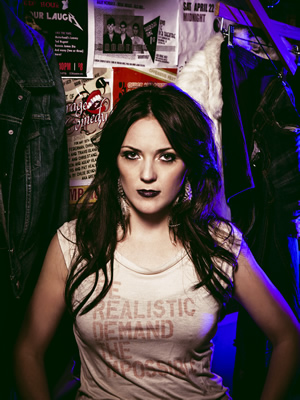 Is there one routine/gag you loved, that audiences inexplicably didn't?
It's happened but I don't have a fun cool story about it. I usually just kept re-working something until it made sense. I used to talk about how I don't want kids - ever since I was in my early 20s as a stand-up. No one laughed at that premise until I was almost 40. I just hadn't earned the life credibility yet to seem like I truly knew what I wanted.
What's your best insider travel tip, for gigging comics?
Stay healthy. Take care of your voice. I lost mine for a year and had to stop. The comics won't listen. Don't go out with fans after the show. Let the mystery remain. Don't chase the high you just had on stage. Go back to your room and be in gratitude and wind down. Don't drink too much or party. This is a job and it's a fucking honour to do it. Don't piss it away.
The most memorable review, heckle or post-gig reaction to your stuff?
Heckling isn't really a thing. Every interview I have done for the past 20 years asks about heckling but truly it's almost a myth. In London I have had some heckling, I know it can be more of a literal thing there. Someone yelling out "Get to the point" or something but mainly what heckling is, is bothering a comedian by talking to your friend too loudly at a table or being so drunk you're laughing when no one else is and ruining the flow.
That comics have to deal with hecklers very often is a comedy myth perpetuated by people who don't do comedy but have seen movies about comedy, those movies are made by people who have never done comedy.
How do you feel about where your career is at, right now?
I'm truly lucky to have one. I wouldn't call it a career yet. It's still a job. To me a career means I have my pick of anything I want to do and I'm financially set for years and years. I'm still hustling out there. I have two Netflix specials, I'm a best-selling author, respect by my peers, tour the world, I write for television, I sold an idea to the ABC network and I'll find out soon if it is going to be made into a pilot, so most younger comics would dream to have my career, but the grass isn't always greener.
There are so many balls in the air, and none may pan out and I don't have some giant net worth, so I'm still a hamster on a wheel. I can afford a nicer wheel now, but I have far to go to hit where I think I'll feel safe and like I'm an industry - someone who becomes invaluable to people because she makes them a LOT of money.