Jayde Adams
Not so much a breath of fresh air as a majestic bellow of it, Jayde Adams breezed into the comedy business like a Bristolian Bette Midler a few years back, and bagged a Best Newcomer nomination in 2016 for her debut Edinburgh hour, 31.
Since then she's become a popular TV performer - from high-profile ads to a role in Neil Gaiman's Good Omens next year, alongside David Tennant and Michael Sheen - and has a big few weeks coming up, stage-wise.
First up this weekend, it's the Latitude Festival in Suffolk, where she "will be doing a 30-minute set on the Friday featuring new jokes from my new show I'm taking up to Edinburgh, and some gold that'll get the Latitude crowd up on their feet for a standing ovation. And I'll be joining Pappy's for some fun Friday evening, as well as a musical in the cabaret tent!"
That sounds a much busier Friday than most of us probably have planned. As for that new Edinburgh show, it's called The Divine Ms Jayde and is quite the ambitious production, with both an award-winning composer (Richard Thomas) and director (Matt Peover) on board. Ms Jayde would like to make one thing clear.
"THIS IS NOT A SHOW ABOUT TRAUMA," she hollers (via email). "I know loads of people are doing their #metoo stories this year. And I, like many people, have that kind of story in my history but I already did two shows about how terrible things can be."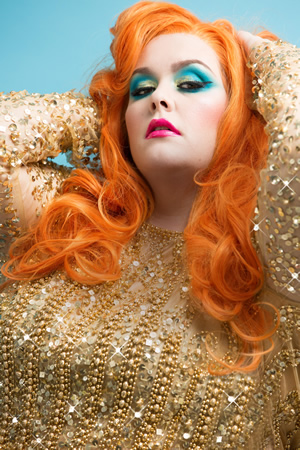 "I do comedy as my job now (have now been sober from waitressing for two years), I'm on TV, work with incredible people and perform on massive stages so I can't really pretend that life is shit whilst I'm stood wearing one of my signature all-in-ones covered in rhinestones."
It's a fair point. Do go on.
"There's laughs a plenty and I promise you won't miss hearing about how sore my pile was last year. Expect dazzling costumes made by drag queens, stories about Bristol earthquakes, stuff about my Bristolian family, there's an open apology to my father for stealing money from him when I was a teenager, stories about the gays, rapping..."
"My boyfriend - Rich Wilson, who has his own show at Sneaky Pete's at 6:15 - is joining me again in his black morph suit (because removing a man's identity is so Seventh Wave Feminism, I'm ahead of the game!) Expect the man who won an Olivier for Jerry Springer: The Opera on a grand piano, and loads of jokes. In Edinburgh? I know. I'm an absolute maverick."
Now that's how you do a plug. Right, on with the show.
First gig?
I've been on stage since I was five so my first gig wasn't my first time on stage. But my first stand-up gig, I was the host. I mainly remember not having any material, as many comedians will experience in their first few years, but I remember having the confidence of an old pissed sailor and bringing an act on stage by saying "I fancy gingers."
Favourite show, ever?
Bristol Comedy Gardens. Sunday 10th June 2018. 1200 Bristolians. I was well nervous because it's home and they want me to do really well, and also it could've been 1200 people I got fingered by when I lived there.
Worst gig?
There was a venue in East London that has been closed because the owner did too much cocaine and his wife threatened to leave him unless he turned it into a yoga centre. But the gig was to editors who spent all day isolated, so they wanted to talk to each other and weren't up for listening so I performed to the backs of heads.
The weirdest live experience?
I host Knock2bag and I watched another act deal with a silly girl who had had too much to drink and thought it was okay to talk over him during a joke because she was "offended."
He had said the most powerful people in the world right now are "white girls" and you don't want to "fuck them off." He was going somewhere with it, but she just started shouting over him, being offended and righteous about something before he had finished and she got cross when he spoke back to her.
He said to her that she felt like she could answer back because he "was black and she thought he was stupid." He said "If I was Daniel Kitson, you wouldn't do this." He was right. And then outside all her friends were whispering behind her back and telling me they didn't like her anyway ON HER BIRTHDAY and I remember how two-faced girls can be when they want to be popular.
That was a weird gig.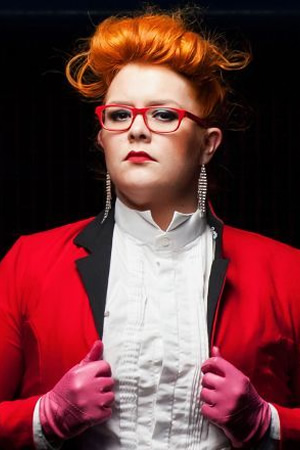 Who's the most disagreeable person you've come across in the business?
My mum works at Asda and if her colleagues behaved like some people do in comedy, they'd be sacked and then bloody arrested! I'm not into this public shaming shit online, it goes too far and people have their lives ruined and I just don't think normal people have the right to do that; also no matter what it is you're saying, it doesn't look great. If you want to know who I dislike the most, feel free to come and ask me - I only have one person who deserves it and I'm very open about it.
Is there one routine/gag/bit you loved, that audiences inexplicably didn't?
I had a joke about Kylie Jenner concealing her baby for nine months and doing it really badly and suggested that if she needed to conceal her child perhaps she should take some advice from Woody Allen, because he was so committed to concealing his children he had sex with one of them. But people felt uncomfortable. QUITE RIGHTLY.
What are the best (and worst?) things about getting a director and composer in for your show?
Matt and Richard are very funny men who I enjoy spending time with, also both over 40 (I think, I hope I'm not wrong) so they know a bit about what they are talking about, they have lived experience in making shows and a plethora of their own success and are incredibly kind and generous.
The worst? I don't think there are bad things? Maybe that I get shy sometimes when they don't understand ideas I have but that's not them, that's me, and that sort of thing pushes me to be clearer anyway.
The most memorable review, heckle or post-gig reaction?
Most memorable review is when [name omitted to avert beef between comedy sites] wrote me a glowing review with NO criticism in Edinburgh 2016 and then gave it 3.5 stars, thanks for the support.
Heckle? Some woman called me fat and lifted her arms up to me and had bingo wings and I told her "I may be fat but you have rather large bingo wings?" and she cried and left.
How do you feel about where your career is at, right now?
I'm smashing it in the puss, life is great. I'm paying the rent.