James Meehan
Most of the country may still be grinning beatifically due to England's unexpected progress at World Cupski 2018, but won't someone think of the comedians? The Edinburgh Fringe is only a few weeks away and hundreds of comics are frantically honing their sets by booking bargain-priced preview shows, then realising that those gigs now clash with seismic soccer events. Joking aside, it can be a serious setback, for comics and promoters alike.
Take James Meehan. The fine Chorley-spawned comic is performing at a splendid-looking event this weekend called The Leave 'Em Laughing Comedy Festival at the Stanley Halls in South Norwood, South London, where punters can pretty much do a whole Edinburgh Fringe experience in two days, but without all that frantic running-up-cobblestoned-hills between gigs.
Kicking off on Friday afternoon and running all day Saturday, it boasts four rooms absolutely packed with comedians polishing up their nearly-finished shows, from Carl Donnelly and Lou Sanders to This is Your Trial (the festival has very pleased to have achieved a 50-50 gender split). And they're showing the game on a cinema-sized screen at 3pm, so you can laugh/cry/shout with like-minded souls.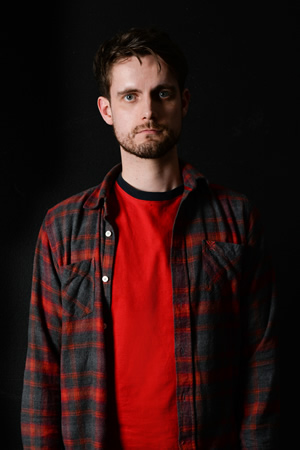 Meehan, though, will be hoping that a good few avoiding-the-match Scots, Aussies and general football non-fans will also be around, as he finds himself with the 4pm-on-Saturday slot, right in the middle of the game. Or probably a third of the way through (it's got extra time written all over it).
Still, things have been worse. The versatile comic did a promisingly upbeat solo show about his roots a few years back, Class Act, having made his name with the sketch group Gein's Family Giftshop, subversive kids show Funz and Gamez, plus appearances on Inside No. 9 and Drunk History. But his 2017 show, As if I Hadn't Slept, tackled his insomnia, and the latest one hints at much darker themes.
"My new show is about self-recovery," he explains, "and rediscovering who I am after leaving an abusive, gaslit relationship. In that time I've left my old sketch group, didn't leave my flat for six months and generally went a bit insane, decided to quit comedy and paid thousands to qualify as a barber, and instantly regretted that decision but still qualified as a barber because I couldn't get a refund. It took a long time but I've slowly built myself back up again."
"I don't really chat about any of the above in the show - maybe brief glimpses - because those people aren't worth the breath I have anymore, but it's definitely a reflection of it."
The very fact that Meehan is taking that show to Edinburgh - it's at Just the Tonic at The Caves throughout the Fringe - suggests that he's back on a positive track. And he'll even be making good use of those barber skills, offering to trim any Fringe comedian for a tenner, with half the proceeds going to male mental-health charity CALM (a comedy-barber blog is likely to follow).
He's also running a Comics Play Music jam session every Saturday afternoon at Edinburgh's Wee Pub, with donations going to CALM, too.
Good efforts, all. Now let's take him back to Lancashire.
First gig?
I was very lucky that my first gig was at Salford University where I studied. I knew half of the people in the room so had a very friendly and supportive audience. I was shit, obviously, but thought I'd smashed it. I'm pretty sure I was just being a Stewart Lee rip off.
The next gig was a gong show and I died on my arse. I'm glad it was that way around. Otherwise I might not have continued.
Favourite show, ever?
I've got to play some big places like Latitude Fest and a couple of West End theatres.
But last year I recorded my 2017 Edinburgh show in my home town. I packed out Chorley Library with friends, family and locals. It was a very cool place to film a gig, and those 75 people absolutely made the night. [It's online here]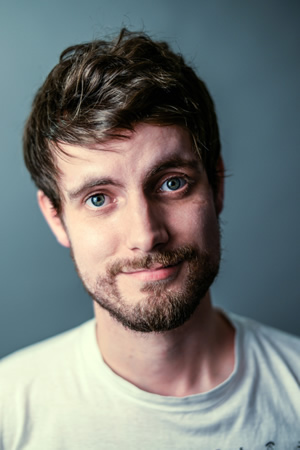 Worst gig?
Probably the ones that I managed to leave the house for last year. I'd managed to convince myself that everyone hated me so I wasn't in the best form.
The weirdest live experience?
At Machynlleth Comedy Festival I performed in a bird hide and a steam train station. Weird but obscenely lovely. It's not often you get to gig at 10am whilst having a brew and leaning on a lathe.
Who's the most disagreeable person you've come across in the business?
The same person I mentioned at the top. They are also a comic. Some big things, but with gaslighting it's often loads of little things so that if you bring one up you seem stupid for bothering over such a small problem...
e.g. I wasn't allowed to do stand-up, the thing I did for a living, at the gig that I ran with her and others in Bethnal Green.
Is there one routine/gag you loved, that audiences inexplicably didn't?
One of my first bits was about how all men should be forced to have Sugar Puffs for breakfast if they're going clubbing that night. That way the toilets wouldn't stink as much, due to how much it makes your piss smell like the cereal.
Stone cold classic.
What's the best thing about being a solo act, rather than group gigging?
I can look after myself a lot better. I have better company now on the journeys to and from gigs.