James Acaster
Jumper aficionado James Acaster may not strike you as the most obvious international jet-setter, but, crikey, he gets around. This weekend he's heading over to Ireland for Kilkenny's fabulous Cat Laughs festival, having recently been in Australia, and, er, Lahnstein. That last location was something of a pilgrimage, as the well-traveled comic explains:
"Two years ago I returned to Kettering to reconnect with my hometown in a series called Sweet Home Ketteringa. This year I travelled to Germany to visit Kettering's twin town, Lahnstein, in order to understand Kettering even more. The series is called Sweet Home Lahnsteineringa", he says.
"We explored the hell out of that German town. Castles, nature trails, carnivals, towers, retreats, Italian restaurants. We did it all. The crew didn't always get on and it was hard to edit around the arguments so we kept them in. What we were left with was an honest and unblinking portrait of the lengths one man will go to in order to understand what bonds us together, not just as people but as nations... and more."
You can watch that voyage of discovery here. Meanwhile, let's go back, way back, to the very beginning...
First gig?
It was in 2006, I didn't properly start doing stand-up for another two years but performed at The Rising Sun in Kettering to about fifty people who laughed because they were being supportive. I talked about Bjork and Samuel L Jackson.
Favourite show, ever?
When I was an open spot I did a gig in Joel Dommett's home village of Rockhampton. The line-up was Joel, Nick Helm, Josh Widdicombe, Pat Burstcher and myself. We didn't go down great but we were just starting to get to grips with stand-up and it felt exciting to have our own gig to a full crowd of people who knew Joel's parents.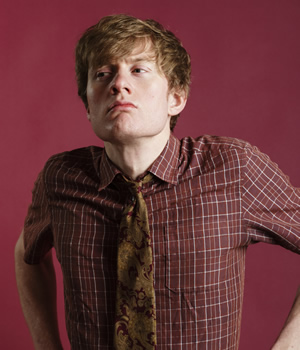 Worst gig?
I did a tour show in Crawley two years ago. The power cut out in the room I was meant to be in so we were moved to a function room usually used for team building exercises, the audience were fully lit, there was about 70 of them there, a man started throwing Maltesers at me and called me a bitch.
Who's the most disagreeable person you've come across in the business, and why?
Someone very early on replied to an email I sent them telling me that they had seen my messages on Facebook groups 'begging for gigs' and that I was just going to annoy people asking for gigs all the time and that she was not telling me this to start a dialogue, she was telling me this out of the kindness of her own heart and finished the email with "and no I will not give you a gig." She doesn't work in comedy any more.
Weirdest gig?
I did a gig in the woods where a man wanked on stage at the end of the gig and a woman dressed as a dog beat him up while he was wanking.
Is there one routine/gag you loved, that audiences inexplicably didn't?
'Inexplicably' is a generous term. There are so many routines that I loved on paper but failed to make work on stage. To begin with it's inexplicable but sooner or later you suss out the problems. As an open spot I had a very long routine that never worked about a pen that said "I used to be a plastic cup" on it. I can't remember the routine now but I remember being baffled that it didn't work. I think the routine largely consisted of the pen oversharing with people it hardly knows.
What's your best insider travel tip, for touring comics?
Make a lot of great mixes to listen to in the car. Mixes are essential.
The most memorable review, heckle or post-gig reaction?
A woman once put her hand up and offered to read a poem because my comedy was going so badly. So I let her. The poem was mainly about her not letting people push her around anymore.
How do you feel about where your career is at, right now?
Good at the moment. I feel happy as long as I'm proud of my output, that's all that matters. And right now I'm doing the best I can and I'm very lucky that people are watching it as well.
---
Watch Sweet Home Lahnsteineringa here
Find details of James' upcoming tour at www.jamesacaster.com
And book tickets for his Cat Laughs appearances at www.thecatlaughs.com