Isabelle Farah
Time again to travel back through the comedy annals: today's contestant is Isabelle Farah, who's performing this very evening at the rather good Rich Mix in East London, part of a festival that we'll come back to in a minute. First: who is Isabelle Farah, for the uninitiated?
"I'm an actress, comedian, and writer," she explains. "People told me to do comedy long before I started because I was very thespy for a long time, and insisted that I only like Shakespeare. I'm half Lebanese and so used to alternate between playing naughty maids and Syrian refugees. I got a bit bored of that after a while."
Tonight she's appearing as part of Arab Women Artists Now, a month-long festival which is fairly self-explanatory, from the title, and features visual art, music, theatre, spoken word, panel discussions, workshops and, yes, comedy. Tonight, it's a special edition of the clubnight Arabs are Not Funny, with an all-female full line-up including the likes of Maria Shehata and Leila Ladari.
"I love Arabs are Not Funny because you can do your regular material but there are tiny little in-jokes you can share as well," says Farah. "A lot of the audience are diaspora Arabs or have a connection to the middle east. If I talk about Lebanon on stage normally I feel like I have to explain quite a lot, or resort to challenging stereotypes. But the base knowledge that people know gives a different flavour to what you can talk about (probably garlic, let's face it....)
"It's also empowering to see that there are several Arab women on the circuit who are really good. We're constantly fed this narrative of us being oppressed and the middle east being this awful depressing concept; a night of six Arab women really challenges that."
Indeed, and Farah is also doing her one-woman show on the 18th and 19th March, as part of the Vault Festival. "It's called Ellipsis and sits at the intersection between theatre and comedy," she says. "It's about grief (IT'S FUNNY, I PROMISE!)"
But was she always funny? Let's find out...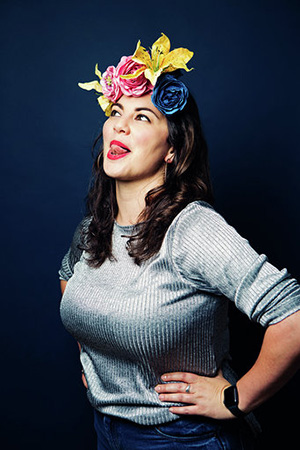 First gig?
I did Jill Edwards' course in Brighton, so my first gig was at Komedia in Brighton in front of 300 people in 2016. We'd been doing the course and working on material for about three months. Angela Barnes was MCing. It was insane! Because I was an actor first, I'm quite good at looking like I'm really collected but I was absolutely bricking it. Everyone in the green room was like 'oh, Isabelle doesn't get nervous does she?' but I do!
Favourite show, ever?
Arabs are Not Funny for AWAN in 2018. It was my biggest gig to date at that point, and I remember feeling so much adrenaline/nerves/excitement. Walking onstage to 300 people will never not be a huge kick, but the first few times you feel like an excited child!
Worst gig?
Ummmmm, any number of open gigs in the first year or so. But one that stands out was about a week after the referendum in 2016. It was in a pub in Greenwich in the main room and there were men sat drinking at the bar shouting stuff at the acts. It felt awful but now I don't blame them - I was probably disturbing a perfectly good evening in the pub...
Which one person influenced your comedy life most significantly?
Felicity Ward, Jess Fostekew. I know that's two. I hate decisions, please don't make me pick. They're so expressive and their hours in the last couple of years have really stuck with me.
And who's the most disagreeable person you've come across in the business?
Most male comedians cluttering up perfectly good line ups. I just can't believe they think they're funny. Comedy is a woman's game and I wish they'd stop trying.
Is there one routine/gag you loved, that audiences inexplicably didn't?
I've got five minutes about how much I love boiled eggs that me and one audience member loved, and the rest of the room looked at me like I was totally mad. Which is sort of fair but I do think that correctly boiling an egg requires The Force.
Are there particular reviews, heckles or post-gig reactions that stick in the mind?
"Intimidating" - various. Pah!
How do you feel about where your career is at, right now?
You've caught me on a very optimistic day and I feel like I'm on the cusp of doing loads of exciting things. I'm pretty sure world domination is about six months away and I'm about to make my fortune. Excellent!