Helen Duff
You tend to get an extreme - and enduring - impression of clowns as a kid, somewhere between silly humour and absolute terror. Which is a shame, as it's an artform that can be wonderfully positive. Across our comedy scene's more interesting stages are artists using clowning to talk about all sorts of interesting issues; or perhaps 'talk about' isn't really the phrase. This type of material can be wonderfully visual.
Actually, 'material' is a word that springs to mind if you've seen one of Helen Duff's full-length shows: she does marvellous onstage things with fabric. Over the last few years the talented comic and actress has explored fascinating themes, with the aid of some memorable props and outfits - more on that below.
Her latest show, How Deep is Your Duff, is more personal and talky, but still features a huge wad of high-concept woolly business along the way. And next Saturday Duff brings it to the Objectively Funny festival, an 11-day mini-fringe that starts tonight (Thursday 20th) at London's Albany on Great Portland Street, and will showcase 42 fine shows fresh from Edinburgh. So how does Duff describe her new offering?
"How Deep is your Duff is a clown comedy show about falling in love for the first time and the ways in which that's made me re-evaluate all my relationships," she says. "I also talk about performing in a Rohingya refugee camp, realising I can orgasm, a bad bike accident and a very positive cervical smear. Not in that order."
That bike accident story is certainly a revelation: who knew you could shove body parts back in like that? And speaking of back, that's where we're now heading.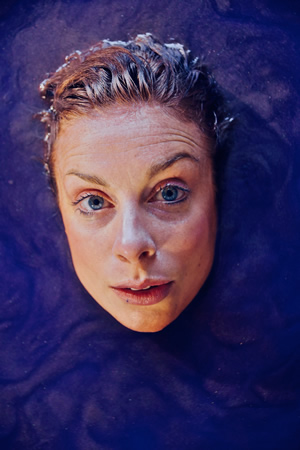 First gig?
It was downstairs at Shaker & Company, 2013, just before Christmas, a tiny room, absolutely packed with people. Sarah Campbell MC'd wonderfully. I ran back and forth across the stage shouting for John, Jerry and Jill, an imaginary trio lost in the Welsh valleys. It was surprisingly successful.
Favourite show, ever?
Hard to choose. I remember one at Adelaide Fringe 2014, the show was my first solo - Vanity Bites Back - performing in a 'converted' bedroom upstairs in what used to be a brothel, possibly still is, 42 degrees outside, making a cheesecake on stage. Something about the absurdity of the endeavour meant the audience were all the more on board. Also, I didn't need a microwave to melt the butter.
Worst gig?
See above, minus the comforting mists of hindsight?
The weirdest live experience?
I attempted to use a loop peddle for the first time at Tring Festival this July - in front of 400 people all waiting to watch Reginald D Hunter. Needless to say I left the looper out of my suitcase for Edinburgh.
Who's the most disagreeable person you've come across in the business?
Oh, I'm sure there's loads but can't think of anyone off the top of my head. I tend to be a 'turn inwards and assassinate the self' sort. I see comedians making good out of 'giving it all up' shows, but I'd say I threaten that every other week in my mind, which makes it harder to turn into a grand event. It's similar to going to the dentist.
Is there one routine you loved, that audiences inexplicably didn't?
No. Generally I hate all the ones they do, well in advance.
What's your favourite prop or costume, from your various shows?
I really loved the flaps my mum made me for the vagina I became in Come with Me. They were made out of a waterproof poncho she got off Amazon and looked majestic, aka, on point.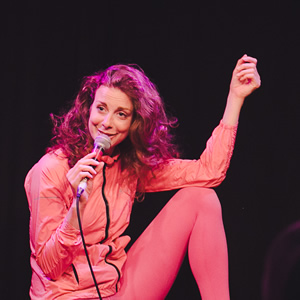 The most memorable review, heckle or post-gig reaction?
I loved when people would come up to me after Come with Me and discuss difficult relationships they'd been in, made more punishing by an inability to communicate about sex.
It seemed such a revelation, to the men especially, that theirs was a universal experience and I was prepared to talk about it on stage (that show was about how I thought I'd never had an orgasm, hence why I spent most of it dressed as a sperm, obviously).
I loved weaving audience reactions into the show. Especially the elaborate descriptions of what it feels like to climax.
How do you feel about where your career is at, right now?
I'm really excited about where the How Deep is Your Duff show will go next. It's being booked by theatres across the UK and will be filmed by a company I really like for their streaming service, which is a dream.
I've learned that relying on good reviews to boost your confidence is a fool's game; instead an intellectual curiosity - 'how can I keep making that section more funny, or, what am I really saying there?' - is the best way to keep your enthusiasm for what you make fresh.
Plus, in line with my last answer, I'm making a podcast about people who have overcome physical blocks by working to better understand their body. Called Come as You Are, it's fascinating and so much fun to make. It will come out in early November.