Harry & Chris
Is When Harry Met Sally a Christmas film? It's got Christmassy/New Year bits in it, but... anyway, while you ponder that, we'll move on to when Harry met Chris, the first query in this seasonal edition of First Gig, Worst Gig. But who are they, and what do they want? We asked them.
"We are Harry and Chris, poet and musician turned comedy-rap-jazz-duo, bringing our respective skills to the table," says Harry. Or possibly Chris. We're not entirely sure. "Harry always enters the room first and stands on the left as you look at us so that people don't get confused. The show is a collection of songs about all kinds of things, but what links it is an uplifting feel-good vibe, a childhood bromance, some excellent wordplay and the occasional awful pun."
Right! Highly regarded in their own right, Harry Baker (poet/rapper) and Chris Read (jazz musician) are clearly confident chaps, as they've booked gigs for that always-weird week between Christmas and New Year: on the 29th at London's Leicester Square Theatre, then the 30th at the Gatehouse Theatre in Stafford.
First, let's take it to the church...
How did you two get together? Is it an epic, nativity-like story?
We actually grew up going to the same church, where Chris was Joseph in the nativity, and the girl who played Mary came to our first London date on this tour! Harry can't remember whether or not he was actually in the nativity but he's sure he played an important role.
We also went to school together which is where we started playing music together and working on a 10-year friendship that we knew we'd be able to exploit for entertainment purposes at some point.
Best Christmas ever?
It's hard to say as we're writing this before Christmas Day itself, but definitely this one. Getting a fun interview in British Comedy Guide that will almost definitely guarantee we sell out our London date on the 29th, it will be even better than the time there was one inch of snow in Devon and Harry tried to go snowboarding with his brother and one of them broke their collarbone so had to get the other one to cut up their turkey for them.
What sort of mood are you expecting at those post-Christmas shows? Will you be doing festive songs?
Yes! We have a brand new Christmas song and we're not sure what the rules are about performing it after Christmas. We called that one It's literally Christmas so we feel like we've really limited the number of days it's relevant anyway.
In general our gigs have a celebratory feel-good nature about them so hopefully there'll be enough Christmas spirit that people will be up for joining in and even singing along. If people have been taking our hints on Instagram then maybe the audience will be entirely people who have had tickets bought for them as Christmas presents and won't know what to expect, but either way it will be fun!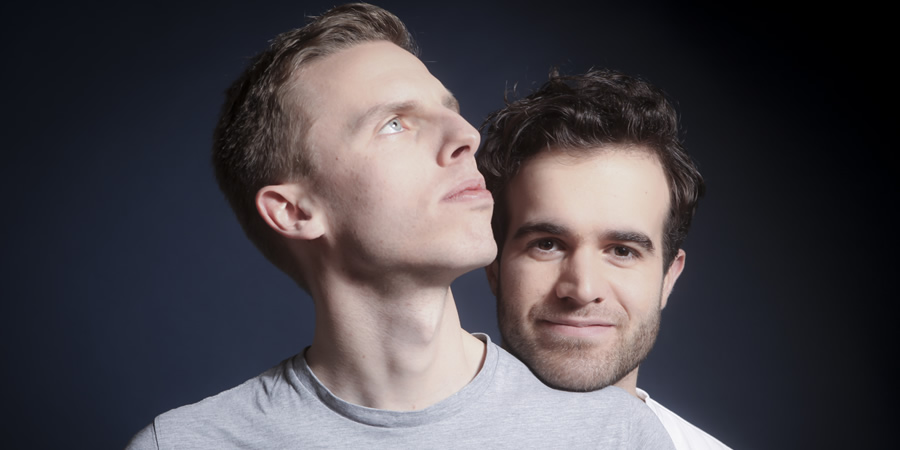 Worst New Year's Eve ever?
Again, probably this one. After the ultimate high that will be our final tour date in Stafford we'll probably just sit in a dark room and recite the words to our songs to ourselves, leaving in laughter breaks that never come.
It will be even worse than when Harry was invited to hang out with three other couples and his ex and had to use his brother's broken collarbone as an excuse to stay at home and watch the Hootenanny in case he needed any turkey cut up for him.
Have you done memorable festive gigs before?
Harry was booked to perform his poetry at a Christian online dating website's Christmas Party when he was in his second year of uni. There was an ice-breaker activity involving the women being given padlocks on string around their necks and the men being given keys to try out in different locks (!).
He's not sure how well his humorous poems about prime numbers went down but all we can be sure of is the next year they booked Chris to play some soulful jazz music instead, so we're still waiting for the invite to be able to go back together if they're reading this.
Who's the most Scrooge-like Christmas git you've ever come across?
We don't want to get in trouble by naming names but one of us may or may not have a relative that gave an impressive rant about how stupid Christmas is and all they ever get is socks, before then opening a seven-pack of socks in front of us and being so enraged they gave us the socks there and then and we are still wearing the socks to this date.
Any New Year's Eve tips, for performers and punters?
It doesn't have to be the biggest party of the year - our favourite New Year was with a couple of mates eating chicken and playing Monopoly. Why not subvert tradition by going to see a Comedy-rap-jazz duo, then spend New Year's Eve itself at home with a loved one reminiscing on the good times you had with a newly purchased CD?
What plans are in place for 2018?
Harry's getting married in January! We're going to take some time out at the start of the year to write some new stuff and hang out with loved ones we've neglected by being on tour for the last three months, and then probably just re-read our interview in British Comedy Guide before doing the whole thing all over again.