Harriet Dyer
Be warned, we bring dire news... sorry, Dyer news. Harriet Dyer, that is, who's currently doing a tour of her show about a certain huge, historic, now-extinct monster; the scaly one, with the tiny hands. Not Donald Trump, no, although we can see your thinking.
"The Dinosaur Show is a menagerie of wonderful chaos," says Dyer. "You (yes, you) have been lied to all these years about what really happened to the dinosaurs. Hark! I am the in-the-know gal to put you right. COME and let me baste you in silliness."
Away from dino-tours, Dyer does lots of excellent stuff about mental health, notably her Barking Tales night, a forthcoming book, and she'd urge us to "listen to my podcast too, Don't Worry, Bi (polar) Happy. Thank you"
Thank you. Now let's get basted in some back-story silliness.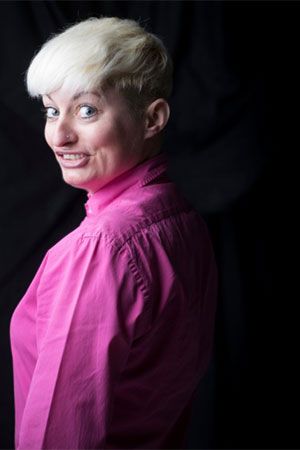 First gig?
In Mousehole, I was. Cornwall. Noon. Inspector Bigginshire was chasing me with one of his finest Stargazy pies. I told him the same I tell him every year, "Donald, that monstrosity will not be passing my lips, I. DO. NOT. CARE. ABOUT. TRADITION."
As always he would not let me get away with such subordination so with his crook he did chase me. If the rumours were true Wanda's shed was down the second alley. Shimmied on in I did and upon arrival well, you can imagine my surprise when I entered the second instalment of her open mic night.
I could hear Inspector Bigginshire's crook nearing so made the fateful decision, "The only thing for it is to do a turn." The other acts on that night were The Pussycat and The Owl.
Favourite show, ever?
See above.
Worst gig?
Cheeky Daniel's Ice-Cream Parlour in Worthing. I was told it was a corporate for great money but when I got there I realised it was a trap and I was in fact booked by people that believe dairy is a product of Satan's teets.
I had a feeling that there was something even more sinister occurring in the larder (just a feeling I get from time to time) so pretended I had vertigo and needed to be under where we currently were. In said larder they shoved me (yessss) and there sure enough were all the actual staff of Cheeky Daniel's Ice-Cream Parlour being held hostage.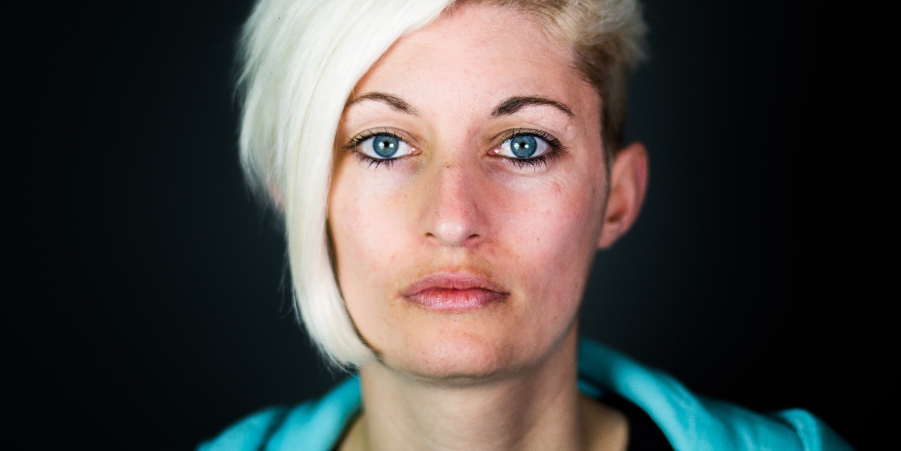 Even I was out of my depth. Until it came to me. I got everyone into formation on top of my shoulders, luckily I had my abnormally long trench coat on me so wanged that on, covering us all. Then using a different voice I pretended there'd been a mistake and I was actually an auditor that had gotten trapped whilst surveying scoopers.
Luckily even though in some ways the folk that locked us up were irrational, they respected order so let us out they did. I briskly notified the 5-O who informed me that these evil teet-believers have been kidnapping far and wide for quite some time so gave me some reward money for their arrest but it was loads less than I would've got for the corporate so that and just the general stress of it all made it all quite horrendous.
Which one person influenced your comedy life most significantly?
Jesus H Christ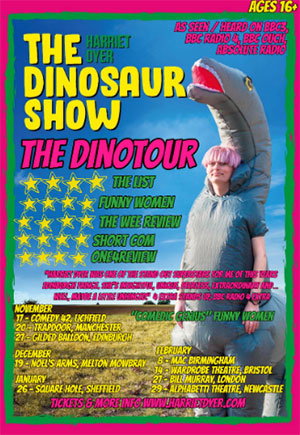 And who's the most disagreeable person you've come across in the business?
Probably the creepy little nasty one that wears a hat.
Is there one routine/gag you loved, that audiences inexplicably didn't?
There's been 59 to date so luckily I've developed an action for such. I shout in their faces that they're wrong, get inside my pop-up tent and then it's just a waiting game. Eventually someone (usually the same gentleman, wearing a Henley's t-shirt) will crack and stomp on my tent, but HA the joke's on him because I was a hologram all along.
What are your favourite and least favourite dinosaurs?
Least favourite: T-REX. Really overrated, everyone's up its arse.
Favourite: Dilophosaurus. THEY SPIT VENOM.
Are there particular reviews, heckles or post-gig reactions that stick in the mind?
One time this well nice lady called Jane let me live round her house with her family for six years after a gig. You don't get people like that anymore.
How do you feel about where your career is at, right now?
If my pie-chart trajectory is correct, within the next three years I'll have made enough to return the favour to Jane, which is all I've ever wanted.