Gráinne Maguire
Let's face it, global travel is still looking very dodgy for the foreseeable - but leaving the mainland to watch comedy is still infinitely doable. What? Yes, we're talking Isle of Wight, and the Ventnor Fringe, which begins in late July with a bunch of excellent comics involved.
And our pick of those excellent comics is Gráinne Maguire, who'll be doing a full-length show which sounds right up our street. Maguire is a busy writer for TV, radio and beyond when not on stage, and this show mixes her worlds, a bit.
"The title Subtext is For Cowards is inspired," she explains, "by the feedback I once got from a friend on a sitcom script I wrote: 'all your characters say exactly what's on their mind, with no nuance or subtext. Real people don't talk like that'. And I thought, 'I do!'. I discovered I speak like a badly written sitcom character. Nuance and subtlety is just fancy lying."
Fancy lying - now there's a good name for a comedy night. But let's not launch that now; it's time to take Maguire back in time.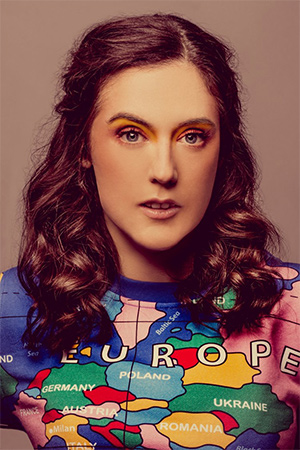 First gig?
My first ever gig was on the Wibbly Wobbly Boat in East London. I was absolutely terrified. The MC let the acts know how much time they had left by slowly walking towards the stage during your set brandishing the mic stand like a spear. My friend came along and afterwards said "you were so great - you were so yourself on stage" and I was horrified because a part of me thought onstage I would magically turn into Dylan Moran.
Favourite show, ever?
I supported Stewart Francis on tour and he is one of the most kindest, funniest, most wonderful people I have ever met. We did a night in Vicar Street in Dublin and my parents came along. It was so magical to perform on such an iconic stage.
Afterwards a man who books festivals that I had desperately wanted to do for years but had cruelly ignored me for years, cornered me and said he was so thrilled to see me perform, I was as good as he'd heard people say, and he'd definitely book me. It genuinely felt like the final scene in a movie.
Funny footnote, he still didn't book me for any of his festivals, BUT we'll always have Vicar Street. Afterwards my parents and me went for a drink and people in the pub garden recognised me and gave me their table. I felt like Britney Spears.
Worst gig?
I once did a gig where a crowd of men called me a cunt all the way through my set from the back at the room. I rang my sister crying at the train station and we managed to get into an argument over whether I should have let them upset me or not. And where are scenes like that in Judd Apatow films about stand-up?
Which one person influenced your comedy life most significantly?
He's going through a bit of a rough time at the moment, but I just love John Mulaney. His style of comedy is so fresh, sharp and invigorating. He comes from a writing background and it still feels like in the UK there is such a binary between comedy writers and performers, which is so mindbogglingly stupid.
He's an awkward uptight goose and I love his uptight old-timey energy. Am I the Irish John Mulaney? That's not for me to say, but I like to think if I mention it enough, it might stick. Let's manifest it together!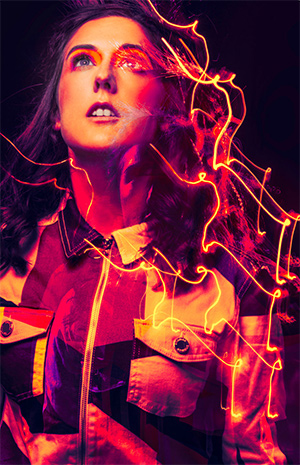 And who's the most disagreeable person you've come across in the business?
One time I went to the wrong address for a radio interview and I was very late, my agent rang me to see where I was and I heard myself say "don't worry it's ok, I'm sorting it out, don't worry, I'm on it guys" like I was doing everyone a favour by actually getting the right building. In that moment I thought - 'oh oh, I bet that's how Lindsay Lohan started.' So in that moment, it was me.
Is there one routine/gag you loved, that audiences inexplicably didn't?
When I was little, I loved Nellie the Elephant - the song about a little elephant running away to the circus. I think at a deep level, lonely lost Gráinne in the middle of the Irish countryside identified with a creature with big dreams who wants to run away to the circus. Je suis Nellie.
Then, at a gig of all places, about three years ago, I discovered I'd misheard the song and it was about an elephant ESCAPING the circus to return home and it flipped my brain. What? Why had Nellie quit the glad-rags and the bright lights? My entire identity was built on misheard children's song.
Classic me. For some reason audiences never really connected with me working through this onstage.
How have your lockdowns been, generally and creatively?
Without meaning to sound too smug - though it's kinda my brand - apart from the forced internment aspect of it all, I got a lot out of my time inside. The world flattened a bit so I got to know comedians who live on the other side of the country a lot better. I feel so grateful for the phone calls, Zooms and friendships that developed as a result.
I finally had time to read all those books on comedy I panic-bought after a rough gig, and I watched loads of sitcoms and Netflix specials I never had time to see. Turns out Richard Pryor is pretty good. Pretty pretty good.
Any reviews, heckles or post-gig reactions stick in the mind?
Someone once asked me if wearing shoes slightly too big for me was part of my act.
How do you feel about where your career is at, right now?
Having the space to escape from the rat-race of panicking if I'm not gigging five nights a week and prepping for Edinburgh has changed my goddam mind. I'm writing sketches, I've started a newsletter - I feel like I'm finding other rooms in my brain I didn't know about. So, I am very grateful. I feel so blessed to be the Irish John Mulaney.