Geoff Norcott
Politics, eh? A lot of very complex stuff, administered by very childish people. It's like if NASA was run by dogs.
(And fair enough really, given that dogs went into space before people did. But that's a debate for another time.)
Thankfully the comedy stage offers many a sage to guide us through these murky waters, and they're often more upfront about their leanings than much of the media; a topic that's become rather newsworthy in recent weeks.
The right-leaning but well-meaning Geoff Norcott (his phrase) was just enjoying the afterglow of some high-profile TV work - notably his own BBC2 documentary, How The Middle Classes Ruined Britain - when his tour was shelved due to you-know-what. Those Geoff Norcott: Taking Liberties dates have now been rescheduled though, with lots more to follow; presumably the content will have changed a bit, too?
"So much has happened politically and socially since I was last out, this will be a very different show," Norcott concurs. "We've had the statue smashers, the statue defenders, a bloke threw a bike at a horse. The woke debate that was simmering totally boiled over. A sign that change is happening... or that we've all had far too much time on our hands.
"We now have a Conservative Government imposing fairly extreme restrictions on citizens," he goes on. "If anything, the title now makes more sense now than it did pre-Covid."
Meanwhile Norcott is pontificating straight to our sofas (wipes optional). He's taking part in the British Comedy Guide's Laughter Lounge Festival, which takes place from September 28th to October 4th with the excellent NextUp team. Also on board are the likes of David O'Doherty, Luisa Omielan, Kiri Pritchard-McLean, Mark Watson, Tom Allen, Jess Fostekew (and many more, have a look) - plus some nifty deals for NextUp and BCG Pro memberships into the bargain. Top notch.
If only he knew all of this wild stuff would happen, way back when...
First gig?
A holiday club on the Isle of Wight in the mid 80s. It was a 'best cowboy competition'. I bowled out with a Stetson falling down over my eyes. The grown-ups were already laughing, then the host asked me my cowboy name I said 'Geoff'. He said 'where are you from Geoff?'. I was meant to say 'Texas', like the other boys, but I said 'Essex'. There I learned a solid rule of comedy. Unexpected place names can sometimes get a laugh.
Favourite show, ever?
It was on this tour at the Leicester Square Theatre earlier this year. The punters were so up for it. There's been a lot of talk that a right-of-centre comic wouldn't go well in London. Well no-one told this crowd. It was such a great gig that my support act, Ryan McDonnell, also smashed it. He smashed it so hard he forgot to announce me back on. But that's between me and him.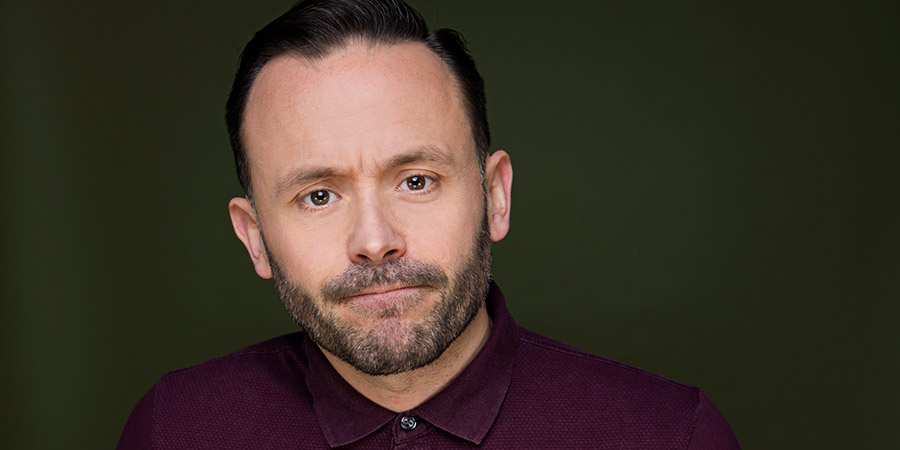 Worst gig?
Shortly after telling my wife I was leaving teaching to be a full-time comic I was in a new act final at the Brighton Komedia. I died so hard that she was upselling teaching as a profession on the way home.
Which one person influenced your comedy life most significantly?
My mum. She had great taste in comedy (Cheers, Dave Allen, The Two Ronnies). But she was also a naturally funny person herself. People often presume funny bones come from dads, but with most comics I know it all comes from slightly mental mothers.
And who's the most disagreeable person you've come across in the business?
Boring answer but I don't really take badly to anyone. I suppose as a type I don't warm to people who act super nice onstage but are pricks off it. There are definitely one or two of those knocking about in this game.
Is there one routine/gag you loved, that audiences inexplicably didn't?
I had this gag about driving on the motorway and hitting a central reservation... that I didn't believe in God. It never got a laugh. It probably doesn't even make sense to you now. I still think it's funny but I'm alone on this one.
Do you feel you've got a unique niche, on stage and screen?
It's an ironic niche in that I say edgy things that vast numbers of people agree with. I guess I seem a bit blokey, but my wife would take issue with that as she's seen what happens when I pick up a drill.
Are there particular reviews, heckles or post-gig reactions that stick in the mind?
One reviewer tried to take a story where I challenged a gay bloke who was intimidating people at a hotel and make it sound like a hate crime. She manipulated the details, but also crucially omitted another: that my son's godparents are two married gay men. If I am homophobic, I'm doing an awful job of it.
How do you feel about where your career is at, right now?
I feel good. Ironically, despite all the attention re TV and right-wing comedy, I've never been more focused on making my own content. TV is built on shifting sands. I'm 43, I want to be my own boss. Which I guess is the kind of self-motivation that would appeal to the great Maggie herself.