Fin Taylor
Fearless Fin Taylor is rocking the comedy stage at the Latitude Festival next Friday - not that you have to be fearless to play Latitude, incidentally. Lovely crowd. Still, if anyone can wind them up, it's Taylor, who does enjoy skilfully pushing our liberal buttons - and he won't be hanging around to engage in polite debate afterwards this time, either.
"My plan this year is rather boring I'm afraid as I'm going on holiday on the Saturday so I'm just going to do my set and then heading straight home," he says. "But I normally love doing Latitude because it's so much fun hanging out in a field with all the other comics."
Indeed, random comic-spotting is one of the added bonuses they don't include on the festival's bewilderingly impressive line-up page. No doubt Taylor will squeeze a fair bit of fraternising in at the Edinburgh Fringe a few weeks later though, if he hasn't alienated everyone with his new show, Lefty Tighty Righty Loosey. What's the story?
"So far the show is everything you'd expect from a Taylor hour," he says. "Searing political hot takes combined with godless filth and lots of goading. It's an hour about how I feel completely abandoned by the present-day [political] left, combined with stories from what has been an annus horribilis personally. Good clean fun stuff."
But now, let's head back to an earlier, er, annus.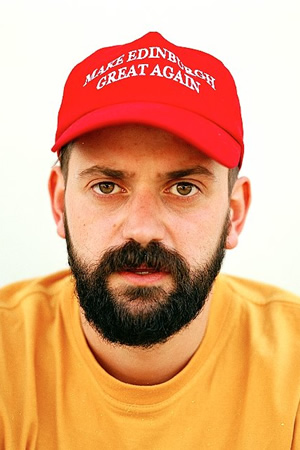 First Gig?
Mark Olver's new act / new material night in Bristol was my first one, November 2008. I was a student and the week before Mat Ewins had done his first gig there as well. We met soon after and became best buds. I think Elis James was closing that night, but I can't remember the other acts because I was buzzing my tits off.
Favourite show, ever?
There was a sweet spot of four consecutive nights during Edinburgh last year, after the first good review was out but before the other ones were published that brought tougher crowds, coming with high expectations. The audiences were insane all the way through the hour for those four nights. It just sort of left me with this tantric post-gig buzz for a whole four days, it was crazy how much fun I was having. Then grumpy old sods came that weekend to bring me back down to earth.
Worst gig?
I think one of my first ever times compering was a charity gig in Exeter for Oxfam, but rather than be in a designated venue, the promoters just charged these poor old boozehounds entry into their local pub, and put on a comedy night AT them. People threw coins at me in the first section, and I then had to go back on, saying that while we did want them to give generously, I'd rather they stopped donating to my face.
The weirdest gig?
Me and Ewins ran a gig at a pub in Bristol for a bit. The pub had a refurb and asked us to perform at their re-opening launch night. We got there for eight, they said we wouldn't be on till ten and gave us free tequila shots. At ten they said we wouldn't be on till 11 and gave us more free tequila. 11 came and went and still no gig but more tequila. By 2am they told us not to worry about doing the gig. I had 15 shots of tequila that night and have never drunk it since.
Who's the most disagreeable person you've come across in the business?
I think every comic is an absolute cesspit on social media. Whether they're trying to appear virtuous on Twitter or fucking whining about some gig on Facebook or fucking crowd-sourcing their fucking jokes by prefacing it with HIVE MIND, good grief you'd think every comic was a total bell from the internet alone. But in real life everyone's sound.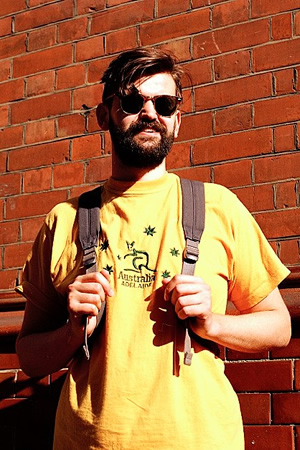 Is there one routine/gag you loved, that audiences inexplicably didn't?
I cut a bit from this year's show about how when Hitler was found he was alongside his wife and his dog and how I wonder which of them he shot first, and that it was like the riddle of the fox the chicken and the grain; like you couldn't shoot yourself first because then the dog would eat the wife etc. I kept trying that way longer than audiences were telling me to, and, as ever, they are the ultimate judge and they're always right in the end. What a dumb idea for a bit that was.
What's your best insider travel tip, for gigging comics?
Vegetable samosas from M&S.
The most memorable review, heckle or post-gig reaction?
Someone came up to me in Australia after what probably ended up being the best set I had out there, and said "Never stop being a cunt mate!" Love it when people get what I'm trying to do.
How do you feel about where your career is at, right now?
Well it's an interesting question that.
I've always prioritised trying to get good rather than trying to get successful so I feel insulated from the whole 'career woes' thing. I get so much joy from feeling like I'm getting better. This new show is the best stand-up I've written and I'm really pumped to do it to an audience who are more likely to have seen me before, after last year went well.
I still love gigging as much as I did when I was a year into this charade. The TV lot all think I'm a risk etc etc, to be honest that comes with the territory being the kind of act I am; but it's hard to get down about things when you love doing live as much as I do.