Fern Brady
It's hard to pick just one highlight from the Objectively Funny festival, which pours an impressive stream of comics into London's Albany basement over 10 days in late September, but we've plumped for Fern Brady. That's partly because her shows are such splendid feasts of candid revelating (which wasn't previously a word, but is now) that we thought a trawl through her comedy history would be pretty darn good too. And it is.
The show she's doing there "is called Suffer, Fools!" Brady explains. "I was in the pub with some other comics and complaining about a Fringe show I saw that everyone liked but I thought was too sentimental."
"John Kearns said 'Well what DOES make Fern Brady cry?' and I thought 'I'll show you, with my new show.' So I've done a show about how I don't want my boyfriend to ever die and how my ex pumped a Tory and my other ex tried to murder me."
See? Offstage, the journalist-turned-stand-up is now exploring different narrative directions, however. "I've taken solo shows to the Fringe three years in a row but for the next year I'm writing a play and a TV pilot so I'm happy to be doing something different (having said that, I'm only replying to your email this quickly 'cause I'm avoiding writing my script)."
Glad to be of service.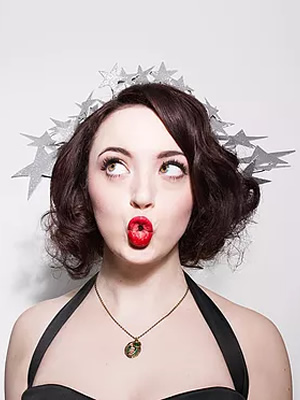 First gig?
It was for what I now know to be a very hack article that's been done to death where a comedy magazine got me to try stand-up and write about it. Except I secretly did want to do stand-up so I was hyperventilating a lot and puking from nerves. I was shaking a lot on the stage, the gig was probably rubbish but after, I knew I was going to do stand-up instead of journalism.
Favourite show, ever?
Either a Radio 4 thing I did in the summer that was recorded at Glasgow Stand. I liked that cause I was doing material I thought was mental and would be taken quite badly but it was lovely. Or I did Copenhagen this year and it was my first gig abroad.
I thought that'd be difficult cause years of gigging in the more UKIP-y parts of England led me to believe my accent is incoherent grunting but the Danes understood me better than any UK audience.
Worst gig?
When I died so badly that I walked off stage crying in Southend and Adam Bloom cradled me in the dressing room and I'd only just met him. Then the door to the dressing room wafted open so the whole audience could see me crying. Then, because the exit was on the opposite side of the room, I had to trudge back out through the now hushed audience who watched me as I left.
Then, I cried so much at the train station that I didn't see the last train back to London came and went without me, so my dad had to come pick me up. My dad lives in Milton Keynes so while I was waiting on him I went back to the venue and cried so much the staff gave me a free bottle of wine.
It was hard to pick this one 'cause I've also been chased out of a gig by my audience screaming "Go back to Glasgow, Scottish girl!" and booed offstage in Essex. I can't believe I'm still doing it, to be honest.
The weirdest live experience?
When I was very new I did a gig in Glossop where I was being paid in cake. The audience was five old women and a greyhound. I didn't do great and afterwards I was eating my cake and could hear one of the old women whispering "Why d'you keep eating all the cake, Fern? Why are you so shit?" I turned on her and was like "Listen, I'm getting paid in cake and I did the best I could with a bad room..."
She was talking to the greyhound, who was also called Fern.
Who's the most disagreeable person you've come across in the business?
I've just got a new agent and I've promised to be good so I can't name names when it comes to promoters. But there's a handful of old men still running clubs who think women and ethnic minorities are a genre of comedy and it makes me happy to think that statistically I will live to see their deaths.
Is there one routine/gag you loved, that audiences inexplicably didn't?
No. I had a bit on abortion in the newest show that wasn't working consistently enough but I've fixed it now. I don't think it's inexplicable that they don't like it, you're just not explaining the idea properly. Unless the gig is in Essex, in which case nothing can be fixed.
Have you ever discussed something onstage that, in hindsight, you regret revealing?
Yes. I accidentally mentioned the stripper thing in passing at a show years ago then Jay Richardson mentioned it in a review so thanks to him my mum found out, sent texts about what an awful, evil person I was and stopped speaking to me for six months. But I don't regret doing material on it in my show last year 'cause it was a funny experience and had an amazing impact on how much work I got.
The most memorable review, heckle or post-gig reaction?
I don't read reviews and I don't often get interesting or offensive heckles, I wish I did but women don't get heckled as often. But during the Fringe I accidentally saw someone tweet that she went to see my show and said "Flashes of brilliance but wildly inconsistent. I always want to like her more than I do." That was brutal. That made me want to walk into traffic.
How do you feel about where your career is at, right now?
Really excited. I have a really Catholic view that cause it's going well that means I'm about to get cancer or a wasting disease and die. Every good thing that happens means there's a punishment round the corner. I did a series for Vice this year that was basically just going on holiday with my pals and after I was like 'What have I done to deserve this lovely job?' and as soon as I got back I got booed offstage in Essex. God has a plan for us all.