Eleanor Tiernan
You may well have seen the excellent Irish comic Eleanor Tiernan on Stewart Lee's Alternative Comedy Experience a few years back - well, she's now taken the plunge and moved to the UK, despite the Brexit business; indeed, she'll be helping folk get over the latter at the Night to Restore Sanity at London's Conway Hall on Thursday, featuring an impressively hefty bill including Phill Jupitus, Phil Nichol, Tiff Stevenson, Nish Kumar, Shappi Khorsandi... honestly, loads of people, all in aid of the charity Help Refugees
"I'm thrilled to be on," says Eleanor. "Aside from it being a great chance to help some folks who are in need right now, I'll get to see some brilliant acts perform on the night. Tiernan Douieb, the organiser, has put together an amazing line-up. I've recently moved to London from Dublin and the UK comedy scene is very inspiring to me. This gig will hopefully be a chance to introduce myself to some UK comedy loving folks who haven't been exposed to my brand of over-wrought nonsense yet."
For a longer exposure, she'll be doing a work-in-progress gig at the Phoenix Fringe on August 6th. But first, here's some background info.
First gig?
What do I remember? Being very nervous. Realising what a terrible idea it was to choose the first round of a competition as your first gig. Realising what a terrible idea it was to wear a business suit in a hot sweaty room. Realising what a terrible idea it was to invite all of my friends. None of them have come back since.
Favourite show, ever?
My favourite gig was in Mason's bar in Derry a few years ago. It's a great monthly comedy gig. The first proper headline gig I did. That can be daunting for the performer as you feel like all of the crowd's enjoyment of their night is all down to you. If they don't like you, there is nobody going to come on after and clean up after you. I needn't have worried because the crowd in Mason's always come in the most willing and appreciative mood. The gig went well and I remember thinking afterwards "Well done Eleanor. You did not f*** that up".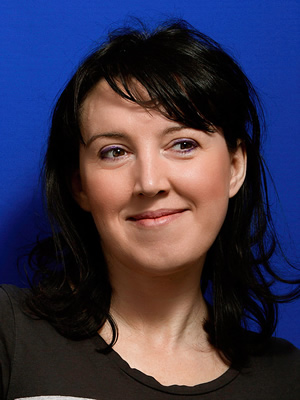 Worst gig?
In my early days, I was sent by an Irish TV show to film a funny report on a darts event in Dublin called Legends of the Oche. The day entailed me interviewing the top professional darts players of our times with virtually no knowledge of darts. One of the players walked out he was so insulted by the situation. Then in the evening I had to go on stage and play darts against the legendary Bobby George. He's quite good at darts. I on the other hand am not. It's a strong contender for the most embarrassing moment of my life. The 1000 strong crowd objected strongly to my being there and made their feelings known to me as I left the building.
Who's the most disagreeable person you've come across in the business?
I'd like to dedicate this answer to one person in particular. Someone I met early in my career who I believed was my friend and turned out to be a cruel, cold and callous human being. Someone so vain, they probably think this answer is about them. You do, don't you, don't you?
The weirdest gig?
I did a show in a biker bar in the red light district of Manila in the Philippines last year where an audience member got very upset by something I did and asked her boyfriend to teach me a lesson. He must have really loved his girlfriend because he threatened to beat me up for her. The owners of the bar helped me by smuggling me, through the kitchen, out the back door of the venue. They also suggested that I stay indoors for the rest of my trip as the gentleman had a reputation for volatile behaviour, which I had kind of already gathered. Very annoying and I didn't even get to see the envelope factory after all that.
Is there one routine/gag you loved, that audiences inexplicably didn't?
There have been oodles of routines that didn't work for me and though this is confusing at the time, I usually work out the reason why later on. Usually it's because I neglected to give the audience some vital piece of information in the set up that they needed to make sense of the joke. Or because the experience I described just isn't a common enough thing for the audience to recognise and laugh at... yet. You could just be ahead of the curve. Don't stop believing, etc.
What's your best insider travel tip, for touring comics?
The hardest bit of touring I find is when you have to check out of your accommodation at midday but your show doesn't start until the evening time. It gives you a whole eight hours to kill on the streets of a strange town with your suitcase in tow. My tip? Go to the local mobile phone shop and get in the queue to see a customer service agent. Don't worry if you don't have a question to ask. In my experience these guys tend to be so slow to deal with customer queries that you will have to leave for the gig long before you reach the top of the queue.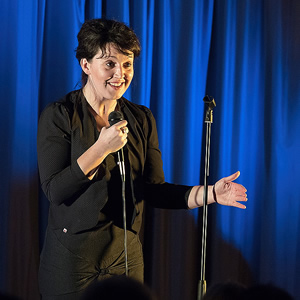 The most memorable review, heckle or post-gig reaction?
An artist I really admire came to see my show once which was already a huge compliment. Then a few days later, he came back again but this time with his daughters. He said it was because he wanted them to see examples of women who are bold and fun and willing to break the rules.
How do you feel about where your career is at, right now?
Recently I've been learning a huge amount from the other performers I gig with. The comedians I'm seeing in the UK take the kind of risks that if they fail, make them look so crazy that medical professionals may genuinely be called in. That is how unafraid of looking foolish they are. I'd like my performances to be affected by this and I aspire to have the doctors called for myself someday soon. Perhaps it will happen after my brand new Work-In-Progress show on the 6th of August in the Phoenix Fringe.
Eleanor will be at the 'Night to Restore Sanity' on Thursday 21st July. Details & tickets
And she'll be doing a work-in-progress at the Phoenix Fringe, at the Phoenix in Oxford Circus, on August 6th, go to phoenixfringe.co.uk