David Mills
One little silver lining with the whole social-isolation situation is not bumping into random awful people quite so often. Although obviously that's tricky for comedy types, as random awful people are absolute solid gold for material.
Take David Mills, the fine Pennsylvanian stand-up and actor, who's popped up in some major productions about fascinatingly flawed characters (Patrick Melrose; Florence Foster Jenkins) and has now come up with his own intriguing individual. THAT GUY is a new web series, initially released in a sexy three-sketch burst, via Vimeo.
"It came directly from my stand-up," Mills explains. "I turned what I normally perform as solo rants into dialogues with other characters. I never saw myself as 'that guy' but when I imagined how people might respond to my rants in a social setting it just clicked."
"At first, he seems normal, but quickly reveals himself to be unhinged. I made it with Katie Pesskin (director), Kenny Tanner and Charlie Laurie (producers), a host of great comics and other talent. It was fun! I'm cooking up plans for THAT GUY so watch this space."
While he gets cooking, we'll check out some characters from David's comedy past.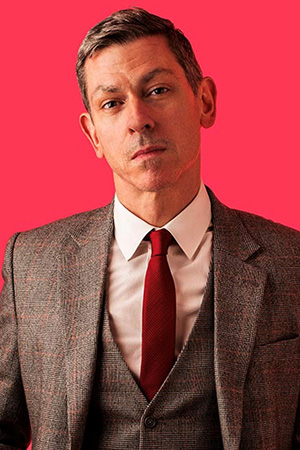 First gig?
God - I must've been 17. It was at a performing arts camp in Pennsylvania, where I grew up. We were encouraged to explore our creativity outside of class and then bring in some finished 'piece' at the end of the week.
For my turn I wrote a stand-up routine where I tore everyone to shreds and mocked the instructors. It was a hit. Especially with the instructors. I particularly enjoyed making people laugh at themselves. I was hooked from then on, really.
Favourite show, ever?
Too many great experiences onstage to choose just one. Opening for Margaret Cho at Leicester Square Theatre was a high point. She's a goddess.
Worst gig?
It's always a corporate isn't it? I was presenting the Financial Technology Awards in some terrible banquet room. It was sponsored by an industry magazine and all the nominees were advertisers in the magazine.
I was asked to open with ten minutes of material which I did to absolute silence. They hated me. I could see them asking 'Who is this guy? Why is he here?' I couldn't help but ask myself the same question. So I decided I'd just make fun of the awards, the nominees, the room, the magazine.
It just seemed like such a sham - no one wanted to be there, the food was terrible, everyone had pretty much paid for their awards, it was just a bullshit industry wankfest that no one really believed in. So I pulled back the curtain and said the unsayable. It was incredibly awkward but some of the audience enjoyed it. I could see the organisers fuming in the back.
The organisers said they'd never work with me or my agent again!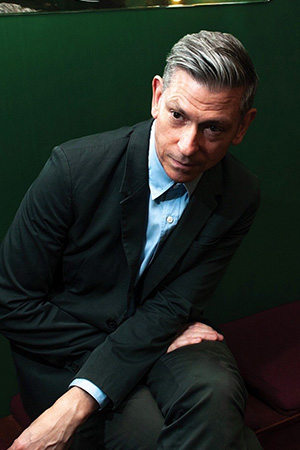 Which one person influenced your comedy life most significantly?
Again - how do I choose just one? Sandra Bernhard, Dave Allen, David Sedaris, Scott Capurro, LaWanda Page, Bob Newhart - I go back to these acts again and again.
And who's the most disagreeable person you've come across in the business?
I had a nasty run-in with a comedy PR once. They really seemed to get off on making me feel like a nobody. Whatever.
Is there one routine/gag you loved, that audiences inexplicably didn't?
SO MANY!!! For example, I used to say 'At 50 I finally found myself and became a parody of myself at the same time.' I stopped when I realised no one knew what I meant. I'm not sure I did either but it was a great line.
How's the lockdown going for you? And how do you reckon THAT GUY would be coping?
I'm podcasting - FOCUS PEOPLE! with David Mills (link below), writing and trying not to panic. I keep having visions of my imminent career as a shelf-stacker at the Co-op.
As for THAT GUY - he seems prone to conspiracies so I expect he'd be researching 5G on the dark web and tweeting about chemtrails.
Are there particular reviews, heckles or post-gig reactions that stick in the mind?
Once I played to eleven people in a 1000 seat theatre. On a cruise ship. It was grim. Afterward, a couple from the audience took me for a drink and said, 'Actually... you were fine.'
How do you feel about where your career is at, right now?
I never have any idea to be honest. I'm ambitious so of course I want to be more successful. I want to be 'further along' than I am but I'm enjoying the process. Everything in its time, baby.