Croft & Pearce
Comedians love a USP - some might say 'gimmick' - to really make their comedy wheat stand out from the comedy chaff. But the fine sketch duo (Hannah) Croft and (Fiona) Pearce have really pushed the envelope for their latest London run. So, what's so special about it?
Fiona: Our show at the Museum of Comedy is a combo of our most recent sell-out Edinburgh show, with a couple of other favourite sketches and some brand-new material flung in for good measure.
Hannah: The unique, amazing, weird (and creepy?) thing is that we're both pregnant and the babies are due this summer within three days of each other. So it's a bit of a 'once-in-a-lifetime' run of gigs, what with the in-utero performers and all, who definitely didn't sign up for this.
First gig?
Hannah: After doing a few three-minute guest spots on people's bills, we over-ambitiously booked ourselves in for an hour-long slot at the Hen and Chickens in Islington back in 2010. We begged our friends and family to come, which they dutifully did.
Fiona: And afterwards, my Mum kindly pointed out: "You really ought to have a full hour of material if you're going to charge people for a ticket, darling". The 43 minutes we managed to scrape together felt long enough for everyone.
Hannah: Yep, several of our friends were so scarred they have never come back since.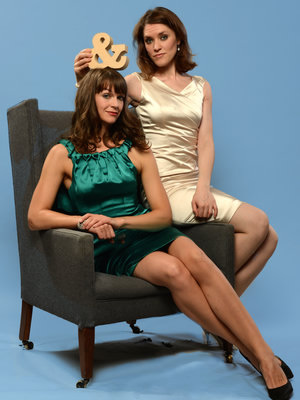 Favourite gig, ever?
Fiona: For the last two years in Edinburgh, we've done a set at the Forth on Fringe gala show at the Edinburgh Playhouse. It's a mahoosive theatre, with about 2900 more audience members than we're used to playing to, which is really fun and exhilarating.
Hannah: Also, they give us a whole selection of snacks backstage - sweet and savoury.
Worst gig?
Hannah: We once went on after a band at a friend's charity gig. It was a big open-air affair with a massive crowd of people singing and dancing. We tried to say it would be a very bad idea for us to follow people covering stadium rock classics, but it was too late to pull out and we didn't want to let Africa down. As we stepped out on stage and asked the masses if they were up for some comedy, most people either started talking amongst themselves or went to buy drinks. We soldiered on regardless.
Fiona: It felt like running lines on a busy station platform (which we often do when we're on tour, like a couple of madwomen).
The weirdest gig experience?
Fiona: We did a gig in North Lancashire last year and found the cheapest possible place to stay afterwards, just opposite the venue. It was a cross between the Bates Motel and the setting for The Shining and we're still not sure whether Anne, the ancient woman who checked us in, was a ghost or not. We followed her down a dark, heavily-carpeted, oak-panelled corridor to our room, which we don't think had been stayed in since before the Great War.
Hannah: And the next morning at breakfast, Anne was nowhere to be seen, and the couple who turned out to be the owners never mentioned her existence.
What's the most interesting aspect of performing while considerably pregnant?
Fiona: Sometimes the babies kick a lot during certain sketches.
Hannah: Not sure if they're cheering us on or if they want out... but as far as I know, child labour laws don't extend to unborn foetuses.
Who's the most disagreeable person you've come across in the business?
Hannah: We did a gig in Shoreditch when we first started out, hosted by a man who looked like Father Christmas - but as it turned out, he wasn't quite so warm and generous. As we left the stage, he said: "Croft & Pearce there, looking for laughs and not really finding them."
Fiona: To be fair, we did do a terrible set, but there was really no need to point that out to the audience who'd just had to sit through it.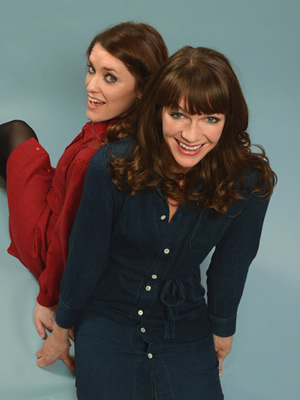 Is there one routine/gag you loved, that audiences inexplicably didn't?
Fiona: We once wrote a sketch about a couple who were living in a caravan parked up on the street outside the house they'd been forced to sell. We thought this situation was ripe for comedy, but apparently it was the saddest thing our audiences had ever seen.
Hannah: We plan to re-write it as a five-act tragedy at some point.
What's your best insider travel tip, for touring comics?
Fiona: The Rendez-vous Cafe in Inverness does an amazing cooked breakfast. We took the sleeper train up there en route to a gig in Elgin and after being on a train for eleven and a half hours, that breakfast tasted like one of the best of our lives.
Hannah: Another top tip: don't leave your luggage on the train. We did that in Preston and realised just before it pulled out of the station - really got the heart rate up.
The most memorable review, heckle or post-gig reaction to your stuff?
Hannah: After the Bath Comedy Festival this year, we got chatting to an audience member about the fact we're not going to Edinburgh because we're both pregnant. She said, "Oh, I did wonder about your tummies - but I thought it was just bad diet."
How do you feel about where your careers are at, right now?
Fiona: Well, we're not Beyonce... Although we are pregnant at the same time as her.
Hannah: And we're also expecting a pair of babies to arrive around the same time this summer.
Fiona: Actually, maybe we are Beyonce?