Bobby Mair
We're probably all familiar with the phrase "having a mare" - particularly anyone who takes an interest in the England football team at recent tournaments - but how does it feel to have a Mair? We'll get to Bobby's worst gig in a bit, but first, let's hear what the Canadian comic is up to.
"I'm currently touring my show Loudly Insecure around the UK," says Mair. "It's the story of me being adopted and trying to find my biological mother, and since it's my first tour some of it is just the best jokes I've written over the last 12 years. See it now, because my second tour will just be whatever is new."
Still, Mair knows all about conjuring material from unlikely places, as last year he and his comedian other-half Harriet Kemsley enjoyed their own 'structured reality' show, Bobby And Harriet Get Married, in which they got married. Or did they? We'll get onto that, but first - Canada!
First gig?
An open-mic at a bar called Hurricane's in Toronto in 2005. I showed up early, signed up and did jokes about having wet dreams and spreading cum on my face. HARD HITTING STUFF! It actually went well for my standards of what that meant at the time. After that I bombed a lot for a couple years.
Favourite show, ever?
Probably when I opened for Bill Burr at the Hammersmith Apollo for two nights in a row. I've heard comedians talk about how horrible it is opening for people but that hasn't been my experience. His audience listened to me and laughed and I felt good about my set until Bill's started and I realised how he was getting laughs from the room I didn't even know were possible.
Worst gig?
Too many to pick one. But I'll try. Once in Birmingham someone shouted 'chicken wire' and I said 'what did you say?' and for some reason just wouldn't let it go. I just needed to know but this voice in the darkness wouldn't tell me. It ruined the show, I ended up getting off stage early and then to this day a few guys who were at this show constantly post pictures on my Facebook wall of chicken wire. It's never-ending bullying.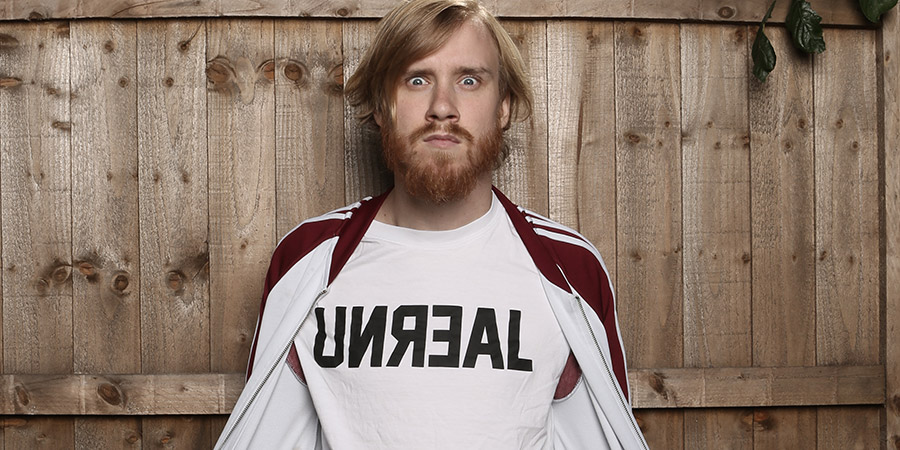 Is there one routine/gag you loved that audiences inexplicably didn't?
Not that I can remember off the top of my head. I think comedy is so full of so much constant rejection that the only way to survive is to quickly forget about anything that didn't work or is rejected. I have a bit where I ask the question 'why did we tell blind people we can see?' that from my perspective is one of my best bits, but definitely bombed the first 10 times I did it.
What's the weirdest thing about doing a wedding-based quasi-reality show?
The weirdest thing about it is probably the depths to which we would go to make the show as good as it could be; me and my talented wife Harriet Kemsley having an argument then saying 'we should use that', having people who weren't invited to your wedding watching it on TV and saying 'I saw your wedding', and having to leave our actual wedding to film scenes.
Who's the most disagreeable person you've come across in the business?
For years I would be filled with rage whenever a promoter didn't return an email. I would tell myself they hated me and didn't want to book me and devote a lot of time to planning their deaths. I later learned that promoters were busy people who usually haven't even opened the email you were so sure they read while laughing at the fact you even thought you could do a show for them.
For your fellow Canadian comics, what are the pros and cons of coming here or staying there?
The pros of coming here are that there are a lot more people in a much smaller space who love comedy. In the UK you can have a comedy career. You have a great tradition of going out to live entertainment, audiences are appreciative and willing to spend money.
I read a study that said 40% of people in the UK go to live comedy once a year. I would wager a guess that in Canada it's less than 1%. In Canada it's much more difficult as there's less work, less people and they're spread out across thousands and thousands of kilometres.
The most memorable review, heckle, or post-gig reaction?
Around 2009 I was doing a show near Kingston in Canada. I mentioned a man's tattoo whose whole family had been heckling me. I just said what's your tattoo say? He then stood up and said "DON'T TALK ABOUT MY FUCKING TATTOO". Turns out it said on it the name of his and his wife's dead infant son.
I hadn't insulted it, luckily, but the father had to be dragged out screaming at me that he wanted to attack me, and the mother and her friend stood stage-side like they were going to attack me too. However. the show was mainly for a rugby team who, when the father stood up, also stood up to attack him. It was very tense. No punches were thrown, which was a relief as I didn't want my night to end in beating the shit out of grieving parents.
How do you feel about where you career is at right now?
I'm doing my first tour; I have a lot of projects in development including writing a film; we have our fingers, toes and genitals crossed for a second season of Bobby And Harriet; so as you could guess I feel horrible and think it's going to be over tomorrow.