Bethany Black
It's Bethany Black. Bethany Black. Bethany Black. And her black and white cat. Probably not early in the morning though as Bethany is one of the UK circuit's finest night-time raconteurs, armed with a burgeoning arsenal of what may sound like shaggy dog stories but are invariably real-life tales. Or tails, if Albert the cat is involved.
There's a very funny kitten-related bit early in Black's new special, in fact, which is out now via the good people at Go Faster Stripe. But what else can folks expect?
"Unwinnable is a show about what happened to me in 2018 really, I got three diagnoses - agoraphobia, autism and ADHD - and how those affect me," Black explains. "It's partly a catalogue of the socially awkward things I've done as a result."
The show initially hit the stage that same year, but is bizarrely prescient in places. "It covers topics that are super relevant right now, including how to be an anti-racist and about my thoughts on trans rights. It's typical, every time I do a show it goes well but not great, and then a few years later it's suddenly more relevant!"
Black - who has appeared in a certain time-travelling BBC TV show - is clearly ahead of her time. So let's continue that theme by travelling back to the early noughties.
First Gig
At The Adelphi in Preston in late July 2002. A friend who ran a music forum on the internet said his pal was looking for an MC for a cabaret night and did I want to do it, as I'd mentioned wanting to be a comedian.
I agreed and went in knowing nothing about stand-up. I bought a couple of joke books and all four stand-up comedy DVDs my local HMV had, and patched together 20 minutes of material, from stories I thought they'd think were funny and reworking old pub gags.
There were about 60 in the audience and I was terrible, couldn't get them to even look at me in the first section. I left the stage shaking, looking shell-shocked and my friend brought me a shot of vodka. I spilled most of it before it got to my mouth.
But in the second section I lost my fear as it turned more to anger and said something that got them listening, and I just started talking. Something got a laugh, I don't remember what it was, but it allowed me to segue into a joke I'd written about going to a fetish club, and that got what felt like a huge laugh, and then nothing else worked for the rest of the night.
I thought "I got one laugh with something I wrote, I can do that again, I can make a living from this!"
Favourite show, ever?
The single favourite gig of my career was in 2016 and my first sold out Fringe show. I'd worked really hard to become a good comic and in 2008 I did my first Fringe show, and it was a great show but at the wrong time of day in the wrong location so it became a struggle every night.
I had a similar problem in 2009 but with a much worse show and it broke me. I didn't return to the Fringe until 2016: on the penultimate Saturday my mum and dad came to see the show and it was a sell out, I had great fun performing it and everything went perfectly.
It was that and the first Saturday that I did a weekend at The Comedy Store in London that made me feel like a success at this.
Worst gig?
Glastonbury 2008. Another childhood ambition, someone had recommended me (I suspect it was Mitch Benn) and I got a call out of the blue to see if I wanted to play the cabaret stage. Of course I did!
I was going to go on at 10pm on the Saturday night whilst Jay Z was on the Pyramid Stage, and then a few days before I got a call saying Bill Bailey wanted to try out some new stuff for a tour, so could I do Friday at 11am? Again, I wasn't going to say no, so I took it.
My sister came with me as she'd not seen me since my 10th gig in 2002, where I died so badly I ruined the night for everyone, so I was desperate to show her how I'd improved. My girlfriend at the time couldn't come as she couldn't get the night off, as she worked in a casino and it was the World Series of Poker championships.
So at 10:30 that morning, whilst I was already in a blind panic about the biggest gig of my career so far, she messaged me to tell me after work she'd got a tattoo and was really upset because the guy had done a bad job, and that was enough to push me over the edge into a full panic attack.
I went on stage just wanting to cry and did half an hour to a thousand people in total silence, except for my sister laughing and trying to get people to laugh with her. As I left the stage the booker said "don't worry, we'll still pay you". I then jumped in my car and had to drive to Brighton for an Edinburgh preview. Only three people showed up.
Which one person influenced your comedy life most significantly?
Jason Cook. When I started out and was terrible at the performance but had some ideas it was Jason who took me under his wing. I was his support act when he was in a double act, and for the first couple of years of doing stand-up he taught me more than anyone. He seems to have mostly retired from live performance now, but in his day there was no one who could top him. The honesty and tragedy and just pure humour in his shows was phenomenal.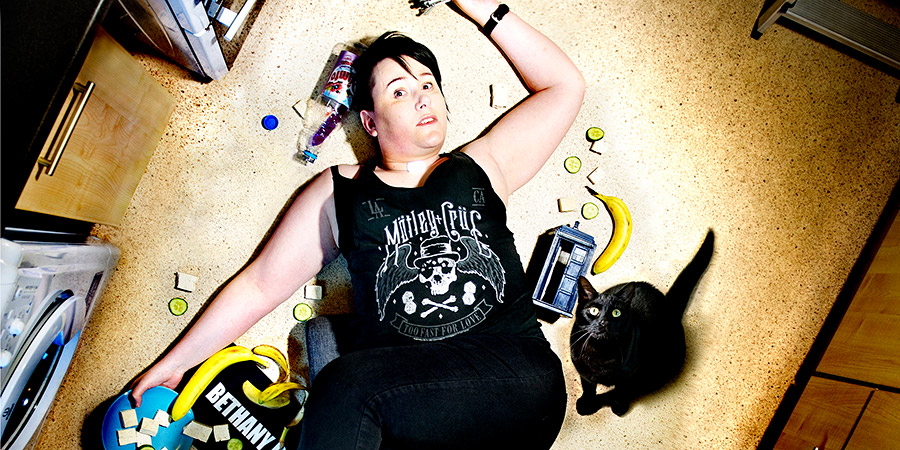 And who's the most disagreeable person you've come across in the business?
Me. I've got to be up there. I'm not evil or anything, I'll not end up with Paul Giamatti playing me in a biopic, or worse Benedict Cumberbatch, I'm not that level of evil, I just have a justice reflex that's faster than my 'shut the fuck up' reflex.
In 18 years I don't think there's a single person in this industry whose heart hasn't sank a little at one point or another seeing my name on a line up! There's only two I've had a proper falling out with though: one is a comic who's no longer with us who'd threatened me; and the other is someone I had 16 years-worth of arguments with about EVERYTHING, and the final straw was me saying publicly that the comic who's no longer with us had threatened me.
Is there one routine you loved, that audiences inexplicably didn't?
Not really. As a gay, trans, female comic I have to make sure that every bit works all the time. I get fewer second chances, and less leeway to experiment. I did when I first started and died a bunch and as a result even when I got really good, promoters were unable to forget those deaths as easily so it took a lot longer to build up the gigs again.
I was working with a guy last year who was a bit miserable and he explained he'd just had a weekend where he'd died all three nights "and you know what that's like", he said and I said 'yeah'. But I don't, because if I did that I'd not get booked by that promoter again. In fact, if I'd died the first two nights, I'd be replaced on the third.
Mostly if I try a new bit and it doesn't get what I want it's because I've presented it wrong, and learning that is the hardest bit of being a comedian.
How have you found these last few months, generally and creatively?
The last three months have been perfect for me. I was diagnosed with agoraphobia in 2016, so not going anywhere or doing anything is perfect for me, gets rid of a load of stress. I've been writing a lot more, I'm trying to break into TV writing at the minute and I've just been banging out pilot TV show ideas, and working on my memoir.
It's been brilliant. I'd planned this year to do less stand-up and more writing and it's gone swimmingly.
Are there particular reviews, heckles or post-gig reactions that stick in the mind?
Ha, I've had some awful reviews over the years, some were particularly unfair like the one who said "she is as unfunny as she is unintentionally disturbing". And I once got heckled with "you're a cunt!" then after a pause "AND you're not funny", which I loved, the pause whilst he considered whether he was done. Beautiful!
But the review that sticks was by Paul Fleckney for Chortle who saw Unwinnable and said it was "just an hour of jokes that could have been done in any order", which it wasn't - he just missed out on the theme of the show.
The reason it sticks in the mind is as soon as the Fringe was over he wrote an article in The Guardian lamenting comedy at the Fringe following a narrative formula and asking "why doesn't anyone do an hour of jokes?" Well Paul, because when we do, you give us three stars and act like anyone could do that.
How do you feel about where your career is at, right now?
I'm happy with where my career is, I'm a regular for all the clubs I wanted to play, including my childhood ambition of playing The Comedy Store regularly. I've got a show out with Go Faster Stripe, I've had a sold-out Edinburgh show, I've played Glastonbury, I've been in Doctor Who. There really are few worlds left to conquer.