Bare & Klare
So you've made a big splash on the hugely popular RuPaul's Drag Race, you're all set to make your Edinburgh Fringe debut, and then 2020 happens. What to do? Time to finally get that pet project off the back-burner, and onto people's personal devices.
Alex Cubb - aka Scaredy Kat - was the youngest ever contestant on the aforementioned BBC primetime hit, and is now using his downtime wisely. Well, wisely but weirdly.
"The Bare & Klare Show came from my desperation to do something creative," says Cubb. "I first had the idea when I was 16, living in a very boring town and just trying to figure things out. The idea has since grown and changed over time into the wondrous glory it is today."
A wondrous glory it is indeed: dark, funny, rude and furry. Cubb's partner and co-conspirator Remi May does the clever camera stuff and plays Klare his fellow bear. The result is like Teletubbies meets The Revenant.
"Remi and I wanted to combine what we can do - art, comedy, filming, script-writing, music, existing - into one show that was our own surreal world of weird characters, strange plot-lines and opinions no-one asked for," Cubb explains.
"I would also like to mention Remi's furry child, Coco the fat bat, as none of this would be possible without him as he is the brains behind every creative decision. I swear."
Entirely plausible. Right, Alex and Remi, let's delve into your rather unique show history.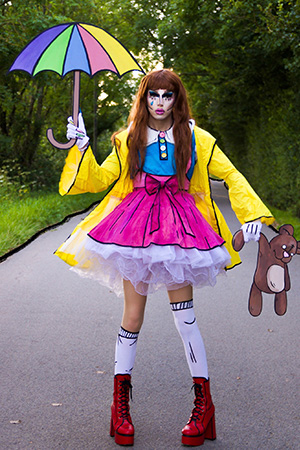 First gig?
Alex: My first gig genuinely was Drag Race if you can count that as a gig. And that was, what, five minutes ago? The other performers were okay - not the best, but what can you do. It helped me to shine I guess. There weren't many people there, just RuPaul, Michelle Visage, Alan Carr - the regulars.
I did well though for a first time and came second if you watch the show in reverse, closing my time with a somewhat iconic rendition of Venus by the vocal masters Bananarama. Something that will, and should, go down in history.
Favourite show, ever?
Remi: I am a show virgin so, by default, I guess Bare & Klare is my answer. It is enjoyable to film, even despite the fact that Alex has irritable bowel syndrome and constantly eats dates (not a good combination).
It's also a huge amount of work as we do everything ourselves, which is great to show what we can do but not so great when it's my turn for close-ups and Alex takes half an hour to focus the camera - he's not the brightest spark.
Worst Gig?
Alex: I would probably have to take you back to 2005 where I played a barn door in my school nativity. It was not my best of performances, I have to tell you. Regardless, I will help you to picture the scene.
The audience was in - packed out, in fact - mainly older generation, lots of parents of the cast. I, dressed in a bright orange Jesus-y time outfit, made by mum (bright enough to match my hair - thanks mum), with a slightly problematic tea-towel upon my head, am standing, facing away from the audience.
Then begins the popular tune One More Step Along The Road I Go as Mary and Joseph, played by Tom Richards and Izzy Greenwall, begin their plight to find an inn to give birth to Jesus, played by a plastic doll from the drama department.
The holy couple reach me and Joseph knocks on my back. I turn, shake my head, and turn back around. And my performance was done. I will never forget the putrid choice of colour for my Jesus-y outfit or the look on Joseph's face when I denied him access to my conceptual inn. Both, combined, make this the worst gig so far.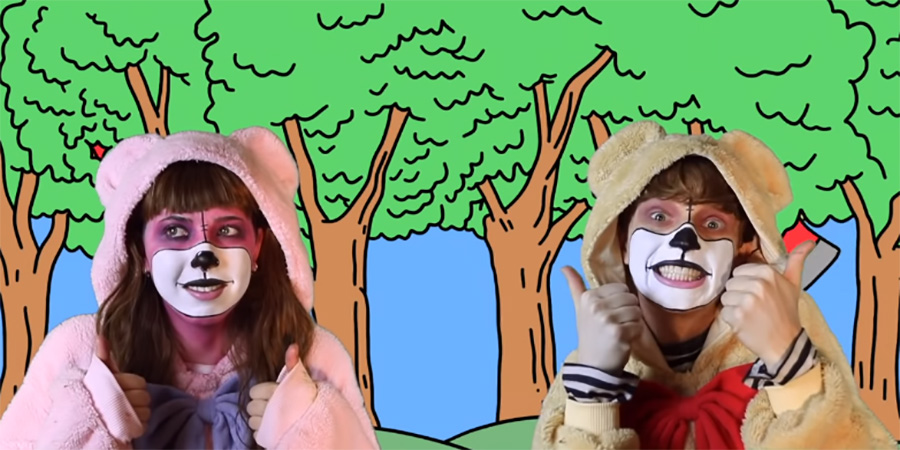 Which one person influenced your creative life most significantly?
Remi: Alex is definitely the person who influenced my creative life the most. I have always been passionate and creative but I would struggle massively with self-worth and constantly thought I was crap at everything. He helped me channel my passion and gave me loads of confidence so now I'm pretty sure I'm actually a god - it sounds a bit weird but really it makes a lot of sense if you think about it.
Who's the most disagreeable person you've come across in the business?
Alex: There was one time I was doing some press interviews and I asked if I could have a Lucozade but the guy just came back with a plastic cup full of green olives. I was, obviously, very confused and asked again for the drink, to which he just got very angry and threw the cup on the floor.
He then proceeded to give a very passionate speech about how people ask him for olives then when he brings them the olives they don't eat them and all these olives just keep getting wasted. It was very awkward and I was left quite thirsty.
Is there one gag/idea you loved, that you just couldn't get to work?
Remi: When we were going over what we wanted Bare & Klare to be, one of the ideas we had was that we would be way more realistic-looking bears. We made our own bear costumes from long faux fur and bought prosthetic bear faces which was... questionable.
We tested the costumes out while doing some street interviews and the strange looks and screaming children told us everything we needed to know. But without those creepy bear faces, we wouldn't be where we are today and I do always enjoying freaking out the tourists in London who don't know if I'm a weirdo or this is just what England is like.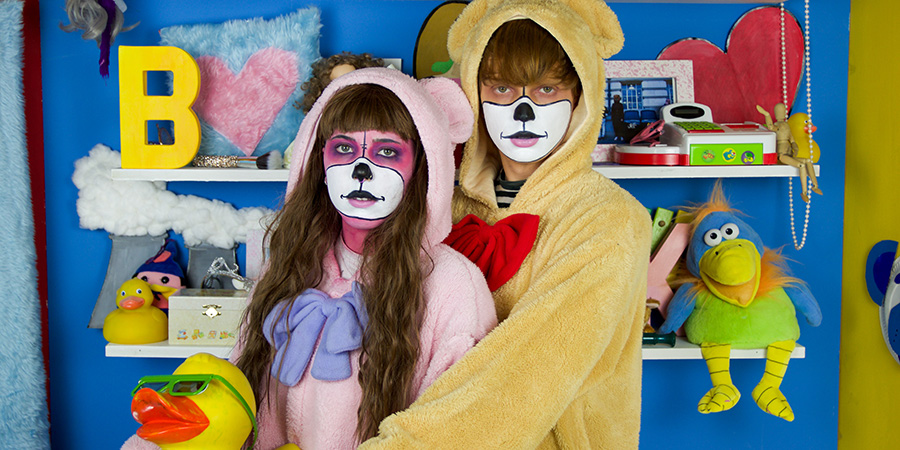 Are there particular reviews, heckles or post-gig reactions that stick in the mind?
Alex: Aside from the countless hate comments we have received - always a fun time - the worst review I have ever received is from Emma Kelly, writing for Metro. She said, during my performance, that "the atmosphere was so subdued that it was genuinely halfway through the track before I realised Scaredy was on stage."
Worrying, if you ask me. Not about my sh*te performance but for the poor woman's sensory struggle. After Emma wrote this review, she eventually went to Specsavers and they diagnosed her with cataracts - a disease that Jesus gives you if you're a b*tch.
Do you have a plan for Bare and Klare after the lockdown - live shows? B&K The Movie?
Remi: Anything and everything. If people want it, they can have it. I am prepared to do anything that is being asked - singing, dancing, anal probe, whatever.
Jokes aside, we have got plans for Bare & Klare: The Cartoon. We also are thinking of doing a Les Mis-style five hour long musical where we, as Bare and Klare, recreate the career of Piers Morgan, aka contemporary messiah to the mentally-challenged. It would also all be in French as a means of paying homage.
We have too many ideas for more series, scripts and sketches that we hope to start on once the lockdown is over. We have been working on these since we were teenagers so we have lots of plans including children's TV ideas, adult animations, teenage coming-of-age scripts and a comedy series featuring two pretentious artists.
The best bit is they're all really good, trust me... so if anyone would like to commission us, you won't regret it.
How do you feel about where your career is at, right now?
Alex: It's okay. It's mild, but we need spicy. Slowly but surely, more fame will bestow us. It's only a matter of time. Oh and we're also going to win the Lottery so that'll really help. We want more and more people to see what we're doing - if you love it, if you hate it, if it makes you horny, whatever. Just watch it.
Also if PAUL FROM NETFLIX could reply to our last twelve emails that would be really awesome. Thanks.