Amy Howerska
What might Experimentia be? Is it (a) a freaky new body-horror movie from David Cronenberg, (b) a pill advertised by grinning robo-hosts on US TV in the middle of the night, or (c) a new monthly night run by Welsh-born comic/actress/writer/film buff Amy Howerska, the next edition of which is this very evening (5th May)?
If anyone went for options (a) or (b), well, you've probably stumbled onto the wrong site. Although, in fairness, that Cronenberg idea might've been pretty interesting.
"I've been on the lookout for a new venue for ages to start an experimental comedy night," says Howerska. "It was basically to encourage myself to do more silly material and to not be so constrained by the boundaries of conventional stand-up. Plus doing club sets can get fricking tedious. You can only continue to grow artistically if you - you know - mess about a bit."
"Also, most of my favourite comedy performers are not conventional stand-ups, they are character comedians or doing stuff that is so left of centre you would not be able to find it on a mainstream bill. I wanted to programme these sorts of comedy performers. So I have: the next line up of Experimentia includes Lou Sanders, Jordan Brookes, Joz Norris, and Naz Osmanoglu."
That show is at new Leicester Square venue London's Live Comedy tonight (Thursday), and British Comedy Guide readers can get half-price tickets using the discount code CLOWNS4U. Cashback.
Now, onto Tooting.
Can you recall anything weird and wonderful at your first gig?
Lou Sanders dying on her hole but being the funniest person by far in the back room of a Tooting pub, with ten old alcoholics watching.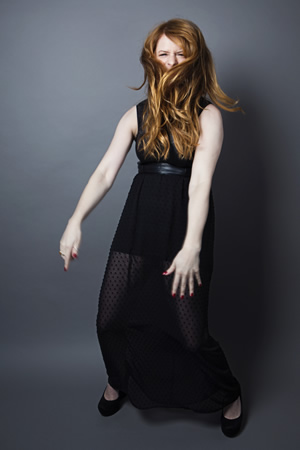 Favourite show, ever?
I don't think I've had it yet, I always get off stage thinking that there was something better I could have done, even if it looks like I have smashed it. I'll be thinking, 'Christ I need to bin that old shit and do new stuff.' I'll let you know when I have it.
Worst gig?
I had such a dodgy one in Hi-Fi Leeds, a real slow car crash, out of body experience, sweat dripping down the back of my neck, throat drying, slow time-moving nightmare: they hated me from the moment I walked on stage to the moment I left. Luckily Leeds is near my Aunty Julie's place, so I just went home and got shitfaced with Aunty J and moved on.
What's the most experimental thing you've ever seen onstage?
I saw someone shit in a bucket once. I don't recommend a three-hour physical theatre performances of Macbeth.
Who's the most disagreeable person you've come across in the business?
There are quite a few cunty promoters out there but there's no point naming names (don't feed the trolls).
It's quite funny because the female acts that they would not even give a chance to, as soon as they are on telly and famo, they want them at their clubs and they are being politely told to, er, go fuck themselves by these female acts who they would not book or even be polite to at the beginning of their careers.
Anyway, give it another ten years and most of them will be dead. And in the meantime, everyone knows who they are, and their time is absolutely shitting up.
Is there one routine/gag/idea you loved, that audiences found a bit too, er, challenging?
I'm doing a bit at the moment that involves an impression and niche reference to the comic Bobcat Goldthwait. I thought to myself, 'this is never going to work as part of a club set,' but it does! His stage persona was so bizarre that it's funny in of itself when replicated.
What's your best insider travel tip, for gigging comics?
You can never buy too much lube.
The most memorable review, heckle or post-gig reaction?
Birmingham Jongleurs, 200 squaddies chanting 'minge' at me - oh what a time to be alive.
How do you feel about where your career is at, right now?
Absolutely shit, I don't even own a gold-plated throne, where the fu!k have I gone wrong?