Ali Brice
Is there such thing as a Fringeaversary? Apparently so, as Ali Brice is celebrating a significant one in Edinburgh this year, although probably not celebrating in the manner he might have done years ago. All will become clear.
The man beneath the moustache is a much-admired absurdist who has a couple of shows demanding attention at this year's Edinburgh Fringe. We're particularly intrigued by an event he's doing with another out-there talent, Paul Currie: yes, together they're Currie and Brice - although that's all they're letting on about the show, except that it's on twice, in Heroes' rather nice SpiegelYurt, at the punter-friendly hour of 1am.
Brice's proper every-day hour this year is called Bin Wondering, which we haven't managed to see yet but have heard grand things about. "The show is about a time I got locked out my house for the best - or worst, I suppose, depending on how you look at it - part of the day," he explains. "I had a lot of time to think and made some questionable choices in my efforts to keep warm."
"It's also much more serious and personal show than I've ever done before. I mean, I'm still an absolute idiot on stage - and in real life - but I'm talking about real things I've experienced, and giving up drinking."
"I don't want to say too much more, in case I spoil the story. But it's a fun silly, silly show with a lot of heart and a man finally beginning to grow up at the age of 33. But still remaining as daft as a cardboard supermarket."
Sounds familiar. Now brace yourselves, it's Brice's back-story.
First gig?
Before my very first time doing stand-up on my own, I remember being the most nervous I've ever been. Then I remember nearly crying because I was overwhelmed by how many friends had come to support me. I was 23, it was on July 14th 2009 and was the 'graduation ceremony' of a six week comedy course.
The one bit of advice that had been instilled in me on that course was that I should wear glasses. According to the teacher my face is - and I quote - 'bland and boring'. He said glasses would make me stand out.
Although thinking about it, I do have a moustache now, so maybe it was a valuable lesson.
I don't remember much of that gig, but I remember having the best time. I have it recorded and watch it about once a year to remind me how much better I am at comedy now. It's so very bad.
Favourite show, ever?
Hands down it was a performance of Ali Brice's Lemonade Stand at the 2017 fringe. I asked an older gentleman what his name was and he said something like 'Farkleharzen'. It was hilarious. Every time I said 'Farkleharzen' the whole room burst out laughing. It was amazing.
The man refused to tell me what he was actually saying or what the word meant.
But that 'Farkleharzen' gig is by far my favourite.
You really had to be there. FARKLEHARZEN!
Worst gig?
The time I took my trousers off to change into a character wearing shorts. The shorts were underneath the trousers. Unbeknownst to me, the shorts had ridden up and two things that shouldn't be seen were on display. I didn't notice but did wonder why people seemed slightly disgusted. It was so embarrassing.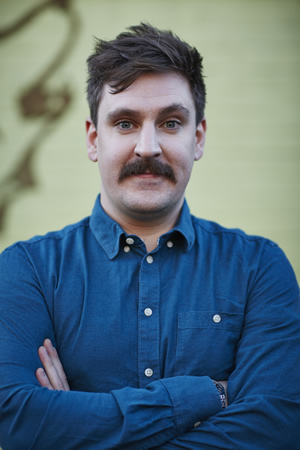 Which one person influenced your comedy life most significantly?
I could list my comedy heroes here. I could list people in my family that have definitely influenced my sense of humour. I could list friends... etc
However, the one person that has influenced my comedy life the most significantly is Adam Larter. I met Adam at Uni. He was friends with my girlfriend at the time and then lived with her. We bonded over a love of comedy - he was very keen to make stuff, film stuff, write stuff. I wasn't so sure - skip to the present day and we're still the same, for every show I write, Adam has written six!
Anyway, long story short, two years later Adam booked us into an open-mic night at The Cavendish Arms in Stockwell and wrote a sketch for us to perform. I was terrified. But it was amazing - people laughed, and I left the stage with such a high. It's one of the highlights of my life.
He's always encouraged me to keep doing comedy and helped me loads with my shows over the years.
I can, hand on heart, say that if Adam hadn't booked us into that open-mic, I would never have had the confidence to get on stage. Without Adam, performing comedy would still just be a dream in my head.
So, thanks, Adam, if you're reading this. Actually, if you are reading this: please keep the noise down.
And who's the most disagreeable person you've come across in the business?
No comment!
Is there one routine/gag you loved, that audiences inexplicably didn't?
A routine about how I couldn't afford an MP3 player so I put the CDs directly in my head. And then whenever I went around a roundabout all I could hear was Wannabe by the Spice Girls.
You see, CDs spin to play the music, so going around the roundabout made the CDs spin in my head and one of the CDs was the Spice Girls.
I still maintain it's funny.
What's your plan for a good Fringe this year, onstage and off?
Have fun. Sleep when I need to. Don't eat too many chips. Enjoy my show, see my friends, see my friends' shows, make some new friends, see their shows, see some shows by people I don't know and never will.
Mainly I will be hanging out at Bob Slayer's BlundaBus as that's the best place to hang out at the Fringe.
Is there one review, heckle or post-gig reaction that sticks in the mind?
FARKLEHARZEN!
How do you feel about where your career is at, right now?
I can't really call comedy my career, but I am getting ever closer to it being my full-time job. All I can do is my best. And this year's show is my best yet and my favourite to perform.
I love the fringe and I'm very happy to be back for another year. This is my 10-year Fringe anniversary - you better believe I'm going to have fun!