Alex Edelman
Roll up, roll up: it's the first proper First Gig, Worst Gig of 2020, and an absolute treat, as one of our favourite guests from across the pond prepares to acquaint himself with some random bits of Britain. Yes, Alex Edelman is about to embark on his first ever UK tour, and that 'first' bit is perhaps surprising, given that he's been a hot ticket for a good few years now. But he's been busy.
Edelman initially infiltrated British airspace when he won the Best Newcomer award at the 2014 Edinburgh Fringe, and he's been nominated for the main prize since: the droll Bostonian will no doubt nab it one day too, unless big TV fame comes along first and precludes him. Which could also happen. Last night - Thursday - he was gigging with Jack Whitehall at Wembley.
Offstage, Edelman is hardly - wait for it - an idle man. He's written features for publications like The Atlantic, staff-wrote on a pretty big US sitcom (The Great Indoors), and even penned speeches for Major League Baseball teams, intriguingly. But stand-up is where he gets to really open up. So, with this tour show, Just For Us, does he wade into the world's problems, or steer well clear?
"LOL - it's about a meeting of Nazis that I went to," says Edelman. "I don't usually turn headfirst into the storm, but with this show it's just kind of happened. So I guess, yes, given that Nazis are back big-time as a world problem, I think it qualifies."
It certainly does. Now, back to his first few sets in Massachusetts.
First gig?
Oh man. I sucked. My first gig was at a pizzeria called Roggies in a neighbourhood of Boston called Chestnut Hill. It was an open mic. But not for comedy. For music. I was 16 and I had rollerbladed to the gig.
The host was a lady with a ukulele who played Sheryl Crow-type stuff and she asked what instrument I was going to be performing with. I told her I wanted to do stand-up. She looked at me for a hard few seconds before asking how much time I'd like to do. I asked: "How long do the musicians do?" She said: "Fifteen minutes." I thought to myself: "Fifteen minutes isn't that long."
It was the longest 15 minutes of my life. I bombed so hard. Afterwards, as I put my rollerblades on, through hot tears, I heard her say: "Maybe he'll get better one day." So because of that I went back every Tuesday for two years. Bombing harder every time.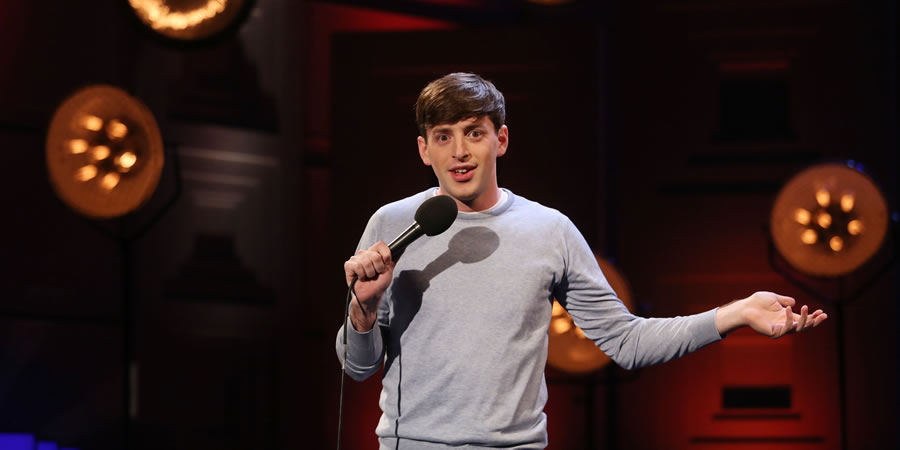 Favourite show, ever?
Awww man. It's hard to pick. I love shows where it's the basement of a bar and the crowd is young and into it and you can get away with murder. Stamptown and ACMS are British alternative nights that have those vibes. Catherine Cohen runs a show in New York with the most wonderful crowds - she's a legend. Josie Long's Lost Treasures of the Black Heart gigs in 2012 was a real moment.
But my favourite ever, I think, was doing a show with Eddie Izzard and a few other comedians in Moscow to celebrate the 70th anniversary of the end of World War II. It was so special.
Worst gig?
None. Honestly. Any gig you get to do is kind of great. I know that sounds a bit rah-rah but who cares. What a great job.
If I had to pick? I did a show once in Milwaukee where the entire audience booed me from the minute I was announced. Someone cut the microphone cord with a penknife. It was awful. But you need to do those gigs. They're fun in their own way. I've had a lot of shows where I bombed or I tried something that didn't work, but what can you do?
I will say that jobs or shows where you're working hard but not getting paid enough make you feel shit, though. They make you feel bad about your long-term prospects.
Which one person influenced your comedy life most significantly?
Gary Gulman. A US comedian. He's had a big hand in shaping who I am as a comic and a person. He's what I aspire to be: a kind Jew in his 40s with great work ethic and a good, full head of hair.
And who's the most disagreeable person you've come across in the business?
A musician that I opened for in the United States - whose work I loved before I joined the tour - was a true bully who was horrific to his crew and last year got outed for sexual harassment. I don't know if this sarcasm will come across in print but it couldn't happen to a nicer guy. I could keep it anonymous but his name's Ryan Adams. The dude had a close circle of folks who were true enablers.
Is there one routine/gag you loved, that audiences inexplicably didn't?
OMG yes. There have been so many. Most. There was a bit about people being killed by vending machines that was like a million minutes long and brought me a lot of joy and people absolutely hated it. I'd do it as some sort of masochistic exercise. It involved a four-minute slow-motion act-out of someone being crushed to death by a vending machine. To say it was hit and miss would be extremely generous.
You've worked with baseball too - should we be excited about this summer's Cubs vs Cardinals clash in London?
Totally. Baseball's amazing. Especially if you like an hour of excitement stretched out over the course of two-and-a-half years.
No, imagine cricket if it was fun and you have baseball. Cardinals vs. Cubs is going to be a blast and I'm hoping I'll be in town for it. Was so bummed to miss Red Sox vs. Yankees last year.
How do you feel about where your career is at, right now?
I'm pretty happy! I'm touring the UK for the first time. Also, I work part time at a school as a janitor where I anonymously solve math problems left on the board in the hallways. So I've got that going for me.