Comedian Tom Mayhew explains how coming from a working class background puts up extra barriers in terms of trying to forge a career in stand-up comedy...
I bloody love being a stand-up comedian. Since I discovered stand-up properly at the age of 14, it's the only thing I have ever wanted to do with my life. I wasn't one of the confident, loud, funny people at school - I was an incredibly shy and awkward teenager. But I saw comedians as people who could take their flaws and insecurities, and go on to do something positive with them. They were not the cool kids, not sporty, not the most socially adept - they were people like me, but in their world, they were the heroes! It was wonderful.
I wrote my first joke at 14, and I did my first gig 2 months after I turned 18. It wasn't until September 2014, at the age of 22, that I began gigging regularly; and for the last 3 and a bit years I have gigged like crazy, working harder on stand-up than I ever have on anything else.
In terms of my comedy, 2017 was a great year for me: it was the year where I took my first hour-long show to Edinburgh - something I have wanted to do since I first fell in love with stand-up. It was a genuine dream come true to have my own solo show at the Fringe; it's definitely the most proud I have been of anything I have done in my 26 years on this planet.
That isn't to say that the experience of Edinburgh 2017 was a dream... it was far from plain sailing for a number of reasons. First and foremost, I only managed to get 6 previews booked in before August. I will admit that, in terms of my profile, doing Edinburgh last year was slightly too early. Plenty of promoters hadn't even seen me do a '20', so what hope would I have that they would take a gamble on giving me 50 minutes to try things out? I didn't mind the small number of previews, though - my goal was always simply to have a show that I thought was good, one that I was proud of by the end of Edinburgh. The lack of previews did mean that the first couple of weeks of the festival were spent trying out different things in terms of the structure of the show - including the opening and ending changing a handful of times over the run - and that I was still writing a lot every day for the first half of the Fringe.
But, despite these setbacks, I ended the run with a show I was really proud of. I had good audiences every day - fuck it, I HAD AN AUDIENCE EVERY DAY, something I was delighted about as a practical unknown doing his first solo show - and the vast majority of those that came enjoyed what I had spent the last few years working towards.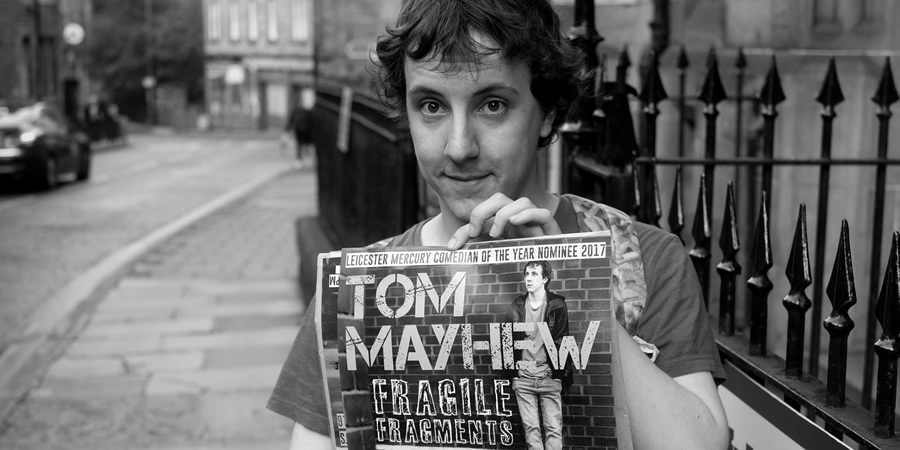 While I was still working out the show during the first half of the festival, I received a very nice review from Broadway Baby, and near the end of the Fringe the finished show was given a absolutely lovely review by Chortle. When I first got into stand-up and started learning about the industry as a teenager, I would often read Chortle for insights into what goes on behind the curtain, and I can vividly recall reading reviews of some of my favourites comedians and thinking to myself "I would love one day to have a good review of one of my own shows on this website"... and I have done that. The teenager who was just a dreamer has achieved one of his little dreams. What a lovely feeling.
Not only that, but I did so with a show I wrote, directed, produced and funded all myself. I had no agent telling me what was a good or bad idea, no director telling me what bits to chop or change, and I managed to achieve this despite having done barely any previews before the Edinburgh run itself. It was just me and my brain, and I achieved this on my own, which - and I very rarely say this - makes me incredibly bloody proud of myself.
I have a load of great quotes I can use from those reviews, and they were incredibly encouraging for future shows. So, overall, Edinburgh 2017 was a huge success for me. There were so many moments where I was walking around, thinking "this month, you are a comedian, doing your own show. This is you living the life you have always wanted". It was a great experience... but I won't be returning to Edinburgh in 2018.
"Why aren't you returning, Tom? Is it because you don't have a good idea for a 2nd hour?"
No, far from it; I have an idea that I am really excited about, one that feels interesting, that I feel could do well. It will be a mix of silly and serious, and it will be better than my debut show. It will be personal, ridiculous, fun and different.
"Well, if you are so confident in your show idea, why don't you go again? That's what comedians are supposed to do. Keep up the momentum, and all of that. You have been up to the Edinburgh Festival in various guises every year since 2012, and you have loved going up every single year. It's the highlight of your year. Why would you choose to break that chain?"
Because I cannot afford to do Edinburgh this year.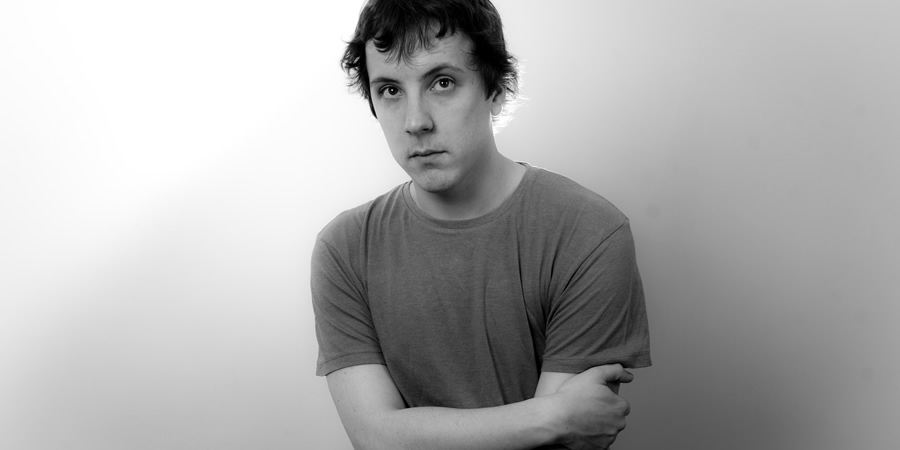 There's something I finally starting talking about on stage last year: I am working class. If I'm completely honest, I wasn't happy discussing my class at all until a couple of years ago. Society tells you that you should be ashamed of being working class, and it has been very hard to shake that feeling. This wasn't because I was unaware of my position in society - far from it. That is something I have been aware of for a long, long time...
I can remember when I was in primary school, reading through the Argos catalogue and picking what Christmas present I would like, knowing the exact budget that I was allowed; I can remember going into school after the festivities, and lots of friends having that year's "must have" toy, one that I knew was way out of our financial reach. When I was 9 years-old, Yu-Gi-Oh cards were popular at my school. It felt like almost every child in the playground had hundreds of Yu-Gi-Oh cards... but I didn't have any. It wasn't because my parents said "we can't afford to get you them" - I just didn't ask. Even at that age, I had the awareness to say to myself "your parents don't need to spend money on these, you can live without them". It meant not fitting in for a while as I didn't have the fashionable toys, but I could only play the cards I was dealt at birth.
When I was 15, there was an opportunity to go on a school trip to the Somme, as we were learning about World War I. I was one of only 2 pupils in the class not to go. At the time, I said to my parents "I just don't want to go"; I think they probably thought I was just scared of being away from home, or anxious about going abroad. I wasn't either of those things. I did really want to go. I'd have loved to have gone to another country and seen something of such historical importance, it would have been exciting and interesting... but I didn't want to cost my parents what was a relatively large sum of money for us, because I felt I did not need to go. So I didn't.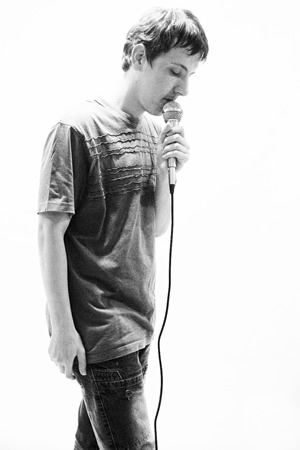 There was also the occasional event of non-uniform day, a day most pupils would greet with glee, but I hated it. When I was 12, I wore my favourite trousers to school: a pair of black tracksuit bottoms. A group of 4 kids surrounded me at lunchtime, and ripped the piss out of me (not literally, that would have got on the news). They weren't thinking "let's take the piss out of this kid for being working class", they had just been taught constantly by the media that there are certain pieces of clothing that should be mocked - items that are, more often than not, ones favoured by the working classes. Was I wearing the trousers to say "I am working class and proud!"? No. I loved those trousers because they were really comfortable, and I liked the way they looked. But I have never worn tracksuit bottoms since that day.
I will try to explain how much of a stigma there is attached to being working class: I was brought up a Christian, and I distinctly remember our Church pastor saying that homosexuals would go to hell, as it is a sin (he later left his wife for a man, but that's another story). At the age of 12, I realised that I was attracted to people regardless of their gender. Still being a Christian at the time, it was a horrible feeling; every time those thoughts came to my mind, I would feel worthless, and tell myself it was just the devil tricking me, that I was going to burn in hell... but despite all of that, and thanks to me stopping believing in all of that Jesus stuff by my later teens, I eventually became happy talking about my sexuality at the age of 21, shortly after having my first girlfriend. In contrast, I have known I'm working class since I was in primary school, but I have only felt comfortable and happy talking about it very recently. It took me far longer to be proud about my class than my sexuality. That is how much internalised shame people can be made to feel about being working class.
When you are from a low-income background, it can be incredibly hard to gain any kind of social mobility. I have friends from poor backgrounds who, despite working bloody hard - getting a load of A* grades at school and gaining first-class honour degrees at respected Universities - have still had periods in their lives when they have had to sign-on at the JobCentre for months on end. In contrast, I have friends from middle class backgrounds who managed to acquire decent jobs as soon as they left school, directly through their parents' contacts, irrelevant of their qualifications or experience. While these examples are not representative of everyone's situation, I don't think anyone can argue that having a well-off background doesn't give you a huge advantage in life.
I have never had a well-paid job. I left school in June 2010, which was a time when the recession had made jobs incredibly hard to come by. Youth unemployment hit record numbers, with one figure citing that 21.3% of 16-24 year-olds were not in work in 2011. I would estimate that I sent well over 250 job applications to employers looking for all levels of employee before eventually finding work in 2015. That job, which I still do now, is not a lucrative one, and it is one that I am overqualified for... but it is all I have had, despite looking for other work.
So now we come to the Edinburgh Festival. It is bloody expensive. My 2017 show run cost me around £4000, an amount that worked out to be around 70% of my disposable income for the whole year. Yes, you read that correctly: I spent 70% of my yearly income on a single month. If I include all the money I spent on stand-up through the year, it would be more than 95% of my disposable income - no, I am not joking. I am merely spending nearly all of my money on joking.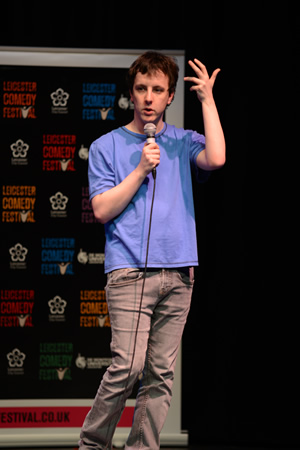 This isn't me complaining that I have to spend money on chasing this dream; I know with any creative ambition, you have to put a lot in before you get anything back. Most gigs I do are in London - where a large quantity of people on the London circuit think I live, as I gig there so often. However, I actually live in a small town called Tring, which is a 45 minute train journey away from London. This means that the vast majority of gigs I do cost me £13 to get to, and take at least 3 hours to get there and back. When I first started gigging in 2014, I was unemployed, signing on at the JobCentre. This meant I was living off £51 a week: I would spend £5.50 on getting the bus to sign-on during Monday morning, and £39 on doing 3 gigs a week. I really, really want to do this. That is why I spent 70% of my yearly disposable income on Edinburgh last year... but that wasn't enough.
A thing I've only realised recently - since the start of the last Edinburgh Festival - is how much my class (and the consequential financial situation I have found myself in) have impacted on my chances of doing well as a comedian.
Most comedians I know doing their debut hour - or even their debut two-hander, or four-hander - have done Brighton Fringe runs of their work-in-progress shows. I have currently booked in to do the Brighton Fringe this year, and I will be doing 6 performances of a show I am working on (hopefully coming to the Edinburgh Fringe in 2019). If I had done Brighton last year, it could have been 6 more previews, and my show would have been in a much, much better shape for the start of the Fringe... but I couldn't afford to do Brighton and Edinburgh, never mind doing previews at the York, Hastings, Leicester, and other Fringes.
If I was a middle class comedian, and could afford to do all of those festivals, then my show would have been ready for the first performance in Edinburgh. Definitely. I've only just had the epiphany that the reason I kept telling myself "I'll be happy with a good show at the end of the Fringe" was because that was the only option I had. Much like so many occasions in my life, I had to resign myself to making the best of an imperfect situation, because I couldn't afford to do anything else.
Previews are just one part of it. There is also PR, something I didn't have. One act told me in April "you can get PR for just £800 if you are lucky". That word: "just". That's 2 months of work for me. Do I think my show would have done better if I had been able to afford PR? I am certain it would have. When I was working on my show before the festival, I believed that if you had a good show, people would come... and the audience members did come, so in terms of building an audience, there is truth to that. But in terms of career progression, and feeling I had moved up within the industry? It would have had a far greater impact if I had a PR team behind me. There were 100s of acts who had more press for their shows in July than I had over the whole of the Fringe. That's what good PR can do for you.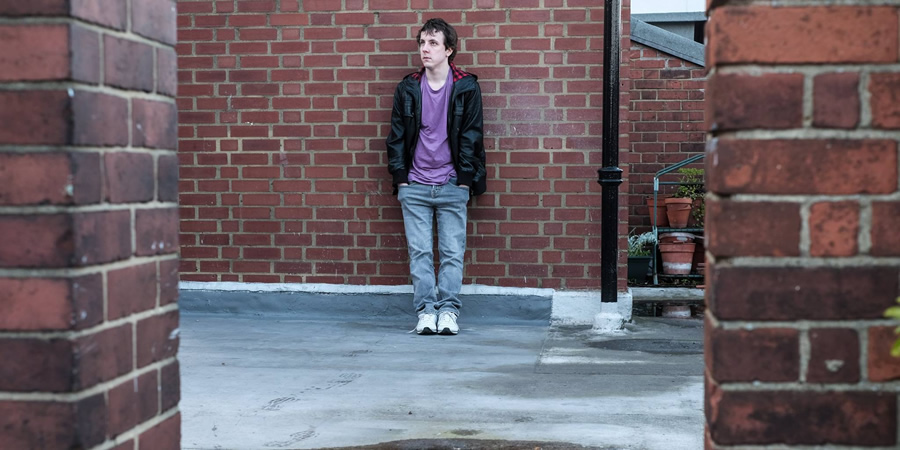 I am aware that lots of people will think "the answer is simple, Tom: get a better-paid job". Those people probably don't know what it's like to come from a low-income background. Getting a good job depends on so many factors - some locations have far more employment opportunities than others, for example, and connections can also go a long way. But I would take umbrage with that point anyway: it's a very easy solution to come up with, but it doesn't solve the root of problem, not at all. If all working class people could just go out and "get a better paid job", don't you think they all would? In that scenario, everyone would be working for £15 an hour... but when you go to a comedy club, there would be no-one behind the bar. No-one on the door. No-one at the box office. No-one at the sound booth. So much of comedy relies on people doing low-paid jobs, which makes it astonishing to me that there is almost nothing to help people from low-paid jobs get into performing comedy themselves.
Rob Mulholland (a fellow working class comic) wrote a piece during last Edinburgh, lambasting the fact that the Arts Council point-blank refuse to help support comedy. Once you look past the Arts Council, there is hardly anything.
The closest I have seen to something that could help working class comedians perform at a festival is the relatively new website, Fringe Funder - a scheme set up behind the team best known for making the NextUp platform. I have heard them talking in interviews about their reasons for creating a crowdfunding website specifically geared towards artists wanting to perform at festivals, and it was one of the very rare occasions when I felt like it was someone who was actually interested in helping working class acts, and understanding their struggle.
While I was tempted to try the Fringe Funder route for this year, I decided not to. Yes, it is a fantastic concept, but I can't help but feel that it is something of a catch 22 situation: if you have a big following, it could do you a great service, but what if you are a working class comedian who is still a successful Fringe away from getting that level of following? Then I don't see it doing much good. I'd get £10 here from a few friends here and there, maybe £300 in total, but that wouldn't scratch the surface, and I can't struggle financially, and mentally (being skint isn't great for your health), like I did last year.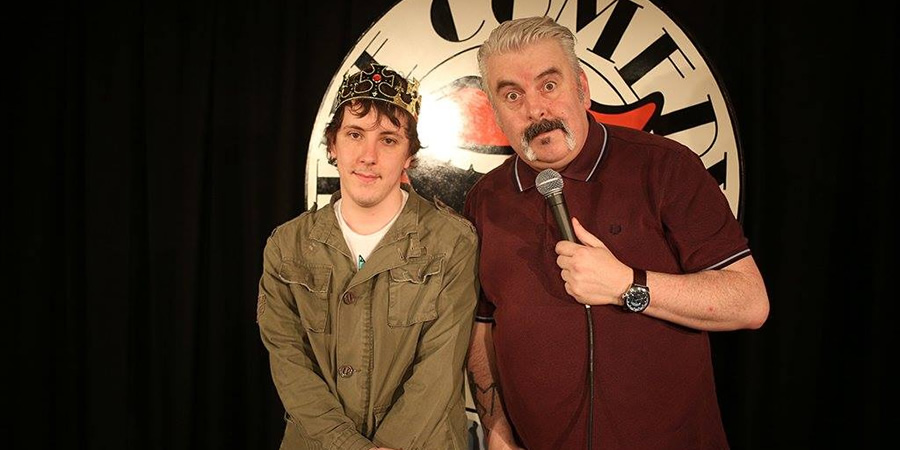 Some people may read this and feel it is simply me being pessimistic, and might argue I should try it anyway, but over the years I have seen comedians set up GoFundMe pages for their Edinburgh shows which fail to break the £50 mark. For every successful crowdfunding campaign, there are countless others that don't even come close to reaching their goal. The last thing I want to do is commit to doing an Edinburgh show and rely on a fundraising campaign to help pay for it, only for it to fall short and become another struggle.
Which brings me on to my final point: I could only afford Edinburgh because I had a day job. As someone who relies entirely on my low-paid day job, I didn't have the luxury that many middle class comedians would have, of being able to say "I'll have a holiday in September", or "I'll have a week away in December". I couldn't afford to quit my job to give myself a break; I didn't have that privilege. To do Edinburgh, I had to use all of my yearly holiday in August. The day before I went to the festival, I was working. The day after I came home, I was back at work. So while some colleagues would chirpily say, "how was your extended holiday?" the reality was that my holiday allocation was entirely spent working harder than I ever have... only to have to go straight back to work before I had even unpacked my suitcase. Not a single day to recover. This was also the case for 2016, when I did a full-run of a 2-hander at the Fringe, meaning I haven't had more than a couple of days off in over 2 years. It should come as no surprise, then, that I was signed-off work for a week in October, from mental stress and exhaustion.
I first started talking about being working class in my act halfway through August 2017, as it was then that I truly realised how much harder it is for poor people to make it in this game. Since Edinburgh, this point has become even clearer to me: I know of working class acts who walked away from stand-up late last year because they can't afford to do Edinburgh, and feel they can't progress without it. Really good, promising acts, with a lot of potential, interesting ideas, and natural talent. Acts that have graced finals organised by Chortle, Funny Women, Laughing Horse and more. Acts that should be given the chance to push forward and find more of an audience for their work but can't, because it's so expensive to do so. There is nothing to help them.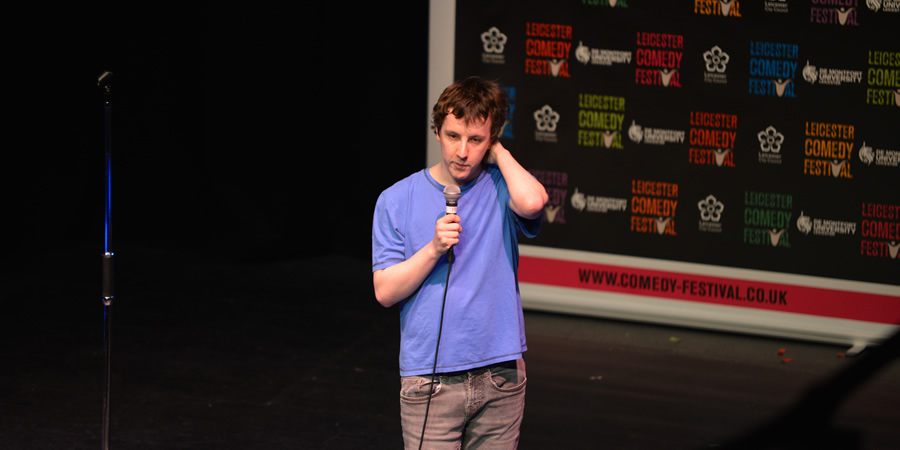 The overwhelming feeling I had last Edinburgh - when I was struggling to get any press at all, aware I was effectively gambling 70% of my yearly income, and feeling frustrated that I hadn't been able to prepare anywhere near enough because I couldn't afford it - was a feeling of "this industry isn't for people like you".
Some may argue that you don't need to do the Edinburgh Fringe to be successful in the comedy industry, and there is definitely truth in that point... but looking through the list of acts who have appeared on Mock The Week, every single one has done Edinburgh, with most having done numerous shows over the years. I know that Mock The Week isn't the be-all and end-all of comedy, but it is a statistic that epitomises the importance of Edinburgh within the industry.
I will conclude by saying that 2017 was a great year for my comedy; I received quotes and reviews that I am incredibly happy with; I did bigger and better gigs than I ever had before; I was nominated for the Leicester Mercury Comedian of the Year, which is something I was incredibly honoured by; I proved to myself that I could do an hour of comedy; and yes, despite everything, I bloody loved being in Edinburgh for the whole festival, and I am truly gutted that I won't be there this year.
It's a really crap feeling, especially when I know people who are preparing for Edinburgh right now despite having no clue what their show will be about; for me to have an idea I am really excited and happy about, but I am unable to take up in August because of the financial implications... it makes me feel pretty rubbish about things.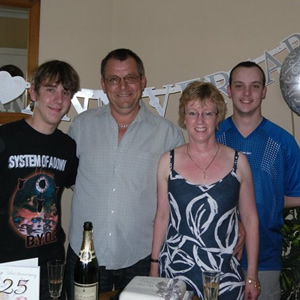 But, despite how much I wish I could go again, taking a show to Edinburgh last year meant that I had to sell possessions in September to pay off my overdraft - ones I didn't want to sell. I had to ask for some money from my parents - £500, the only large sum of money that they have ever given me in my life. This isn't because they aren't supportive, it's because they have never had any money they could just hand me. Even when I was signing-on, and living off less than £3000 a year, I had to make that money last. They've been incredibly supportive over the years: giving me plenty of lifts, asking how gigs went, not constantly telling me to "stop messing around with your stupid jokes and do something normal"; they've been brilliant.
Financially, however, they have never really been in a position where they could give me money to help out. My Dad is from a family of 7, and he had to get a job when he was 14 to help support his family. My Mum has worked in Boots since she was 16, and also works part-time at a play group. I felt guilty about taking any money from them, and I am determined to pay them back one day - I only accepted it because, if I didn't, I would have missed a payment for my venue and possibly lost out on a room for the Fringe. That was pretty much the limit, though. I can't rely on asking for that sort of money again - it won't be there.
The Edinburgh Festival is exhausting enough for the acts who can easily afford it; for those who need to really fight to get there, it's enough to really batter your physical and mental health.
I hold up the Arts Emergency charity - co-founded by Josie Long and Neil Griffiths - as an example that there can be a positive change in terms of getting more working class people into the arts. It can happen. But there needs to be more out there to help working class comedians break through. As it stands, I can only see it leading to a circuit and industry that is even more middle/upper class, and far less interesting for it.