As lockdown eases, a handful of comedy clubs in England have begun to reopen their doors for socially distanced gigs. But the vast majority across the UK remain closed, with reduced audience capacity meaning they remain nonviable as businesses.
Perhaps inevitably then, after nearly half a year unable to take the stage, and with the Government's coronavirus lockdown guidelines arguably inconsistent and subject to sudden changes, some comedians have been flouting the rules, running illegal gigs - or "speakeasies".
British Comedy Guide spoke to one such comic who organised an illegal gig recently, on condition of retaining their anonymity.
A well-established circuit act, they claim that the primary reason for putting on the night with four other acts, was not its illicit frisson, nor their overwhelming desire to return to performing live, but the illogicality of the current guidelines governing entertainment venues.
"I walked past the three pubs near where I live and they were all absolutely heaving with people" the comic explains. "They were all adhering to the table service-only rule, but they were busy and people were mingling. It just made zero sense to me that pubs opening was legal, as long as it was under the guise of following the guidelines, but if we were to put a microphone in the corner and talk into it, that was supposed to be more dangerous and totally outlawed?
"It was the lack of consistency more than anything else that made me think 'fuck this'."
With an audience of 77 in a room that usually seats 156, they described the gig's atmosphere as "fantastic", far better than the outdoor and drive-in gigs that have sprung up to fill the circuit's absence.
"It felt like what I'd imagine a speakeasy felt like back in the age of prohibition," they say. "The only people who knew that show was happening were the people in the room. That added layer of excitement more than made up for the 50% capacity we imposed on ourselves.
"Outdoor gigs are methadone. They'll do while we can't have the real thing, but nothing compares to a good old bowl of smack, really."
Despite the gig's clandestine nature, the comic maintains that they took suitable precautions.
"We had automatic hand sanitiser dispensers in use on arrival, we had a temperature gun to check everyone on arrival, we had the pre-ordered drinks ready at each interval that the audience collected one-by-one when their name was called," they explained. "There were separate microphones available for each individual comedian, which were sanitised after their use and put away.
"All the staff at the venue wore as much PPE as possible. We tried to go as above and beyond as possible. Because we wanted to be in a position where if we did get in trouble for this, we could demonstrate that we were as safe, in fact, a lot safer, than being in the vast majority of pubs."
The night was essentially publicised by word-of-mouth. "People involved with the venue and the promotion team know a lot of people in the local area, so a few text messages were sent, a few doors were knocked on and once we hit 77 sales, we declared ourselves sold out," they recall.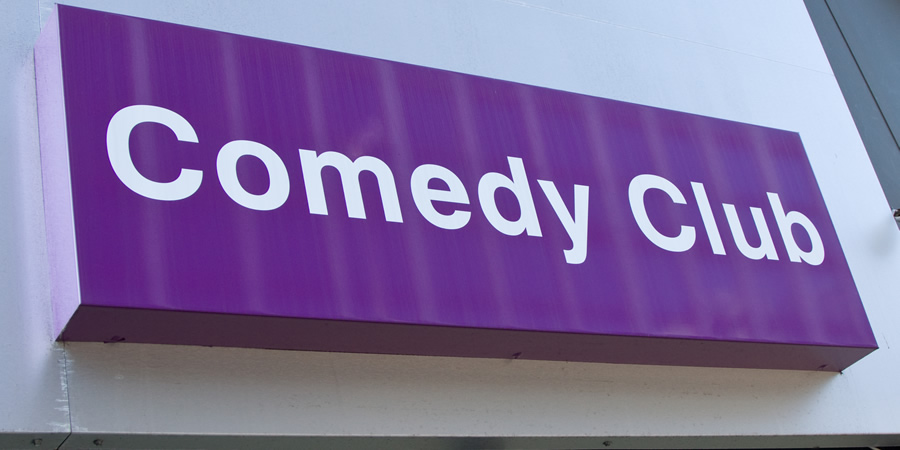 "Everyone who came knew exactly what they were signing up for, we told them there would be over two metres between the front row and the comics and a two-seat gap between every booking. We made every effort to make this a very safe event. It wasn't about being risky or taking the piss and if it couldn't have been done this way, we would never have done it."
Of the comedians that were approached to take part, "everybody jumped at the opportunity, barring one comic who said she would only do the gig if the Government okayed it. I think most comics are inherently naughty, rebellious people and they shared my disdain for the inconsistencies of the Government's logic.
"All the comics were paid standard weekend club fees, with one exception. The exception was a comic who just happened to be in the area, I told them what we were up to and they wanted in. I'd already spent the budget, so I offered this person £50 expenses out of my own fee.
"The venue made their drinks sales, which were all pre-ordered and paid for, for each interval prior to the event, and the 'promoter' made a few hundred quid once he'd paid the acts. It was nice to earn a little bit of cash, but I would have absolutely done this for free if necessary. I can't speak for the other comics on that. But I'm pretty sure they all said yes before they even knew what the fee was."
The comic also suggests that this was by no means an isolated example of an illegal gig. "There've been a few. We were not the first." And they justify breaking the rules, arguably endangering lives, by stating: "This was safer than going to the pub, without doubt. There was two metres between every booking and over two metres between any audience and the comedian on stage.
"Pubs I believe are 'one metre-plus'. If pubs and restaurants were still shut, then this wouldn't have happened."
What's more, it's unlikely to happen again, with the comic suggesting that any lockdown accompanying a second wave of coronavirus infections will prohibit a repeat.
"If there was a local lockdown, then almost certainly not. I'd like to think those will only be put in place when there's a significant risk of infection in the area and I wouldn't put myself, my family, my audience and other comics in danger by doing that. Again, it needs to be stressed, this was done very safely and in response to the utterly ridiculous inconsistencies in the Government's advice.
"If there's another national lockdown I would imagine that would mean we're in a very bleak state of affairs, so again no. I don't see the Government shutting down the country again unless the NHS is completely overwhelmed. They're all in on herd immunity now, as far as I can tell. They just can't say that out loud."
The Government has strongly denied that it ever pursued a strategy of herd immunity. However, on 13th March, Chief Scientific Advisor Sir Patrick Vallance said: "Our aim is to try and reduce the peak, broaden the peak, not suppress it completely.
"Also, because the vast majority of people get a mild illness, to build up some kind of herd immunity so more people are immune to this disease and we reduce the transmission, at the same time we protect those who are most vulnerable to it. Those are the key things we need to do."
Two days later, Health Secretary Matt Hancock said: "Herd immunity is not our policy, it's not our goal. Our goal is to protect life. I want to be absolutely crystal clear that we will do what is necessary to protect life."