Stephen Bailey: Taekwondo
Rising stand-up star Stephen Bailey has a black belt in taekwondo. As he embarks on the Spring leg of his 'Can't Think Straight' tour, we thought we'd ask him who he'd like to use his ninja-like skills on...
"With great power comes great responsibility" or so they tell Spiderman in every reimagining of the film, and I too take my powers very seriously. I may be the flamboyant, camp, LGBT comic on the circuit but I have depth, a lot of depth (and not always in the way that involves lube - I know, I don't do myself any favours!), because I am also a lethal weapon. That's right, move over Mel Gibson, I am also a BLACK BELT in taekwondo. That's right, kneel before me... Keep it clean.
I have been asked who I would use my super-Buffy-powers against so here are the top 10 people that I would take down using my taekwondo expertise...
Trump
Need I say more. This is not a threat against the President (I don't need to end up in Kathy Griffin territory), but let's just say I think I need to save the world from him.
Ann Widdecombe
Listen, old people are my demographic. They like me because I remind them of the good old days and the "hairdresser that lives down the street with his 'special friend'" but A-Wid is against me having my rights and doesn't want to see me happily married to a man (who'll probably be called Colin) with my twin beagles (who'll likely be called Bronte and Bev).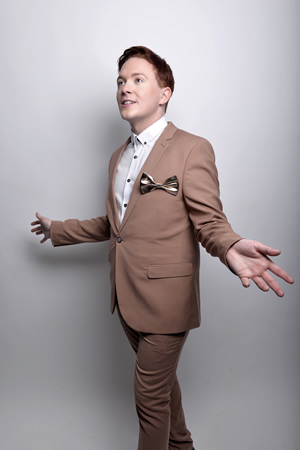 Pat Phelan (from Corrie)
Oh my Lord, Coronation Street's Pat Phelan has gone on a proper murder spree. I'd love to be sent in to give him an Ap Chagi (front kick) right between the legs. I mean poor Eileen. She's going to find out that her husband has killed all the fit men on the street... And Les Dennis.
Zac Efron
You have to keep doing taekwondo to stay fighting fit, so it's lovely to do it with friends and make it fun. I remember fancying my instructor A LOT. I think that's the only reason I persevered and kept going - I was hoping for a student/teacher affair more than a black belt, but I'll take what I can get. But I would love to have a sparring session with lovely Zac so he can take me down. I'm romantic that way.
Kris Jenner
Responsible for the Kardashians.
Speidi
They spread an awful rumour about my BFF Lauren Conrad and they just won't leave reality TV. Also, Spencer is trained in Jiu-Jitsu and we could see who is really tougher (ME!). I'd only slap some sense into him, nothing serious - he and Heidi have a baby now called Gunner. So I'd just like to do enough damage so that he realises he picked a ridiculous name.
The Producers of Made In Chelsea / TOWIE
I'm over these shows. I love all the reality shows. Give me some Love Island or X Factor - even a Geordie Shore or The Hills but I can't promote stupidity. We should be encouraging kids to grow up wanting to find a cure to cancer not wanting to be Gemma Collins.
Anyone who says "I'm not racist / homophobic / sexist, but..."
This should be self-explanatory. Anyone who comes up to me and says "I'm not homophobic, but..." and then proceeds to be homophobic but in a friendly way needs me to send them flying with an Idan Yeop Chagi (jumping side kick - I think).
My Exes
To get your black belt, you have to punch through wood.... so if I find you sending pictures of your aubergine emoji to someone else (like my ex, Satan) then I am going to use my training to punch your wood.
Train Managers
I am sorry, I know you're not supposed to use your powers for personal gain, but I cannot understand why we give train managers tannoys. I don't need a list of the contents of the shop in coach C after every stop. "We have a selection of drinks - including tea, coffee, fruit teas, peppermint teas, cappuccino (covered under coffee), lattes, a range of alcoholic beverages - wines, white, red and rose, prosecco, spirits, lagers, ciders..." It's too much!