Sooz on Film interview
Exploring the hyperspaces between sci-fi, comics and comedy
There are so many great comics doing interesting things on and off the circuit these days, it's easy to miss a gobsmacking nugget of unlikely info: like Sooz Kempner's cat being the one from the movie Aliens.
Yes, the Kempner family moggy, Boris, played the cult cat Jonesy in the second of the huge acid-spewing xenomorph blockbusters, a revelation that emerged in her recent Edinburgh show, Sooz on Film. Boris worked under James Cameron, shared scenes with Sigourney Weaver, and even did a photoshoot with the latter. But could the cat care less?
Sooz on Film gets a couple of further airings in London over the next few weeks, and is heartily recommended if you're within range. It's an admirably varied, personal and idea-packed hour from the talented comic, singer, actor, animal-wrangler (we'll come to that), and one-time aspiring teenage scriptwriter (that too).
With Alien Covenant now in the shops, it seemed the perfect time to hook up via Skype - video-calling is a regular feature of Sooz's shows - to chat spacecats, Alien, and more. And if you aren't fussed about cats in space, scroll down a bit for an excellent anecdote about Anthony Hopkins' dog-based biscuit faux pas.
So, your old cat was a sci-fi legend. He'd be really in-demand for comic-cons if he was around now.
Yeah, he'd still be popular, it'd be us picking him up out of a box, him looking like a bog-brush. They'd notice if it wasn't the real cat too. 'Actually, I think you'll find the markings on the left side of his face...'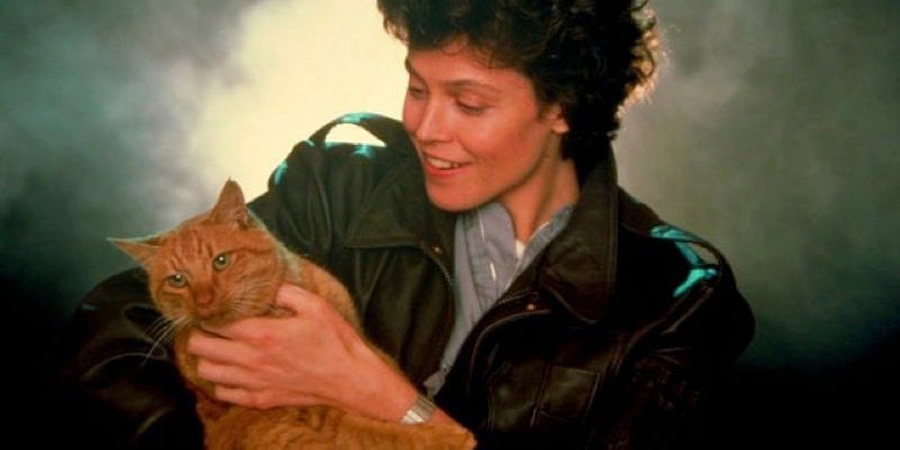 You and your brother [the impressionist Luke Kempner] both mentioned Boris in your Edinburgh shows this year. Were you jealous of your own pet?
I say in the show, even if I achieve the ultimate dream and get an Oscar, I'll be holding it and knowing that I'll never be as iconic as my cat.
I even found a YouTube tribute to Jonesy - presumably the cat from the original Alien movie is a different, er, actor?
Yeah, that was a few years before. And it was a particular skill-set with Boris, because he was horrible: you could get him to hiss on camera.
It's a famous scene in the second film, the dream sequence, where the alien is about to burst out of Sigourney and Jonesy hisses at her.
It's not that easy to make a cat hiss unless you're distressing it, whereas Boris would just do it. What they did, they had another cat under cover in a cat box, and then they'd pull a blanket off it. You didn't need to do much to get Boris to hiss.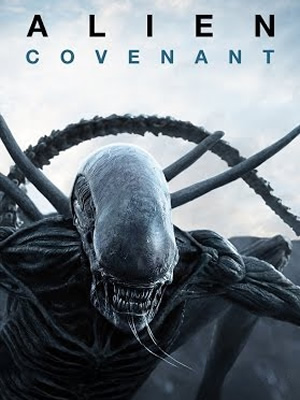 Sooz on Film is all about your love of film - did you follow the Alien movies?
Yeah, I loved them. I think the first film is the best of the franchise, but the second film's amazing - it really holds up because there are all these practical effects. There's this amazing fact that they only had the budget for six alien suits, so there are only ever six aliens on screen at one time, but [James] Cameron is amazing the way he shot it. You imagine 'I saw hundreds coming towards the camera'. But only six, and I think that's something you don't get these days with CGI.
What about the new films?
The first four - Alien, Aliens, Alien 3 and Resurrection - I see them as 'canon.' Prometheus was very atmospheric, and I think if no one had known it was anything to do with Alien, it wouldn't have been so... I think Ridley Scott got a lot of shit because of that. But I think it's better than Covenant.
Is Covenant not great?
I barely have any recollection. It didn't really do it for me.
So when did you start writing Sooz on Film?
About a year ago, right after the last Edinburgh, where I'd had a horrible Fringe, in a cave, and I thought 'that's it, I'm never doing a character show again.' I've always been obsessed with films, so I thought 'I'm just going to do a show about it.' But I liked the idea that the characters were wrestling to get back in the show too.
It gets pretty heavy in places, but there's some fab singing too .
Yeah, me and my brother both had a musical theatre background - any excuse to sing.
Did I see something about you being in a sci-fi musical once?
At Uni I was in Return to the Forbidden Planet, playing a robot (pictured). I made the costume out of a silver jumpsuit, duct tape, Haribo for buttons and a Poundland torch taped to my head and it was essentially like wearing a binbag. I think if I wore it at a sci-fi convention I'd have been escorted out for bringing down the good name of cosplay or something.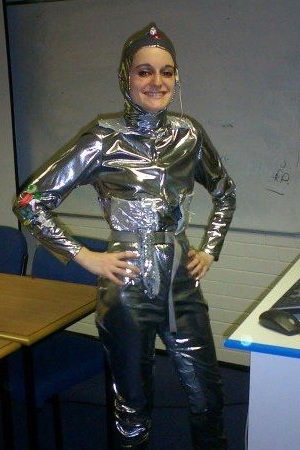 The theme of next year's show sounds interesting too.
I was also brought up on computer games - old ones, from the early to mid '90s. That was my first foray into creative writing, doing Sonic the Hedgehog fan fiction. I drew Sonic endlessly, I was obsessed with it. I still play it now, and I really nerd out over old Sega and Nintendo.
The idea is that I'll go a bit meta, it'll be 'what did Sonic teach me?' I'm going to make out that the six chaos emeralds in Sonic represent the six things I need to achieve in life. And there'll probably be a sad bit at the end.
Your audience demographic might be a bit different for that show...
I had a tiny bit of that this year with the film show, a certain type of gentleman will tweet you afterwards, a little bit suggestive, 'we're the same, me and you, so if you're ever free...'
I think 16-bit gaming will introduce me to a whole new group of those.
Speaking of creative writing, in the latest show there's a big chunk of a teenage script you wrote - were you going to include more originally?
I thought that would be the show, with snippets of other stuff. But it was me saying over and over again, 'I wrote this thing and it's shit.' As previews went on, more and more of the script went from the show.
There's a great bit in it about you doing animal wrangling too.
I've done dogs, cats, what else have I wrangled? I had to drive a rat somewhere. A bird - I had to get a canary to the National Theatre once. I haven't had to deal with anything bigger than a St Bernard.
You were nearly in The Danish Girl because of it. That's a real highlight of Sooz on Film.
That was a gift to me: you say onstage later 'oh, god it was terrible,' but all I could think as it was happening was 'yum yum yum, this is all going straight in a show at some point.'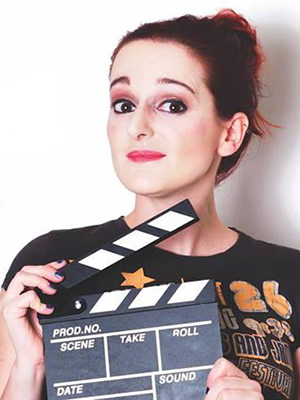 Have you had any other celeb encounters because of it?
With Anthony Hopkins, I don't think the film ever came out, Jude Law was in it too. All he had to do was walk a dog, but he couldn't hold the lead properly, and I ended up having to get quite firm with him. He didn't mind at all but you could see people around going 'woah.' He kept giving him bits of chocolate biscuit that he had in his pocket, and I'd have to go 'Hi, could you stop giving him that...?'
Animals are a great leveller - they don't care who Anthony Hopkins is.
Yeah, I was just worried that the dog was going to charge off into the woods: he [Hopkins] kept letting go of the lead and I'd have to charge off after it. It's quite scary, animal handling, because no one on set ever gets that these animals aren't props - you can't just tell them what to do.
There are some Aliens promo photos of Boris and Sigourney that are pretty amazing - it shows what a cult hero he was.
Yeah, I just found them online, these pictures of Sigourney Weaver holding him. And there's literally one of them where he's going 'Get off!' That's cats for you.