Simon Munnery is taking his latest show, The Wreath, on tour. Let's find out more...
For anyone who hasn't seen you perform before, what can they expect from your new show?
What should people expect from my new show? They should expect it to be awful, and thereby guarantee themselves to be pleasantly surprised at the very least. The lower your expectations the more chance you have of being delighted, not just for shows but in life generally: the expected great time seldom materialises, the act of expecting seems to prevent it, and conversely when the dreaded day arrives it's not nearly as bad as you thought.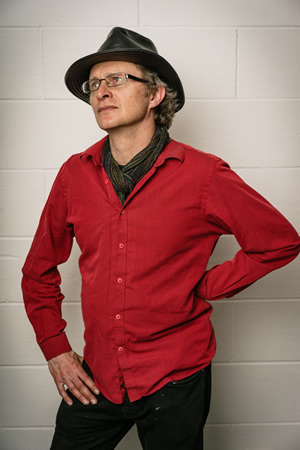 On the other hand, if you did expect it to be awful you probably wouldn't want to see it, and that's no good, for it's a show that needs to be seen. I've not seen it myself of course, because I'm in it, but people who have seem to enjoy it. They come up to me at the end, some of them, shake my hand and tell me how much they loved it. Do I trust these people? No. They are clearly deranged. But as long as there's enough of them to fill a small auditorium I feel obliged to carry on.
In essence this show is the story of a single joke - how it came into being, how it came eventually to be a painting, and what happened along the way but with much else besides; although it has a narrative arc there are many tangents and asides: Chess club, the journey to Aberystwyth, working as a cleaner in the chicken factory, the philosophical disagreement I have with my wife and children. It's all true, bar a little comedic license here and there. And I don't mention Trump or Brexit once. Except just then. Sorry.
The Wreath touches on the issue of joke ownership, do you think that anyone can really claim to truly own a joke?
You can certainly steal a joke, but can you own one? A joke is a subspecies of poem, whose peculiar fate is to pass author-less from one to another, changing, spreading, periodically dying away and then resurfacing years later until finally becoming part of the language - how's your father? - dissolving into meaninglessness and vanishing. That's my guess anyway. You can no more own a joke than you can a football chant.
You've been performing highly original shows for over 30 years, how do you keep coming up with new ideas?
Soren Kierkergaard wrote "... wit, that divine accident - an additional favour that comes as a sign from the gods, from the mysterious source of the inexplicable, so that not even the wittiest of men dares to say: tomorrow, but adoringly says: when it pleases the gods..."
Where do ideas come from? I've no idea. Every so often a penny drops, and I love that feeling, but I can't make it happen at will. After an idea has come I am its slave for a while - sometimes years - and then it gets replaced by another and the first idea lies fallow until it wiggles its way back into my conscious brain. I am plagued by ideas frankly, none of them come to anything and I wish they'd all bugger off and leave me be so I could get on with my knitting.
What is your most treasured memory of your comedy career so far?
Thirty-something years ago the double act I was in called God and Jesus (the most offensive name we could think of at the time) drove onto stage at the ADC theatre in Cambridge on a single moped, and skidded round and round, while Steppenwolf's Born to be Wild played over the P.A system. Totally illegal, and really stupid on reflection - one slip and we could have killed someone, but at the time it was fun. But I wouldn't say it was a treasured memory. I don't really treasure memories. I treasure treasure.
You've created the image for the show, are you a keen painter?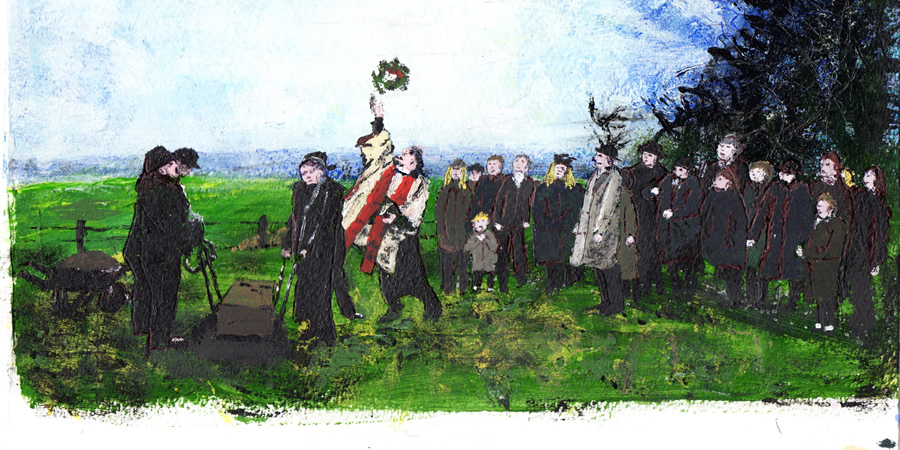 I am by no means a keen painter. I have painted and shall paint again but do not paint, habitually. I wish I did; I have several ideas for paintings that remain exasperatingly unexpressed. But I find the whole process so tedious and dispiriting that I shy away from it with a vengeance. Likewise all forms of writing, long-distance running, and basic hygiene.
How has the touring landscape changed since you started out?
Wales has risen slightly, the East Coast dipped, Scotland has eroded in some places and Cornwall's got soggier. Other than that, very little. In the towns, nearly every shop and every pub has changed, or died out. New apartment blocks have proliferated. Traffic's worse. Satnav's amazing. In the old days we used maps, and when that failed we had to wind down a window and ask a local. Literally wind down, using an arm. I miss those days of exercise and social interaction. It's all too easy now. I could never get out of Liverpool for some reason - possibly they didn't have signs to London, and who can blame them for that? Not I.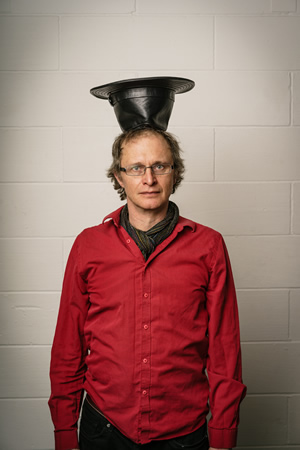 What would your business mantra be?
Stop it immediately.
Just stop it.
Stop it now.
Let's have a pause, shall we?
What has surprised you most during your career in comedy?
The success of my contemporaries.
What's the last thing you do before you go onstage?
Finish the pint / stub out the fag / recite the Lord's prayer / cease pacing nervously: I like to vary it.
As you touched upon above, you talk in the show about working part time as a cleaner in a chicken factory, was this the strangest job you've ever had?
The worst job I ever had was digging out the coal bunker at Rolls Royce in Leavesden; that summer I was registered with a temp agency, and because I could type some days I'd get work doing data entry: easy, boring but pretty well paid. Other days it would be low-paid manual work.
On this particular day, myself and another young man were employed at Rolls Royce. The coal fired generators there were fed by huge screws running through a massive coal bunker, and when these got jammed, as they had on this occasion, they would employ temps to manually dig them out. It was a hot day and we were given flimsy white overalls and face masks and set to work. Inside the bunker it was boiling and the air was thick with coal dust, and the digging was hard - wheelbarrow after wheelbarrow we pulled out - tonnes. The mixture of sweat and coal dust hurt your eyes, and often sitting watching, drinking tea and openly laughing at us, were the much higher paid workers who had declined this particular job.