Russell Hicks interview
Exploring the hyperspaces between comedy, cult films and other cool stuff
Making heroic transatlantic leaps like Peter Parker in that recent Spider Man: Far from Home trailer, Russell Hicks arrived from the US with a noble plan: to break new ground on UK comedy stages, and spend good money in our comic shops. Can't be bad.
Hicks has been here for a few years now, and if you haven't heard of him, that's arguably due to his own eagerness to experiment. He's known for knocking out a different show every night, which is great for audiences, but isn't the way to do it if you want a TV special. And he may not: this is the 21st century, after all, so Hicks has turned to self-broadcasting. Every Wednesday night in February at London's Bill Murray, his happening - Off the Grid TV - will be screened live across the world, on the web. And speaking of webs...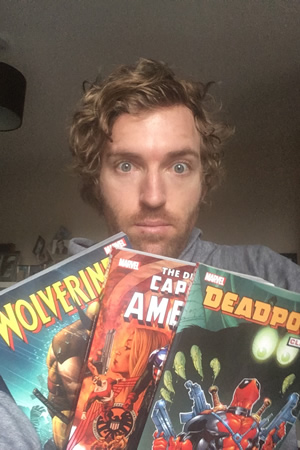 We also need to talk about Hicks' habits. He has issues. Issues of Wolverine and Deadpool and the epic space saga, er, SAGA - yes, he's a big comic-book fan, which used to be a fairly niche pursuit, of course, before the Marvel movies went massive and now everyone suddenly knows who Tony Stark and Nick Fury and Groot are. Still, if it keeps the comic shops going, all good, and Hicks is certainly doing his bit. But what's he into? And does it ever infiltrate his stand-up?
We get into that first, so if comic books aren't your bag, maybe head straight to Question 6. Or, hey, take a chance. It's time to experiment.
What's the first great - or not great - comic book you remember reading?
Gosh, I know the first comic book I ever read was like Venom number one, or some other 90s-era shlock. Then probably Death of Superman; it was the nineties, and I was a susceptible youth. I remember everyone made a huge deal out of it, then about three weeks later I saw a book at the grocery store where they just very quietly brought him back to life. What a gyp!
After that, anything by [writer] Mark Millar blew my mind right out of my skull.
What are you into: Marvel, DC, indie publishers...?
Like I said, I love Mark Millar stuff. Definitely like the indies - I haven't read SAGA for a bit, but that one's a real trip. As far as superheroes go, I am very prone to Marvel. Honestly, I feel bad for DC. They have one or two characters that consistently jump the shark. How much darker can the Joker get, my god, he's beyond insane now. Batman had to go full frontal recently, just to cope.
Do you head for comic shops when you arrive in a new town?
I do hit them up. Deadhead in Edinburgh is cool. There is usually a Forbidden Planet in most big towns, I think I've been to every single one in London. And I like Orbital [near Leicester Square: check out their women-in-Marvel exhibition in March, Fearless and Fantastic]. But, yeah, I love being surrounded by those images before I go onstage. Comics just make me happy.
Which comic-book character would you kill to play, in the movie version?
Honestly, I had my heart set on Deadpool and it totally sucks that Ryan Reynolds actually does smash it. Like, impossible to follow. He's great at it. So, I'm kind of lost now... I think I would have liked to have been Kassidy, from Preacher.
Has this stuff ever cropped up in your stand-up, or would that be a bit niche?
Anytime I can make reference to a superhero I will, and it makes my day. That's what's great about all these movies being out is people actually get the reference. Not that it's stopped me before.
For a few days in Edinburgh I went on stage dressed as Spiderman because there was just a costume lying in the green room before I went on. Then the guy who owns it - kids presenter - found out, and kindly requested I put a stop to that behaviour.
Where did you start doing stand-up, here or in the States?
I started in San Diego, California. Then I moved to Los Angeles, where I got obsessed with the UK comedy scene right around the time I met someone who lived in England! I went back with that person for what was supposed to be a quick trip to try it out. That was four years ago.
How did these streamed shows come about?
There is always a lot of pressure around me to just do something, to put something out. I knew the Bill Murray was getting this live streaming setup installed so I just thought 'you know what? I'm going to run this idea past Barry [Ferns; the Bill Murray's comic-turned-co-owner].' To his credit, he was totally into it and just said, 'let's do it'.
Do you have a vague idea what you'll be doing onstage - different from your regular stuff?
I am trying to challenge myself not to just rely on my own mouth for the hour.
One of the things I am most excited about is the fact that I am inviting friends that are not on TV, that are incredible talents, like Candy Gigi, to come do a quick spot. I just want this to be a stand-up show unlike anything on TV at the moment.
I'm not knocking TV stand-up at all, a lot of my friends are up there, but I do think the filming of it is a little sterile and also, why do we shield people from the excitement of the live element?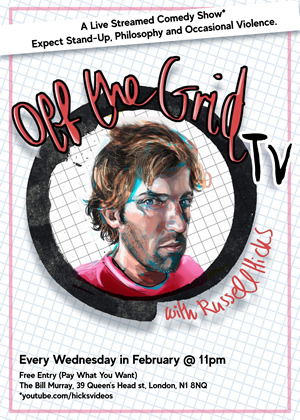 Will you be encouraging interactions from people watching at home?
So, my tech guy - Dave - has said that we are going to be set up to take live tweets. If anyone from around the world is at work and wants to chip in - they can, and Dave will read off the tweets to me so I can holler back.
We are also setting up a Patreon account so that at the end of the show, if people from anywhere in the world want to donate to us, they can. I've never seen anything like that yet, and I think the possibility is really exciting.
I want to expose people to something they may not have seen before. It's a global love fest - unity and all that. I know it's something I would have watched as an open miker living hand to mouth in LA, so that's all I can do. Make the show I would have wanted to see.
At the 2017 Fringe I saw an amazing show where someone stormed out because you joked about her friend, who was in the front row despite not speaking English. Do your shows often go like that?
Oh, man, too many to remember. I mean, that one in particular really threw me for a loop. I think it was just a miscommunication. Generally, when something like that explodes it has a more positive flavour to it.
The thing about the way I do stand-up is when I get up there, really, I am just trying to get out of the way of the show that wants to organically appear. So if I do that well enough, by just relaxing and enjoying myself, incredible things evolve when the audience feels connected to the experience.
But I think no matter what happens, people want to see something exciting. My stand-up mirrors my life: sometimes when I least expect it, everything just kicks off! But, I know how to handle it. After all, as Uncle Ben once said, "with great power...."