Comedian Ross Smith has gone on holiday with three random strangers.
The 28 year-old stand-up took up the free space on the Germany trip after Johnny Gardner, Tom Matthews and Jan Pearce contacted him via Facebook Messenger to say their friend with the same name had dropped out, and that he could have his plane ticket if he wanted it.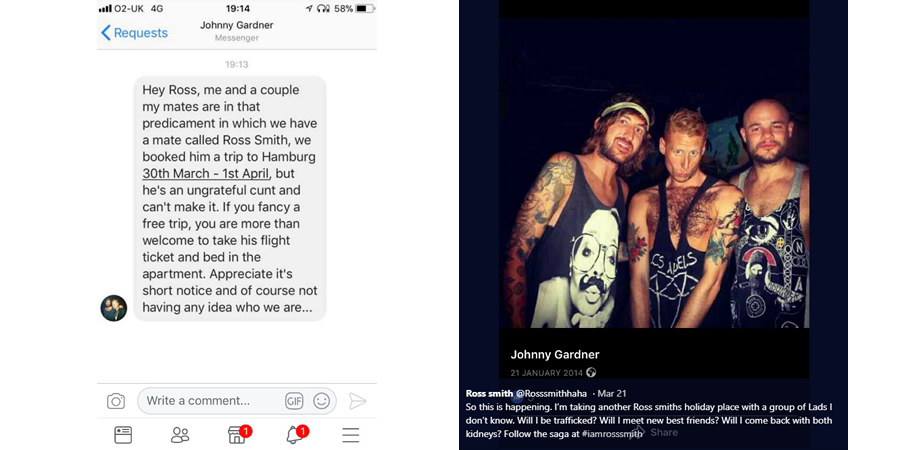 (Twitter source)
Speaking to Press Association about the nature of the invite, Ross explained: "When I got the message inviting me to take their friend's place it really made me laugh. I showed it to my friend thinking how stupid it was. I went to reply telling them they have completely picked the wrong person. I went on a lads holiday in 2002 and I swore that I would never do that again. But my friends said I had to go. It's an adventure."
Despite misgivings from his mum, and his own worries - "From the pictures I had seen, they just looked like lads - I am very much not a lad" - Ross did take up the invite, and met the trio at Stanstead Airport on Friday.
Adventures always start at Stansted right? #iamrosssmith pic.twitter.com/ZmddGN8URp-- Ross smith (@Rosssmithhaha) March 30, 2018
Guess which one's mine #iamrosssmith pic.twitter.com/dpWAGx9NQI-- Ross smith (@Rosssmithhaha) March 30, 2018
Then followed a Friday night out in Hamburg...
I've never seen a sink dedicated to sick before. Let's hope I don't need it. #iamrosssmith pic.twitter.com/r9k4PXwe0r-- Ross smith (@Rosssmithhaha) March 30, 2018
Woke up the most hungover I have ever been in my life In a bed that was built for a child. No scars found yet. As far as I can remember, last night was..... interesting #iamrosssmith pic.twitter.com/W18n8IzJFz-- Ross smith (@Rosssmithhaha) March 31, 2018
Just been told that last night was 'tame'. If 'tame' means me waking up like this, tomorrow might mean not waking up #iamrosssmith pic.twitter.com/9oW4QuYt7o-- Ross smith (@Rosssmithhaha) March 31, 2018
After waiting for his hangover to subside slightly, British Comedy Guide got in touch with Ross on Saturday afternoon to find out how more. He told us: "It's going surprisingly well actually, the initial awkwardness of being on holiday with strangers has passed now. I was apprehensive at first, and I think they were too, but it's going well now guards have been dropped!
"I met them in the Wetherspoons at the airport which I didn't think was a good sign. It was a bit like blind date so it was nervewracking... but, after the initial meeting, we've actually got on quite well thankfully, otherwise this would have been a very long trip! We're just going with it really; it's an adventure."
He added: "There is some common ground in places, occasionally they'll talk about people they all know and I don't, but it's fine, I just pretend I'm busy on my phone when they do."
With a second night's drinking now imminent, he concluded: "The drinking is the hardest part. I'm the most hungover I've ever been in my life. I don't really drink!"
If he survives, Ross Smith will be back on stage the night he returns, performing at The Bill Murray venue in London on Monday at 4:15pm (Tickets). He is currently preparing his debut hour for the Edinburgh Festival in August. It looks like he might have stumbled on some new material to talk about. He tells us: "I had already written a good deal of the show, but I may have to rewrite it and make the show about this."
In the meantime, for updates on his further adventures in Hamburg, as he tries to survive a second night of drinking, keep an eye on his Twitter feed: @rosssmithhaha
Monday update
Here's some of the tweets Ross posted after we initially published this article. He survived, just.
#iamrosssmith pic.twitter.com/pxBub7QwLV-- Ross smith (@Rosssmithhaha) March 31, 2018
Drunk again, I had a three hour window today of being sober. #iamrosssmith-- Ross smith (@Rosssmithhaha) March 31, 2018
We watched the #boxing in the English bar there was a passionate rendition of god save the queen #iamrosssmith pic.twitter.com/FYcgP3uXaR-- Ross smith (@Rosssmithhaha) March 31, 2018
Having a lovely time in #Hamburg #iamrosssmith pic.twitter.com/FH2QTRrSgP-- Ross smith (@Rosssmithhaha) March 31, 2018
Karaoke bar, the deadest one in town apparently, any requests? #iamrosssmith pic.twitter.com/N98uLhbuv0-- Ross smith (@Rosssmithhaha) April 1, 2018
Save me #iamrosssmith pic.twitter.com/UQ8eGKyZ94-- Ross smith (@Rosssmithhaha) April 1, 2018
boarding soon. Thankyou all for following what unfolded, what have we learned? 1- you can go on holiday with strangers and it's largely fine 2-hamburg is insane 3-#iamrosssmith xxx pic.twitter.com/7PoxPU7SRK-- Ross smith (@Rosssmithhaha) April 1, 2018
Also, i've taken a lot of photos and film so keep your eyes peeled for a video. And who knows, i sort of have to write an Edinburgh Show about this right? #iamrosssmith-- Ross smith (@Rosssmithhaha) April 1, 2018
Yeah.....why not #iamrosssmith pic.twitter.com/5BSSL2Eyq5-- Ross smith (@Rosssmithhaha) April 1, 2018
---
Ross Smith: One To Watch will be at Just The Tonic at 12:40pm in Edinburgh in August. Here he is in action on stage last year: