Sleeping Trees interview
Exploring the hyperspaces between comedy, cult films and other cool stuff
It's funny who you run into at ice rinks. Rogue Pun thoroughly enjoyed Tony Law's bravura epic The Battle for Icetopia at Ally Pally last Saturday night, and happened to be sitting behind Joshua George Smith of the theatrical comedy trio Sleeping Trees, who - coincidentally - are about to return to Plutopia.
The Sci-Fi leg of their acclaimed At the Movies triptych touches down at Battersea Arts Centre on Thursday and Saturday this week (their Mafia and Western shows are on from Tuesday to Saturday too), and the mythical Plutopia plays a pivotal part. But what on Earth - sorry, off Earth - is it? Smith reveals all below.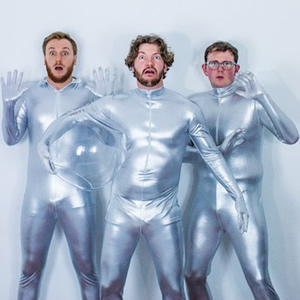 Sleeping Trees - also featuring John Woodburn and James Dunnell-Smith - revel in creatively circumnavigating their complete lack of props, and Pappy's Tom Parry directs all three At the Movies shows. They have a non-secret weapon for this one too: a live space-rock band playing an evocative old-school sci-fi soundtrack. Nice.
So, for anyone stoked about the recently-announced new series of Hitchhiker's Guide To The Galaxy next year, this Hitchhikers-influenced live show might just be in your orbit.
How did the Sci-Fi show come about, Josh - it seems like you guys exist in a parallel dimension to other comics?
I guess we approach our work in a slightly different way to, say, a stand-up or more orthodox sketch group, as we always come up with the concept or stimulus for the show before generating any material. We've always prided ourselves on giving the audience a good story to follow and get invested in - as well as a good old chuckle.
This one, we really liked the idea of blending some of our favourite sci-fi movies to help create a show that was both a fresh take on the genre whilst still seeming familiar to the audience and sci-fi fans, plus the silly, surreal stuff you normally find in a Sleeping Trees show.
Give us a quick plot synopsis, then - where and what exactly is Plutopia?
The show follows Charlie Sprog, a simple man from a small farming planet who gets thrown into an intergalactic revenge plot where he needs to discover his true origins in order save the entire universe.
Plutopia is at the centre of our galaxy and the home of the High Council who are the all-powerful protectors of the cosmos. We join them as one of their members has gone rogue and seeks to claim the galaxy for himself. All he needs is to dispose of Charlie and no one will be able to stop him.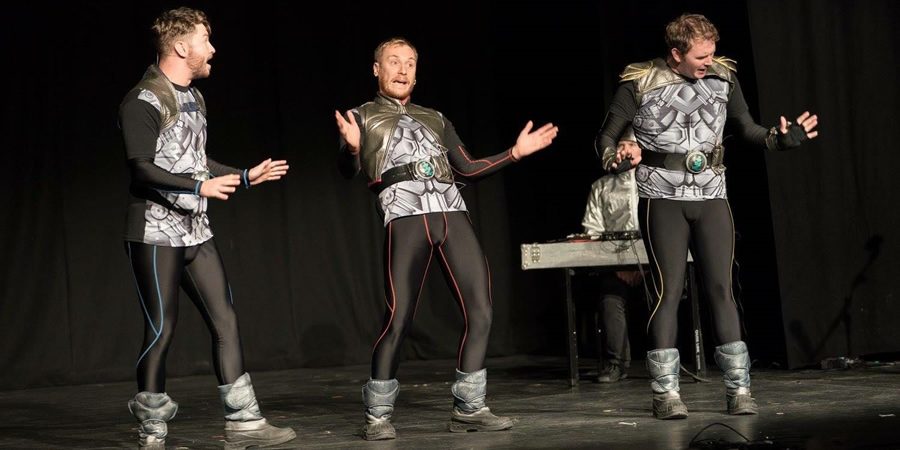 Are there mind-blowing special effects?
There was no way we could attempt a sci-fi epic without any action. We've got space duals, explosions, lasers, mystical powers, giant apes and killer robots - all created with just our bodies. One thing we experimented with a lot in this show is voice effects: we've got a lot of delays, reverbs and octaves running through our mics which help create the atmosphere of various alien places.
Which sci-fi movies do you hark back to?
It was fairly difficult to avoid the Star Wars influences, especially as The Force Awakens came out around the same time as making the show, but other movies we drew on for inspiration were the Fifth Element and Hitchhiker's Guide To The Galaxy.
I get the impression there's some retro stuff in there too?
There is definitely a lot of influence from the 1950s sci-fi B-movie era: it does seem like that was a golden age of strange, trashy sci-fi. The technology of cinema-making has come on so much, the ideas that are coming out at the moment are just as cheesy, it's just the execution is much slicker and prettier to look at, so they get away with it.
We wanted to see if we could blend the two in a live show; try and create a hybrid between the old and new with a blend of slick, over the top, ridiculous and grand. I think we both succeed and fail in equal measure.
Which member of Sleeping Trees is most likely to become a crazy religious dictator after this? It's a fairly common route for sci-fi writers.
John. Definitely John. I'm sure he'd love nothing more than having his own cult. I'm pretty sure he's been planning something like that in his down time anyway.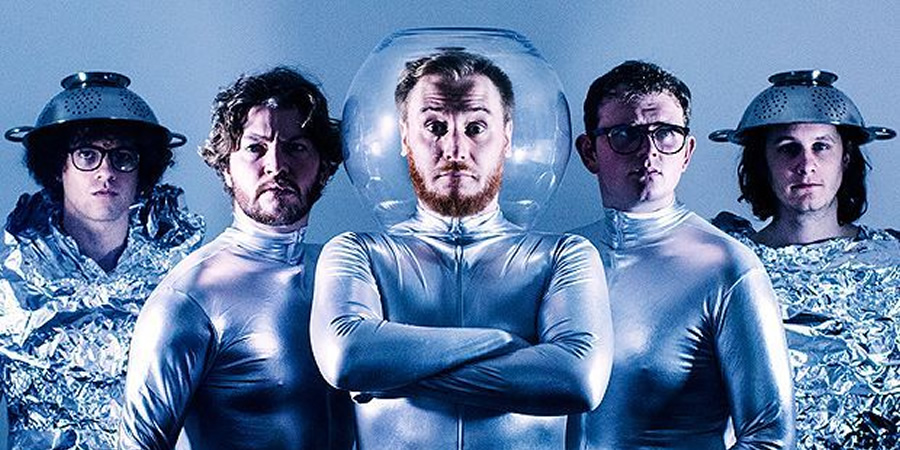 The rock band soundtrack sounds interesting - what was the inspiration there?
I think the first thing we wanted to emulate was [Queen's] Flash Gordon soundtrack. It is ridiculous. We also found out that John Williams nicked a load of stuff for his music from a few classic composers, so we listened to them and nicked a load too.
How did you actually go about getting that music: was it the full George Lucas/John Williams or more a BBC Radiophonic Workshop/Dr Who experimental thing?
We've always been aware of the Physics House Band and used to live with Adam the bassist. We'd worked with the band before and Sci-Fi was the one they were most looking forward to as there's a huge scope of sound to play. Adam even bought a Moog synthesiser to make sure he could achieve the authentic sound.
In terms of the process, the guys have fantastic music brains so we would throw all kinds of bizarre requests at them like "can you make something that sounds more like you're being sucked through a portal?" And they always delivered, to be fair to them.
Time is a rare commodity nowadays: why should someone see your Sci-Fi show rather than, say, the new Blade Runner movie?
Because I haven't had a chance to catch the new Blade Runner yet, so come to the shows first then we can all go together. No spoilers.