Phill Jupitus on Star Wars
Exploring the hyperspaces between comedy, cult films and other cool stuff
Phill Jupitus recalls his great lost Star Wars show...
A long time ago, in a galaxy far, far away - about two months ago, round the corner from Waterloo Station - I met up with Phill Jupitus to talk about his rather good new tour show, and wandered into conversational airspace that seemed appropriate to save until now, the launch of the new Star Wars movie, The Last Jedi.
Back in 1996 Jupitus' full-length show about Darth & Co was one of the first long-form, themed stand-up shows I ever became aware of; not that I saw it, sadly, and in the chat below we get into why I never will, how it came about, and, indeed, his own force-like premonition about the franchise's future. And a bit about Daleks.
Jupitus' current tour continues in 2018: details at the bottom of the page. May Phill be with you.
I remember seeing posters for your Star Wars show, many moons ago, and thinking 'crikey, a comedy show with a theme!'
Yeah, Jedi Steady Go. That was a bit of stand-up that just got out of control really. I remember the genesis of that: I was making Wookie noises in the dressing room, and Kevin Day said 'do that on stage, that's funny'. To do it, you do Blakey from On The Buses gargling in the morning after he's brushed his teeth - [does perfect Wookie/Blakey noise] so that was it. Very throwaway. But the next night I had five minutes just on Star Wars.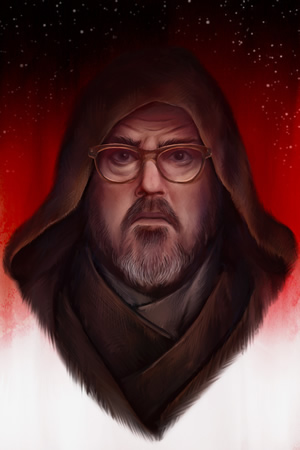 You don't strike me as an obvious Star Wars buff.
No, but very, very slowly, it just grew. It was a one-liner one night at the [Comedy] Store, the next it was five minutes, then ten, it was literally exponentially growing - within a month I was doing a 20 that was just Star Wars. A month after that I was doing an extended set, just Star Wars. A half hour, then 40, then I had an hour...
It was growing each night, during shows?
Yeah, as I remembered the plot, because I was telling the story of the film onstage. When I stopped doing it, I'd done three nights at The Lyric in Hammersmith, and it sold out: Harry from The Big Breakfast played piano for me, and to finish off I sang Making Wookie.
The last time I performed it, the show was longer than Star Wars the film, and I thought 'fair enough'. And the thing is, I never filmed it, never recorded it, I never wrote it. It was all just in my head.
It really frustrates me, all this comedy that vanishes for ever...
No - that's what's great about it! I was doing a thing last night, I got genuinely into this spiral about 'how do Daleks drink?' Which one of the three things do they drink with?
Right - they must drink because they're organic inside?
Yeah, but don't overthink that, Si. So which one of the things... or do they just force it through the grill?
It's the plunger, surely?
You'd think that, but remember those plastic birds you used to buy that nod, but they can't bend... anyway, I did five minutes on how Daleks drink, I only talked about it last night, and that'll not be talked about again.
Which is lovely for that audience, but it's also a shame that I'll never see that Star Wars show. It'd be really popular now, with them making decent films again.
I don't want to be a nerd about it, but him [George Lucas] selling Star Wars to Disney, I predicted it 15 years ago. I said, 'here's the thing, he's done these three new ones, and they've not been received well, and then he said that he probably won't do the last three,' and I said, 'there's too much money at stake, he'll sell it - either Fox will make it themselves, or,' I said, 'Disney? Disney might buy it...'
I was reading about you getting that Star Wars actor [Michael Sheard] on your radio show, the imperial officer who also played Mr Bronson on Grange Hill...
Yeah, when we knew we had him on, we did that scene... but we did it with Welsh Phil [his long-term producer Phil Wilding] as Darth Vader. The freedom we had at that station was fantastic.