Richard Sandling interview
Exploring the hyperspaces between comedy, cult films and other cool stuff
What was happening across British cinemas and comedy stages 10 years ago? Well, James Cameron's Avatar, JJ Abrams' Star Trek, Wes Anderson's Fantastic Mr Fox and Armando Iannucci's In The Loop all came out. Meanwhile Tim Key won the Edinburgh Comedy Award (Jonny Sweet beat Kevin Bridges and Jack Whitehall to Best Newcomer), Peter Kay announced his first shows for years, and Stewart Lee launched his onstage-onscreen Comedy Vehicle.
Which was all well and good, but one man was bringing the worlds of (comedy) stage and (cinema) screen together, in an enduringly entertaining fashion. Richard Sandling's Perfect Movie night launched back in 2009, and exactly a decade on - Sunday 24 February - he'll be hosting a special anniversary show at London's Resistance Gallery, with a line up thus far featuring Nick Helm, Bec Hill, The Story Beast, Nathaniel Metcalfe, Sophie Cameron and Ash Frith.
If you haven't happened upon Richard's live work, you may well recognise him from the recent James Buckley-starring Dave series Zapped, or Catherine Tate's Nan, or Peep Show, or various commercials ("I love frogs!"), or numerous cult movies; more on those below. Sadly, since we did this interview Buckley announced that Zapped had been cancelled, but who knows, maybe they'll regenerate somewhere else.
Sandling's live appearances are actually pretty rare these days: I last saw him on stage being attacked by zombie children at the Larmer Tree Festival. Don't worry, he emerged relatively unscathed, and is now more at risk of being wiped out by an avalanche of VHS tapes - more on that below too.
First, the Perfect Movie origin story.
For PM virgins, could you give us a flavour?
Perfect Movie is a multimedia stand-up comedy show where all the acts have to do material about films, usually specially written for the night. It also features movie trailers, games, sketches and top comedians choosing, discussing and recreating their favourite scenes from films so, that they get to be in their own 'perfect movie.'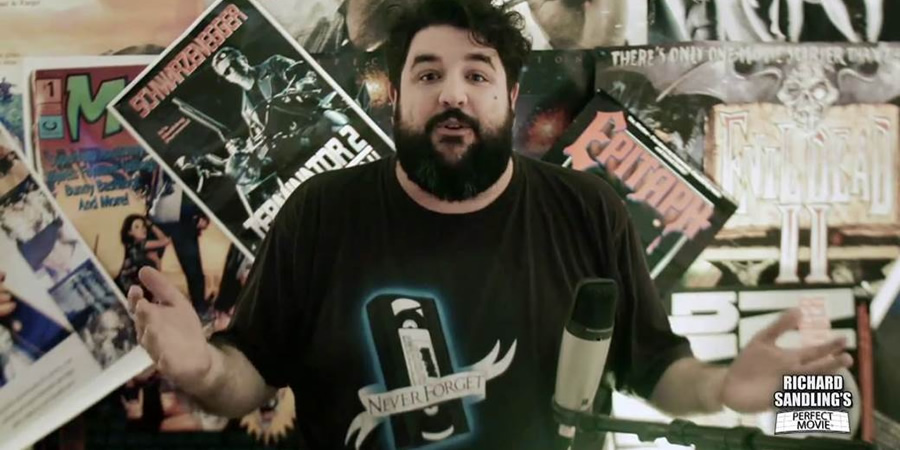 What's the background to it?
I love movies and my stand-up at the time was pretty much all film based - and more specifically VHS based. Amazingly, this did win me an award and good Edinburgh reviews but didn't make me particularly bookable on the general circuit.
It sounds hard to imagine now, but back in 2009 (and before) there wasn't really the saturation of geekdom and pop culture in all things like there is now. If you were a nerd act it limited you, as it was perceived that audiences wouldn't want to see that, so you couldn't be booked to do it anywhere established with any regularity.
There were so many brilliant acts who were so passionate about movies off stage that it seemed a shame they had no outlet to talk about it.
So how did the Perfect Movie concept come about?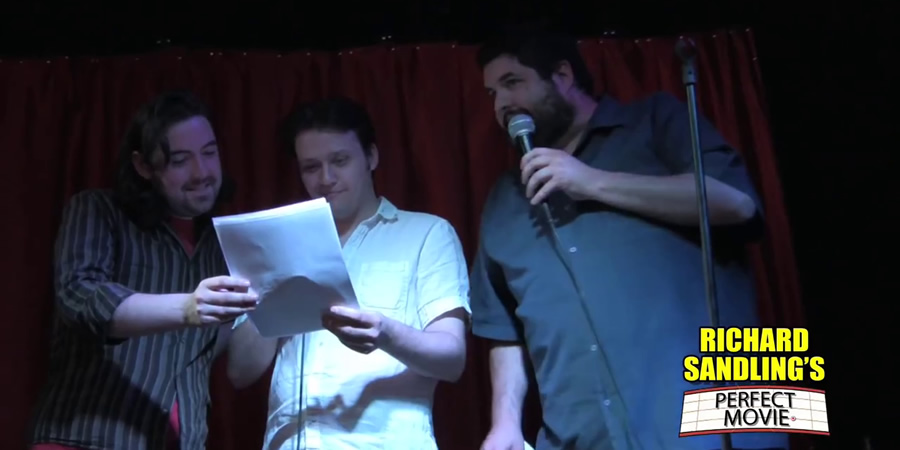 I had been to see and was lucky enough to perform at Robin Ince's Book Club a few times and I realised that this gloriously ramshackle night of comedians enthusing about their passion for all sorts of literature was exactly the sort of thing we should have with films - a Film Club, if you will.
What we needed was a gig where all the comedians I knew who loved movies but never felt like they could talk about it on stage (which was pretty much every comedian I knew) could have a gig where they could talk about things they wanted to do material about, and get to perform it to an audience who loved movies (most audiences I knew) and wanted to hear enthusiastic people talk about things they liked.
I did the first one on Feb 24th 2009 with Tony Way, Nick Helm, James Acaster, Nathaniel Metcalfe and Andrew J Lederer, and have been doing it with semi regularity ever since.
Any great sci-fi moments at Perfect Movie over the years?
At Latitude Festival one year we recreated the pod bay doors scene from 2001, with Kevin Eldon doing Hal. Which was a lovely moment for me.
I recreated the ending to Back to the Future with Nathaniel Metcalfe and Danielle Ward which was filmed at my parents' house in Essex and features my old banger flying through the streets of Benfleet, which is always a favourite video at the shows when I've screened it.
Also, I must mention Pappy's recreation of the T-Rex attack from Jurassic Park in a street in South London with Ben dressed as 'Dean,' a dinosaur character attacking all of us, which was also a great one.
Tell us about your VHS collection.
I have about 5,000 VHS tapes and have been collecting them for years. Now it's a collectors/traders' market, but I prefer to find tapes in charity shops and boot sales rather than look online for deals, which is very difficult as nowhere wants to sell them anymore.
I made a YouTube video of 400 of the sleeves:
Any particularly special ones?
One of my favourite things is not actually a VHS tape but a pre-cert Betamax of The Evil Dead. Also, I can't remember how or why it came about but I have a competition with my friends to see who could find and purchase the most ex-rental copies of the film Tapeheads. I currently own nine copies and think I am winning. If such a thing could ever be thought of as winning...
Zapped sounds like a nice gig?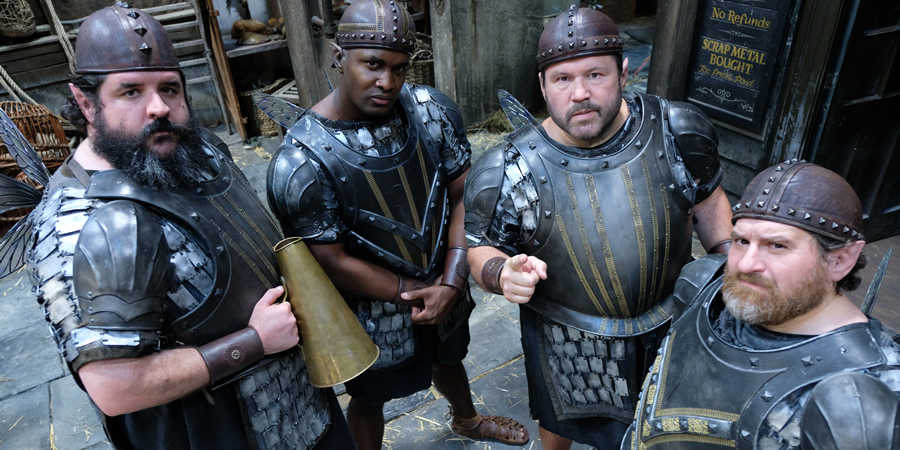 Zapped is a really nice gig. I really like the show and I love making it and working with all the people involved. I know that's cheesy and sounds compulsory, but I genuinely love playing a shouty fairy who gets to dress like Brian Blessed in Flash Gordon and do things like punch Steve Coogan in the face.
You've done a fair bit of culty stuff?
I don't do as much sci-fi or fantasy as you would think to look at me, but cult roles, I can currently be seen on Blu-Ray and VOD in British kung-fu action comedy Nightshooters, where I play a very sweary and very violent gangland boss. I was 'Man on Bus' - the comedic relief - for a scene of [cult zom-com] Nina Forever, which was cool. I was one of the few cast members not to be on screen naked and covered in blood, which was nice.
What else are you up to, over the next few months?
I'm mainly pimping Perfect Movie about for the 10-year anniversary, but am also about to turn 40, so am looking forward to whatever massive freak-out my impending midlife crisis brings because that is on the cards whether I want it or not. Currently I'm just making pretentious experimental video art so I can become an artist, but I think there is far worse to come...
One of the funniest things I ever saw was you being swamped by zombie children - was that a memorable show?
It's hard to top a whole tent full of children you've just 'murdered' for comedic effect spontaneously coming back to life as zombies to kill you. Though it has happened three times since then.
And what movies are you looking forward to in 2019, on a Rogue Pun tip?
I wish I could have a more interesting answer, but I'm currently mainly looking forward to John Wick 3 and all the Marvel movies.