Paul Currie interview
Exploring the hyperspaces between comedy, cult films and other cool stuff
A couple of unlikely tunes filled our heads while walking the lovely streets of Galway during the recent Vodafone Comedy Carnival. Not Ed Sheeran's Galway Girl, no, or Bing Crosby's Galway Bay, but the themes to (a) the mid-80s fantasy movie NeverEnding Story, and (b) the early-90s sci-fi series Quantum Leap. Blame Paul Currie.
The endlessly inventive Northern Irishman will be doing his latest show Hot Donkey at Islington venue The Bill Murray on November 13th, and it features that Quantum Leap theme early on, in a bizarrely brilliant multi-song sequence involving pandas. His now legendary NeverEnding Story routine is more directly related to the movie, and - like the Quantum Leap bit - was a huge highlight of the Best Of show we saw at Galway's Mick Lally Theatre - his first ever.
That show also featured a tremendous gag involving Yoda, who you can imagine Currie has a particular fondness for; the Muppet-like Jedi was controlled by Jim Henson's right-hand man Frank Oz, and Hot Donkey is largely about his love for Henson. So we took a seat amid his colourful post show debris and had a good chat about that, how these themes becomes routines, and even Currie's Star Wars-related funeral plans.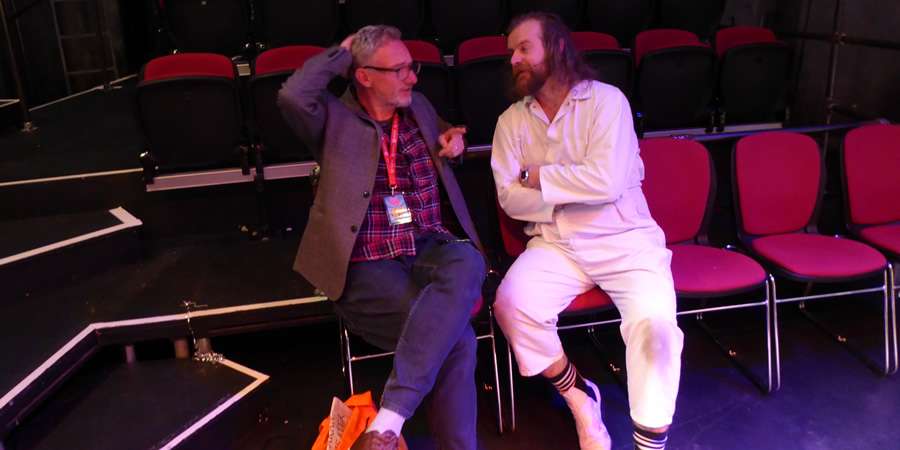 Your NeverEnding Story bit is amazing, the whole audience flying magical dragons.
That's actually one of the first pieces I ever came up with, as far as full audience interaction goes.
I've never even seen that scene you make us recreate.
You've never seen NeverEnding Story? How did you manage that? It's great!
I hear it's quite dark in places. How did it end up in your show?
A lot of my stuff starts on the street. I think I was just using it as background music, that happens a lot too. My fingerpipes bit [in which he gets the whole audience playing air panpipes], that was just background music when I was doing an outdoor show at Glastonbury.
I remember that pipe music was playing while I was setting my props up, I picked up on it and started pretending to play fingerpipes - I said to a guy 'here mate, fingerpipe your wife there. Now you fingerpipe him...' The crowd had already gathered and were killing themselves. So the people who were running the stage were like 'keep that in.' I had three shows that day...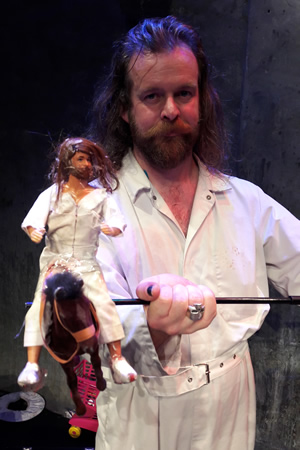 They work you hard for that Glastonbury ticket.
Yeah, so you come up with loads of new material there, and I think that's where NeverEnding Story came from, I was just using that as incidental music. Actually, no, what I was using was the Limahl song from the film, then I found the other piece, because I didn't want it to be cliched.
I had a chat with Abandoman recently, who'd followed you after doing that bit, and stood there thinking 'I wish I had magical dragons.'
Ah, he always kills, he's got nothing to worry about - you can't follow Abandoman.
Imagine following both of you. So that bit just came from street stuff?
It did, and that's why I really cherish performing on the street, because that's where I get a lot of my material - I think there's another energy I bring into a room, of a street performer, where you don't want the audience to leave. That's why I'm so manic, you're aware that they could walk away, so you're constantly engaging them.
We saw you earlier in the festival too, the panda bit, then spent all morning singing the Quantum Leap theme.
Ha! It catches out a lot of people, trying to place the song - I can see people going 'what is that?' and I have to tell them in the end. I've come up with a whole load of new theme tunes - I did a four-hour drive to a gig the other day and put on three CDs of cheesy dad rock, all these other songs I can fit into that bit, like The A-Team. The new show has loads of stuff like that in it.
Hot Donkey has a big Muppets theme, too?
Yeah, it's based around me becoming a Jim Henson puppeteer, fulfilling that childhood dream, then turning my back on it after meeting Caroll Spinney, who has just retired from being Big Bird, after 50 years.
That Yoda bit you just did is such a good reveal, I didn't clock it until the music kicked in.
That's from two shows ago. It's fun, and I just love that John Williams Yoda theme. I actually want that at my funeral. For real. I want that played as the coffin goes up there.