Paul Currie is a well-known comedy performer at festivals and in fringe comedy across the UK and beyond, known for both his hyperactive audience-centric prop-laden überclowning and his huge flyering presence.
The latter is how so many come to meet him. You'll know if you've seen him, it's something of an experience - pulling his prop bag behind him and towering over the other relatively tiny-looking leaflet-handlers, he'll say something half-nonsensical but wholly fitting as he pushes some paper into your hand and then, puff, he's gone.
Currie has a swarm of fans who come and see him every year, such is his cultlike following. He is warm, generous and open-hearted onstage and off, oozing a humanity that entices people back.
More than that, he's a wholly unpredictable performer: just as likely to eat a bowl of cornflakes onstage as engage the audience in some impromptu singing, or butter an ironing board.
Though he performs all over the country, Currie's wonderfully well received last two shows - entitled FFFFFFFFMILK and Cats in My Mouth - have never been performed in London. Until now that is, as they come to the Albany for a four-day residency. Excited about those dates, I thought I'd take it upon myself to ask Paul a few questions.
Hi Paul, you've got a cult following on the fringe circuit, but some readers might be new to you, so let's depict your act a bit. If you could describe it using an animal, a well-known human and a state of weather, what would that be?
My comedy art is like a Anxious Platypus perched up on the shoulder of Andy Kaufman in a refreshing Tropical Downpour.
I feel your style of high-energy audience-centric clown comedy is getting trendy in London right now, epitomised by the success of London Clown Festival and the Weirdos collective. Do you find this trend all over the UK?
Audiences, people, are all the same; my comedy art and my style has a wide demographic.
I refuse quite passionately to define audiences in their locations, each audience is different in their reactions, but if I'm doing my job right and having fun then it's gonna be a magical experience in that room or on that street. And fun. Regardless of location, gender, age, spiritual beliefs and neck girth.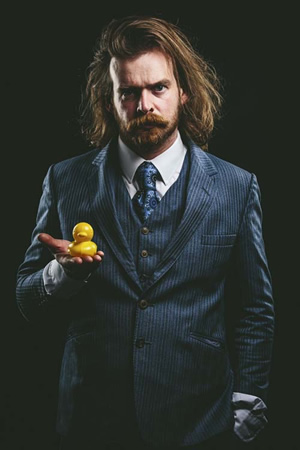 Audience interaction can be an incredible experience for the entire room when everyone backs you. How do you keep people from getting overexcited and a little too involved?
I don't. I trust humans not to be assholes. I encourage anarchy. I encourage freedom of thought... it's not about me leading an audience it's about everyone as group being comfortable to have fun and let go. I'm a clownarchist.
What is it about audiences that makes you want to create so much of your shows with them involved?
It's human connection. It's what all comedians, performers on a stage want. Connect; live, there and then; feel alive in the moment. There's nothing like it to justify your existence on this planet.
Which show of yours are you proudest of, and why?
All of them. They are all part of me. It's my art. But my new one Hot Donkey I'm super excited. It's got a real universal message to it that everyone can relate to.
Comedy, you've said, is just a chance to play. What were your favourite games growing up?
Hide And Seek and Guess Who.
You're something of a Fringe specialist, with your Edinburgh hours a must-see for many fans. What is it about your shows that chimes so sweetly with that festival?
I am completely DIY and that's what the fringe for me should be about. Do it yourself, no producer or PR leaches. We're all artists and we should be making the money that the festival is generating rather than the venue owners and programmers. Let's look at this rationally, step back. The artists ARE the festival... without us, it's a programme of blank pages, yet we all have to pay!! To be in a festival that takes a massive cut, it's so unfair.
You talk about your emotional health in your shows. Do you feel that comedy is an outlet for you, a way for working through your issues, or something else entirely?
It's cathartic and, yes, all art is a way for humans to express their inner thoughts and issues. Comedy is just as an important art form as painting or sculpting or writing or writing music...
You've said in interview before that you one day want to quit comedy to run a cafe. How do you take your coffee?
I get my caffeine from the juice of the Buckfast fruit. It's the only way.