In the latest of our interviews with comedians speaking candidly about their careers whilst parboiling potatoes, we caught up with Edinburgh Comedy Award Winner and veteran spud drowner Adam Riches to talk about his latest opus, Inane Chicanery, which is about to start its two-week run at the Soho Theatre.
Adam, thanks for finding time to speak to us and also for bringing your own aga.
Pleasure. Shall I fire up the hob?
Please. Wow! What a wonderful flame.
Thank you.
'Inane Chicanery' is the name of your latest solo hour...
Correct.
... and is the usual blend of fast-paced character comedy mixed with extreme audience participation?
Yes.
What is it you particularly enjoy about creating this type of show and, in your opinion, should you boil the water before adding the potatoes or boil the water with the potatoes already added?
That's a wonderful question and one I think is especially pertinent given the current climate.
You mean in a post-Weinstein kitchenette?
I do. I suppose I enjoy the freedom of creating a world built upon my own rules that over the course of the hour I can usurp or celebrate depending on the mood of the room. I also think both methods of preparation have their merits and their dangers.
Expand on that for us.
You mean inflate as I answer?
Yes.
Ok. Well [Adam inflates], if you wait for the water to boil before adding the potatoes you run the risk of splashing yourself with scolding water as they plop in.
Whereas...
But...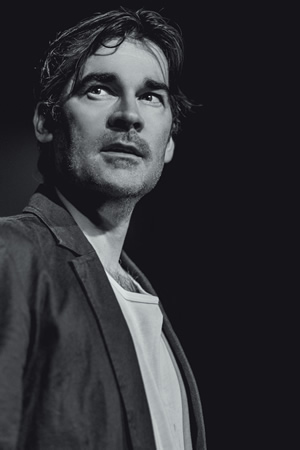 Sorry, but...
Whereas if you have the potatoes already in the pot, you run the risk of throwing your cooking time completely out of whack and sogging up a wispy carb broth. Personally, I favour the thrill of the splash over the squash of the root every time.
Is this an area in which being a veteran of nine Edinburgh festivals has helped, do you think?
Absolutely. Taking a piece of work up there and performing it for a month full tilt in front of the world's most savvy comedy crowd is, in my experience, the ONLY real test of a potato's consistency.
You see a definite correlation between your career as a writer-performer and the industry's demand for softening vegetables before roasting?
How could you not? To ignore one would be to ignore your own nose. To ignore both would be to routinely favour your cheeks.
And that's a bad thing, in your opinion?
Have you ever blown a wet dimple? I mean what is this?
You often play a famous male celebrity in your shows. We're thinking of course about Sean Ben, Daniel Day Lewis and, in this hour...
Gerard Butler.
Gerard Butler.
AKA 'The Scottish Gammon'.
Indeed. Let's say one of them came to watch your version of them. How much fork would you be looking to insert before you were happy to commence the drain?
Well that has varied from character to character. With Gerry B in this show, I was always looking for a prong depth of half an inch.
Half an inch, really? That seems so shallow to us?
Well you have to remember the size of sphere we are plunging here. Charlotte Potatoes are often no bigger than a fully grown boy's testicle, so any more than a punctured inch and you're better off looking for a masher.
The show is merely a collection of very silly people, behaving in a very silly way, purely to make you laugh. So as the great Sir Laurence Olivier once boomeranged, 'If you can break the skin with a utensil and still tease some element of firmness from the flesh, I think you'll respect the high level of craft on display and enjoy watching butter being shot off a head, harmonica being learnt from a lap, love letters being written on a tit and fish being served from a foot spa.'
Adam Riches, enjoy your Soho run and thanks for parboiling us.