Michael Aitkens interview
Michael Aitkens wrote five series of Waiting For God between 1990 and 1994. More than 20 years later he has returned to the hit retirement home comedy for a new play based on the same characters who are refusing to be quiet and grow old gracefully.
What inspired you to write the new play?
I think they asked me to do it about 20 years ago, but I got busy. Two or three years ago someone got in touch from Hawaii, of all places, asking if I had a play version. I said "No, but stay where you are..."! I did a production there starring Patty Duke, an American star and Oscar winner - it turned out to be the last thing she ever did.
Then I did a production over here in Jersey, which was sort-of am-dram; we ran it for a week to see how it went, and then I tidied it up. Then it was picked up by these London people, Seabright Productions, and away we went. A good director came on too, David Grindley, who said "oh this won't work", "we couldn't do that on tour", and "your cast is too big"... So we've done some out-of-town try-outs, just somewhat further out of town than usual!
Do you need to be a fan of the series to enjoy the new show?
No, it's totally new. It's not a spin-off or cobbled-together version of the series. It's a sort of love story using the same characters and the same location. They're recognisable, but no, it'll appeal to anybody - especially if you've had to cope with being over 50!
It's got lots of fun and games in it, daftness, good lines, and it's very much on the old principle of "make 'em laugh, make 'em cry."
It's almost a novelty in comedy now to have something featuring or targeted at an older audience.
I think they're starting to realise that it's the baby boomers who are sitting around, spending their kids' inheritance, who have lots of money and are still mobile. If you go around the theatres nowadays and look down on the audience, they've all got grey hair. It's happening in the movies too, things like The Second Best Exotic Marigold Hotel. I was watching one last night with Robert de Niro playing a quaint old widower. There's just a huge market there in the greying generations. If you can find a sort of old-ish person's comedy with a lot of beautiful people around them then you're onto a winning formula because you can spread your audience demographic.
I wrote the original TV series when I was 40-something, looking at it objectively through research. Now I'm part of the generation I was writing about, which is quite alarming, but means I have further insight into it.
It's probably just about time for the play. Had I done it earlier, the prospective audience might not have been old enough.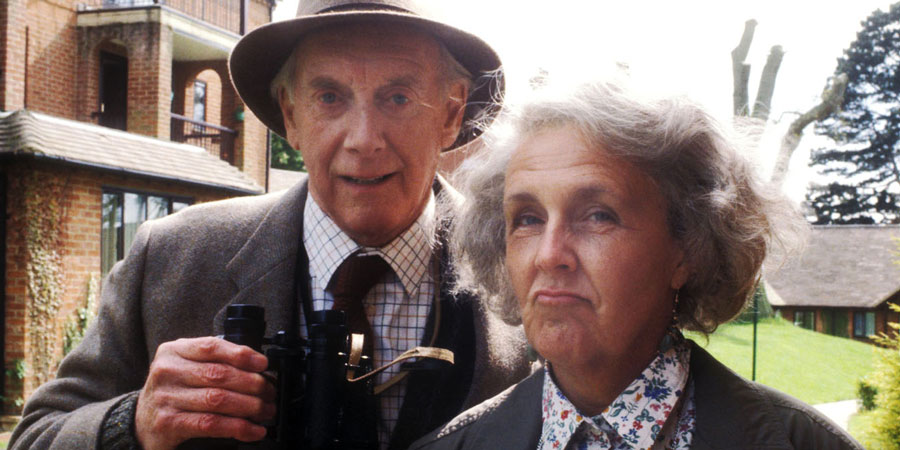 There have been a lot of sitcoms revived for both stage and screen in recent years. You weren't particularly inspired by their success by the sounds of it?
I'm not trying to come screaming back onto television, no. This is just an entity in its own, a nice play. Also half of our original cast are dead so I couldn't revisit it like Birds Of A Feather or something like that.
Waiting For God still sells enormously in America. All those retirement states buy it by the yard. The older people watch it, enjoy it, then the next, younger group come along and enjoy it again. If I can get the play version up and running, I'm sure they'd enjoy it over there.
They did a German remake of the series too, so they're looking forward to it, and we might take this one to New Zealand.
Presumably there is a lot for existing fans to enjoy?
Oh yes. They are the same characters, just looked at in greater depth. The central relationship... it's a love story, basically. Just a little different, after fifty episodes of sitcom.
You have a fantastic starring duo for the play, in Roy Hudd and Nichola McAuliffe.
Yes! Roy and Nichola,they're both very good! It's a joy to hand something over to people like that. They get on with it and lift it up another degree, and then you get a good director... This is why I never try to double-up on jobs, because then I wouldn't be available to give additional input to potentially push it another notch up the ladder.
I haven't worked with Nichola for almost 30 years. I did a drama series called Making News with her and Bill Nighy, so it's great to be back working with her again.
The tour runs from April to July; are you hoping to see it in the West End after that?
That would be fantastic of course, but you can't think about it like that nowadays because it's not a musical and you can't ask for three hundred quid a ticket! There used to be a time when you'd tour a show like this around the provincial theatres and hope it went in to London at the end, but now that's like yearning for repertory theatre: it's very unlikely to happen.
It would be terrific if it did though, and I think it would be a very good sort of 'coach party play' for a few months - you've got things like The Play That Goes Wrong proving a regular comedy can still run in the West End. Pack in the oldies!
So we shall see. You don't go into it thinking like that, you just think "oh I must write that, it's good stuff" and see where it goes. I never think too much about where something will ultimately lead to. Having been a working stiff writer for all my life, you just take the next thing you're interested in and really go for it.
Are you working on any other projects?
Yes, I'm developing something with Jed Mercurio and Hat Trick. As with any television, I'll believe that when it happens! I did a pilot read-through for the BBC a couple of years ago but they didn't pick it up... Don't get me started about television though, I don't want to be rude!
I'm at the point in my career now where I tend to write purely for what I want to do. I'm thinking of writing a film now: all my children have left home and I've paid off my mortgage. My daughter's just finished her first feature movie so I'm passing on the baton! It's a great film, You, Me And Him, with David Tennant, which she wrote and directed. So I'm realising there are a lot of other things I can do rather than churning out income every year to support my family! If something gets off the ground then that's terrific, but if it doesn't then I think "oh great, I can goof off"!